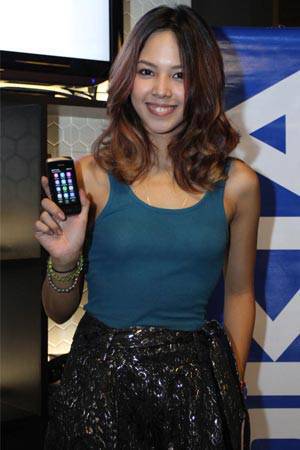 True stylistas don't just stop at scouring through retail racks and flipping through glossy mags--they take their passion for fashion to cyberspace. And in the local blogosphere, blogger Patricia Prieto is one of the fashionistas to reckon with.

With her blog Paradigma, the 21-year-old has been making waves for her on-trend ensembles and her unique wardrobe mix of casual-and-comfy-meets-ultra-feminine.

We caught up with the young designer, model, and stylist during the launch of the Nokia Asha, a touch-and-type phone that lets users browse the web, play with apps, or network via text, chat, or social media. Learn more about her daily techie routine and essentials, her choice of gear, and what defines her personal style.

What's a typical day for you like?

On a busy day, I wake up, I have breakfast, freshen up, and then I go online. I check my blog and make sure I have something to post on the day itself. I usually have a maximum of three meetings in a day. While I'm on the go and I have a laptop, I usually carry around a broadband stick with me and I blog on the spot. If not, I just use my phone. My day usually ends at around 8pm unless there's an event to go to.

Do you blog on the go?

What I do is I post drafts of my blog posts so when I'm out and I don't have time to log on to my computer, I can [just] use the applications. It's easier to blog on the go rather than to sit down and type.

What are your favorite gadgets right now that help with your blogging and studies?

First, I have my laptop. I also have a camera--I use a Canon SLR. I also have an iPhone and a Nokia Asha phone as well. Those really keep me in touch with my blog and everything else I'm doing.[nextpage]

How do you show your style through your choice of gadgets?

For my phone, I choose the case and I change it a lot. My friends tease me that I change my cases as often as I change my outfits. When I choose a phone, I usually choose the ones with interesting colors because I know it's a little more fashionable than the typical black. My case now is called a bird's case nest. I saw it on Gossip Girl and thought, "I have to get that, too!" I have two cases now actually. One is an Andy Warhol case with a skull on it, so I use that too sometimes. But when I go to events, especially the more dressy ones, I change my case also.

What can girls wear during cold or rainy days to keep them warm and comfy--without looking frumpy?

My suggestion would be one really good cardigan. A cardigan is the perfect accessory to carry around. Maybe also boots. Like people nowadays—you can wear boots in the Philippines! People used to judge me because I'd wear boots to school. But now they sell rain boots and everything so I think they're cool. It adds character to your outfit.

What keeps you inspired to come up with different looks each day?

What I do is that I listen to music. When I get dressed, I have either my phone or my laptop playing music and I put it on shuffle. Sometimes I keep changing the song until this one song catches my attention and I'm like, "Okay, this is probably what's going to help me get dressed." If you go to my blog and look at my posts, most of them are music or song titles. I use them as titles because it's what inspired my look. If not music, it's also the weather. If it's sunny then I'll go for something bright, which doesn't really happen, so I like wearing black. But recently I've been getting into a lot of colors. Basically it's music, my mood, or the weather.

How would you encourage girls to build their own personal style?

When you're getting dressed and it's something you're comfortable in, that's perfect. When I get dressed, I'm more comfortable in shorts, a tank top and if it's a laidback day, I'm okay with flats. But if it's an event, then I'd always have a jacket and I would be in heels. If I don't like what I'm wearing, I'll change. I don't like going out wearing something that doesn't make me feel comfortable. Confidence—it's that really. If you don't feel good in what you're wearing, then it's not going to work, because confidence makes half of your outfit.
Continue reading below ↓
Recommended Videos