Suits star Patrick J. Adams, known for playing college dropout-turned-lawyer Mike Ross, was recently in Manila to promote his show's season two finale—and boy was he dressed to impress! Clad in a Marc Jacobs jacket and a pair of trousers, the 31-year-old actor proved he can suit up in real life as well as he does on-screen during the intimate press conference held on February 27.

Though this is Patrick's second time in the Philippines (he went to Cebu with his dad when he was 16 years old), it's his first visit with his Pretty Little Liars girlfriend Troian Bellisario, who was also promoting her show. The couple dropped by Kuala Lumpur and Malaysia as well to meet their biggest fans.

Ready for Patrick? Check out our Q&A with him below!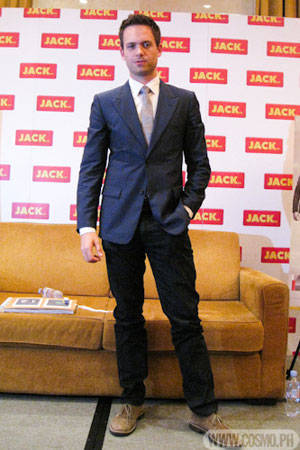 We love your chemistry with Meghan Markle (Rachel Zane). What do you think of ambitious women in general?
Patrick: Every woman on that show is not there just to serve—even Donna, who's Harvey's secretary. Without her, Harvey is nothing. All of the women on the show are powerful, fierce women. I think there's a reason for that. I think as we go further and further along in evolution, we realize that powerful women are the key to everything. I'm pretty proud to be on the show that has such powerful women.

If you had a photographic memory in real life, how would you use it to your advantage?
Patrick: I'm an actor, so I would just remember lines easier. I would just open up a play, read it, and know it. I can't imagine a way it wouldn't be used for.

What is your biggest fashion splurge so far?
Patrick: It's really hard for me. We laugh about it because people think when you're on a TV show, you spend a lot of money. We have the hardest time! We go to the store, and we're like "20 dollars for a t-shirt?" I like shoes a lot. I bought a wool blazer last year that was way more money than I spent on something. I've worn it about a thousand times.

Do you like wearing suits?
Patrick: I'm a t-shirt and jeans guy, but I started to love wearing suits. I like to wear them for short periods of time. When we shoot the show, we're wearing suits for a 16-hour day. By the end of that, I'm ready to get out of them.

Does anyone ever ask you for legal advice?
Patrick: I've given people legal advice. Now that I play a lawyer on TV, I just dole it out like I know what I'm talking about. I actually almost represented myself when I got in an accident with a city bus. I got into five minutes of research, and then I said, "Okay, I can't do this. I'll just pay the fine and get out of here." So being a lawyer is actually more difficult in real life than it is playing one on TV.

Do you have plans of going to Harvard and following the track that your character plays on TV?
Patrick: No, I've never wanted to become a lawyer. My father wanted me to become a lawyer because when you tell your mother you want be an actor, they stare at you blankly for a long time. She wanted me to wear a suit every day, and I never wanted to wear a suit. So now, she's laughing. I was never a remarkably good student, so going to Harvard was never in the cards for me. But I did want go to school to become an actor.

What is it like working with Gabriel Macht (Harvey Specter)?
Patrick: He's very supportive. In the beginning of the show, there were really long hours, and we were getting overwhelmed, and people started acting out. We both sat down with each other, and we wanted to avoid that and make sure that if we do go in that direction, we'll catch each other and stay humble and enjoy the process. He's been a real brother.

What do you think makes Mike Ross better than Harvey Specter?
Patrick: Everything! There's no better or worse. For my part, I like Mike because we're getting to see a lot of his personal side. And for Harvey, we have yet to see. I like them both equally as human beings. I think they're both interesting characters.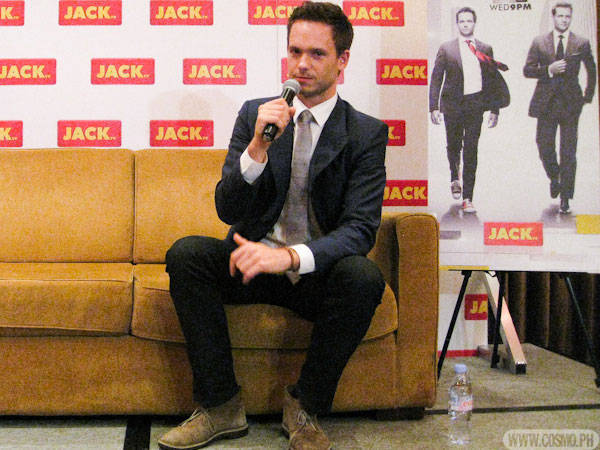 What's your stance on smoking marijuana and do you have any marijuana anecdotes of your own?
Patrick: Of my own? Nothing that I can talk about. I'm a Canadian and I'm sure there are people freaking about me making a confession. I'm very excited, interested, and invested in the forward momentum of legislation in the United States. I'm older and busier now, so my heydays are long behind me. College is over. It's not something that's important to me on that level, but I think legislatively, it's something important to look at. A lot of people also depend on it medically. I think there are a lot more important things to look forward to than that.

You've had some hot and heavy scenes with the ladies on the show. Does your girlfriend Troian get jealous?
No, she doesn't. We do this for a living. It's a very strange job. You can't imagine how unsexy things are when we're shooting. There are 50 crew guys who are sweating while shooting you. Imagine making out with someone with all those people looking at you. It's not very intimate. It's fun to try and make it work and try to make it look real and authentic.

Suits Season 2 airs Wednesdays at 9pm on JackTV.
Continue reading below ↓
Recommended Videos