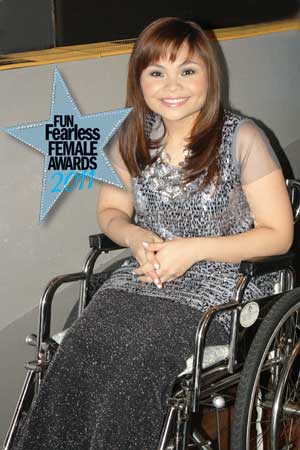 It was a not-so-ordinary Sunday in September when Raissa Laurel headed to Taft Avenue to attend the bar exam salubong, all dolled up for a concert that would take place at her college later that night. The next thing she knew, she was in massive pain as a bomb went off nearby. She was conscious throughout the whole ordeal.

She lost both her legs and, according to doctors, had a 20 percent chance of survival. After a period of shock and depression, she turned to her faith and the support of her family and friends to help lift her spirits. Her strength in the face of a tragedy, which injured 44 people that day, inspired countless supporters to visit, donate blood, and send their well wishes.

You girls voted for 24-year-old Raissa as your Inspiring Role Model because of her perpetual positivity and refusal to lose hope. She is still studying to become a lawyer, and recently regained the ability to walk with the assistance of prosthetic legs (which she used when she received her trophy at the Fun, Fearless Female Awards Night). View behind-the-scenes photos of our shoot with this admirable young woman when you launch the gallery.


To see the rest of the Fun, Fearless Female Awardees, grab the May 2011 issue of Cosmopolitan Magazine, with Venus Raj on the cover, in stands now!
Continue reading below ↓
Recommended Videos
1175