Last night, while we were casually scrolling through Instagram stories, we saw this and our world stopped for a hot minute: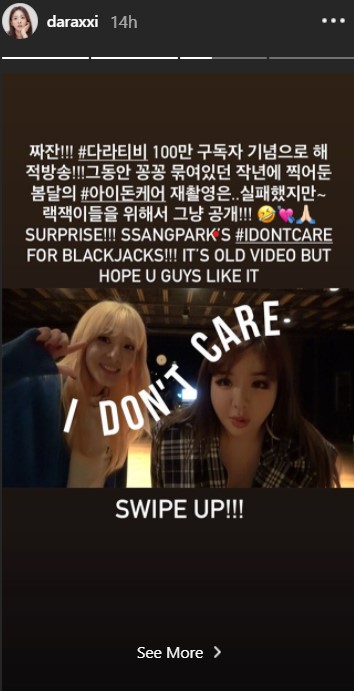 MISS 2NE1? HEAD OVER HERE:
ADVERTISMENT - CONTINUE READING BELOW ↓
And boy, did we tap "See More" faster than you can imagine. Turns out, Sandara Park surprised us with her throwback cover of 2NE1's "I Don't Care" with none other than Park Bom!
Dara just reached one million subscribers on her YouTube channel and she celebrated it by taking Blackjacks on a trip down memory lane. In the video (which was filmed "ages ago" according to Dara), the two members of 2NE1 were playfully singing and dancing to the hit K-pop song (complete with the infamous "eh-eh-eh-eh-eh-eh" dance step) which made us realize that it's been more than a decade after it was released! You can see the girls having fun and being their quirky selves here.
Last year, Dara uploaded her nostalgic performance of "Lonely" with Bom, which made us a bit ~lonely~ because we missed them so, so much. But now we're glad that we have another clip to enjoy!
ADVERTISMENT - CONTINUE READING BELOW ↓
Recommended Videos
2NE1 reunited in 2019 for their 10th anniversary complete with photos from their get-together. It was followed by a virtual reunion for their 11th celebration in May this year.
ADVERTISMENT - CONTINUE READING BELOW ↓
Our girls would often send messages of love with each other, like how Minzy mentioned Dara's influence on her in a variety show, when the members showered Bom with love by posting photos of them on Instagram, and CL's latest song "+POST UP+" where she mentioned the group: "2NE1 my past, my forever blessing." Okay, now we're crying again.
But do you know what we're waiting for the most? A *possible* 2NE1 comeback in…202NE1! For now, let's sing along to Dara and Bom's "I Don't Care" cover:
MISS 2NE1? HEAD OVER HERE:
Follow Hanna on Instagram.
K-UPDATES