Stevie Eigenmann, the half-sister of Andi Eigenmann through their dad Mark Gil, posted a screenshot of Andi's apology to Albie Casiño. The actor, who was Andi's boyfriend in 2011, was said to be the father of Ellie Eigenmann, but that proved to be false when it was confirmed that Jake Ejercito was the real father of Ellie. 
Stevie, who first shared the screenshot on her Instagram Stories, re-uploaded the conversation and explained, "Just in case you missed it, I made my own 48-hour option." The original Instagram Stories post included captions that read, "Ooops, accidentally publicly posted receipts." She also added, "No ill will."
A part of the screenshot showed Andi telling Albie, "...You even hugged me after I said sorry to you at Pool Club X years ago and said that it was okay."
She followed up with, "But regardless, (just in case you don't remember), I can defend myself to others had I ever wished to do so, but it doesn't mean you don't deserve a better apology."

ADVERTISMENT - CONTINUE READING BELOW ↓
Andi's message continued, "The person you met once before was very young, and lost, and quite obviously a completely different person from who I am today, so on behalf of the old me, I apologize, Albie!"
"Sorry for all that volatility I may have caused you in the past, and for being so young and naive, dragging you into something you were never supposed to be a part of," Andi continued. "I sincerely hope that you too are in a good place right now and that you and your family are well and great. Hope that we can put that behind us now. All the best to you!"
The screenshot didn't show when Andi sent the message, but Albie replied to Andie on September 2, 2020. Albie's response reads: "Yo, I remember that to the tee you hit with 'Masaya ka na hindi sa'yo.' I never asked for an apology and I never really needed one. I didn't mean any ill will with the post that's why I cropped you out of it I thought it was hella funny, I look at it like we've both moved on and we're both different people now."
"I just thought I'd have a laugh about it cuz if we can't laugh at our past hardships in life it's kinda like being a slave to the moment still. Again no ill will or hard feelings, congrats on the baby," Albie wrote.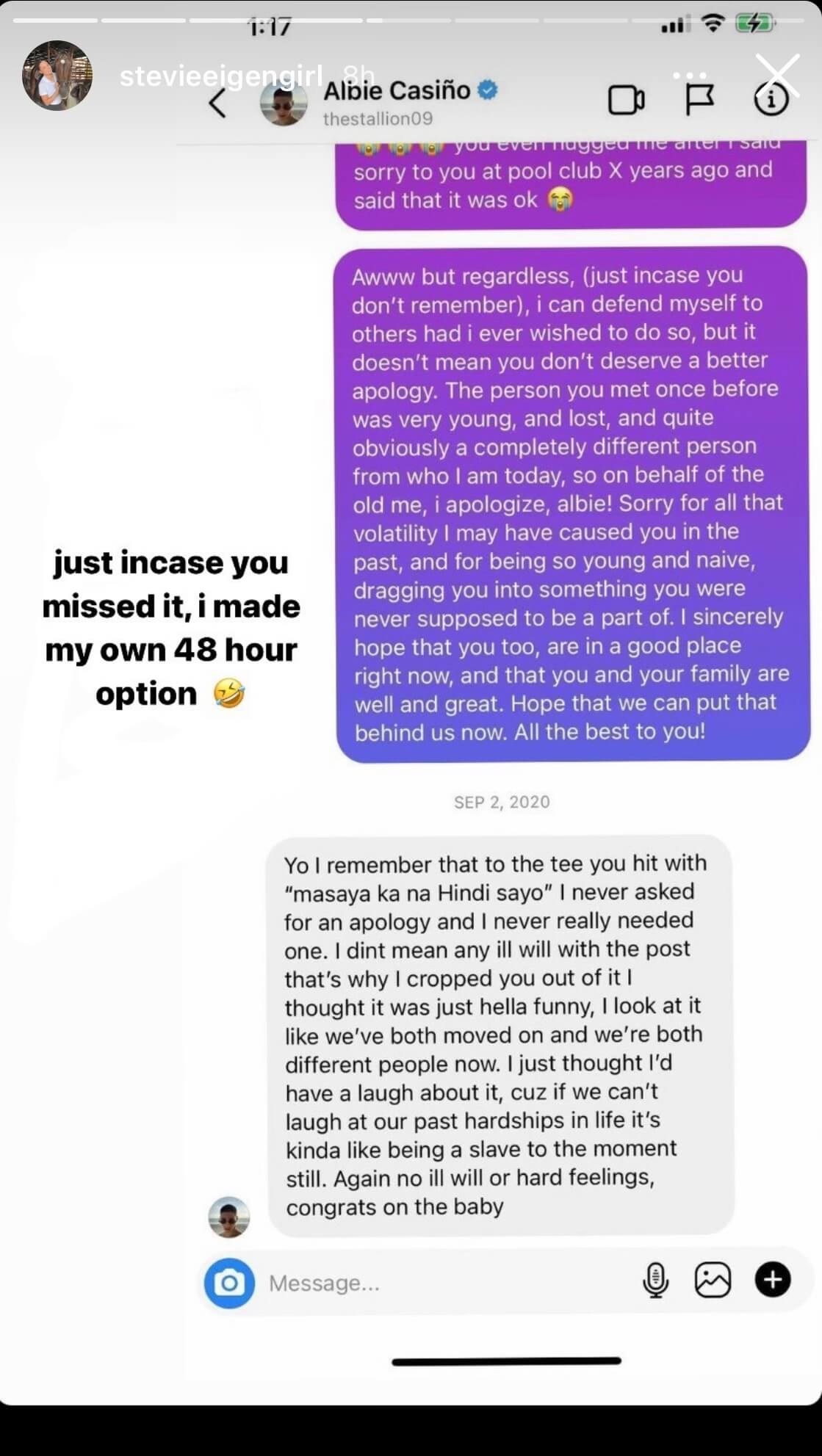 Stevie sharing the screenshot of Andi's conversation with Albie comes after the actor, who is now a Pinoy Big Brother Housemate, said in a Kumu Livestream, "I'm not going to hold my tongue so you can look good anymore."
ADVERTISMENT - CONTINUE READING BELOW ↓
Over the weekend, Andi's mom, Jaclyn Jose came to her daughter's defense and posted now-deleted social media posts where she said, "Don't use my daughter in your circus."