It was a random day in October when I found myself sitting in a room full of reporters inside a mall that looked like it was stuck in '80s America. The room was huge, with mirrors mounted on the walls around us. Behind me were exercise equipment—but none of the fancy machines we see in the gym today. I'm talking about aerobics step stools, bouncy exercise balls, and hand weights in bright neon colors. The room was dark, save for the light coming from the small monitors lined up on a long plastic table across from where I was seated. From the floor below us, someone screamed "Action!" and a brunette girl was shown on screen. Her face was intense—her brows practically met at the center of her face—a drop of blood ran under her left nostril, and her arm stretched out in front of her, as if she were reaching for something using just her mind. Behind her stood a group of teenagers watching in disbelief. 
"Cut!" someone yelled from the distance, and I snapped back to reality, fighting jetlag, and realized that this was actually happening. This was the day I visited the sets of Stranger Things in Atlanta and met almost the entire cast. 
Continue reading below ↓
Recommended Videos
Maybe that intro was a little dramatic, but let me live a little, LOL. In October 2018, I was lucky enough to be part of a press set visit for Stranger Things. Back then, they were busy wrapping up the Season 3 finale—which I, of course, only realized now because we signed NDAs!—and I had the chance to witness some ~*cool*~ and ~*strange*~ things on set.
Because smartphones didn't exist in the '80s, I don't have a lot of photos to prove that this set visit actually happened. (FYI, I signed a lot of papers and could get in huge trouble if I snapped some unauthorized photos!) But trust me, it did! And I'm here to tell you all about it.
We started the visit with a trip to the sound stages where a lot of the filming happens. This is where most of the characters' houses and rooms are, including Hopper's cabin. We were first treated to a ~*glam photoshoot*~ session—how very '80s! Vintage clothes and accessories that were used in the show were available for us to try on, too.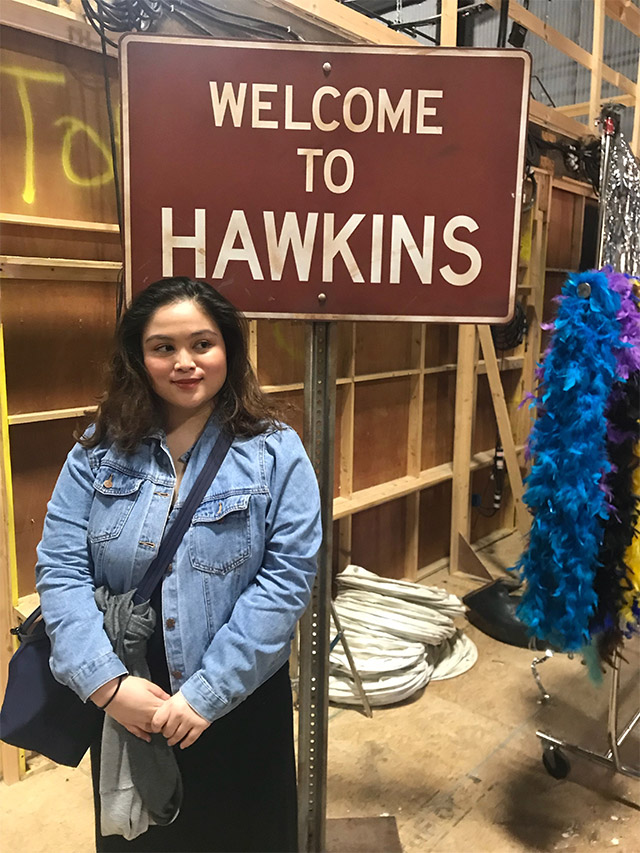 I was particularly drawn to this pair of vintage clip-on pearl earrings, which, apparently, Millie Bobby Brown wore in one of the episodes. The show's costume department spent a lot of time sourcing these pieces from thrift stores and the internet to keep it as authentic as possible.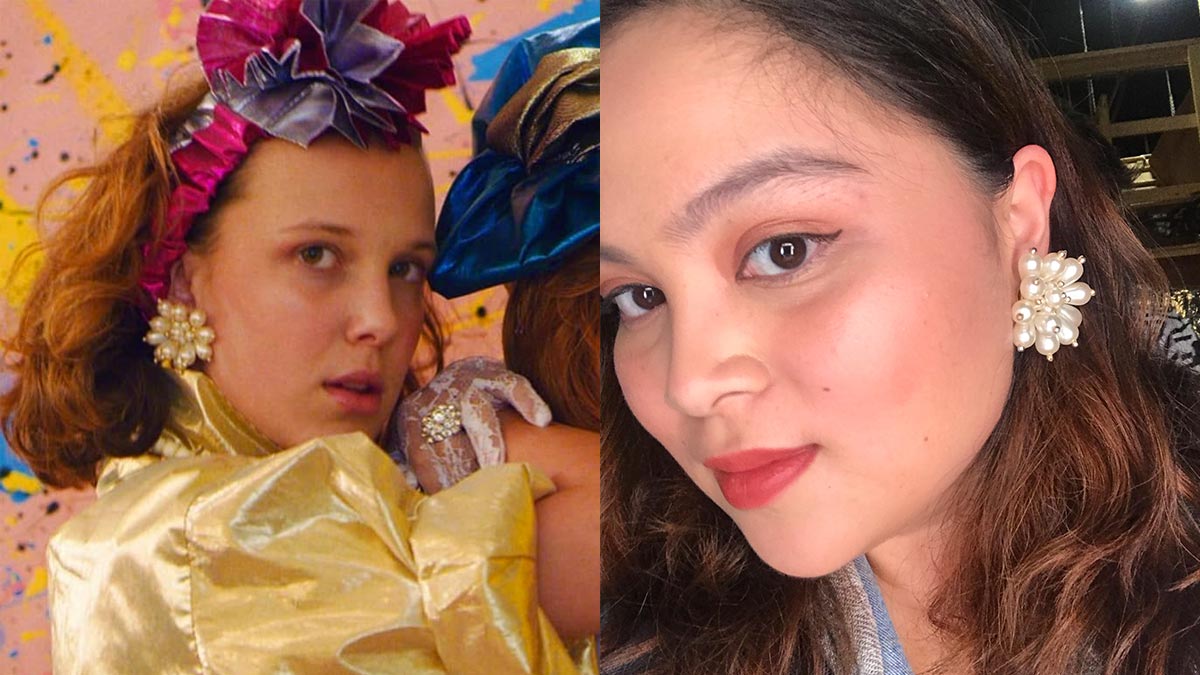 Every Stranger Things fan knows how truly iconic this room is: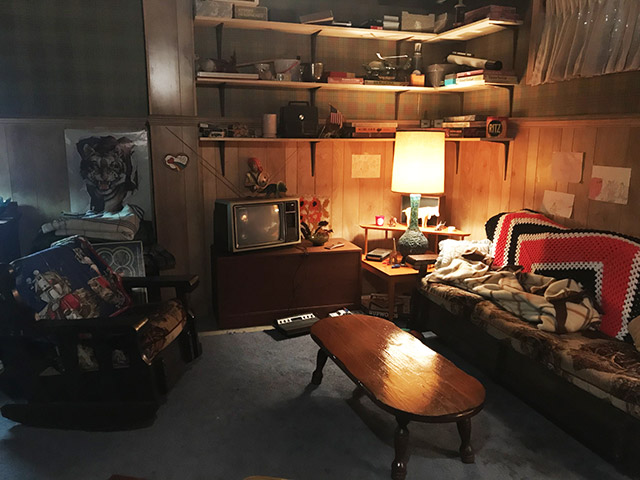 After touring the sound stages, we went straight to Starcourt Mall, where we got to watch the cast film *key* scenes, learn all about the set, and chat with the cast members about Season 3. Here's some of the insider info I gathered: 
1. The clothes the characters wear on the show seem like they're easy to get off the rack, but that's totally not the case.

According to the show's costume designer, Amy Parris, a lot of the pieces we see on the show are actually handmade, because it's more convenient for everyone, especially since they work with a lot of kids who grow so fast. "Since the kids are limited in [work] hours, you often need multiples [of clothing pieces]. It's much easier to start from scratch and buy it and make it [then] adjust for the kids' sizes," she shared. She also explained that buying off the rack from places like Target is possible, but altering ready-to-wear pieces is not as easy as adjusting pieces you made from scratch. 
"For Dustin (Gaten Matarazzo), we kind of built everything from scratch. He went to camp this season and when he returned, he doesn't have his [red and blue trucker] hat anymore. He's so excited about Camp Know Where so he wears this cap hat the whole time," Amy said. As for that Camp Know Where shirt: "We found a vintage tee and we recreated our graphic and put it on a shirt. The shirt is actually a raglan sleeve, and so we cut up fabric from other shirts to remake this shirt. It might look like you could just buy this, but you can't."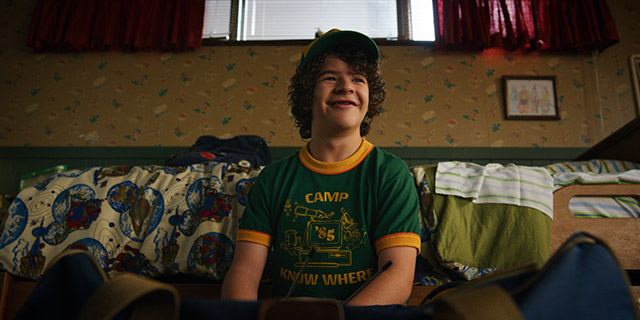 As for that ~date~ shirt Hawkins' Chief of Police Jim Hopper (David Harbour) sported? "We found the vintage fabric in Los Angeles and bought it all so we could start from scratch!" Amy shared.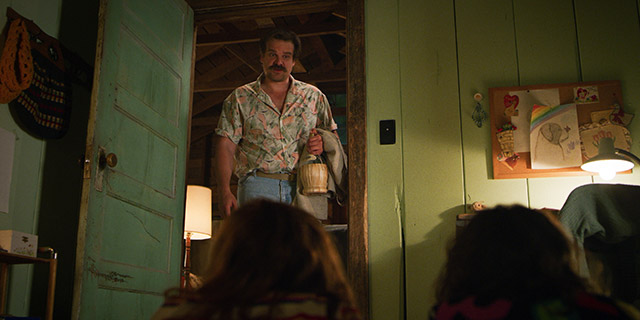 2. The memo about Robin and Steve's Scoops Ahoy costume/uniform was for it to be "embarrassingly goofy."

Amy revealed that the show's producers, the Duffer Brothers, specifically told her to make Robin (Maya Hawke) and Steve's (Joe Keery) Scoops Ahoy costumes "so embarrassingly goofy" that a kid from the '80s would be embarrassed to pick up girls wearing it. Fun fact though: Joe Keery aka Steve aka Dingus is actually into the costume. We stan.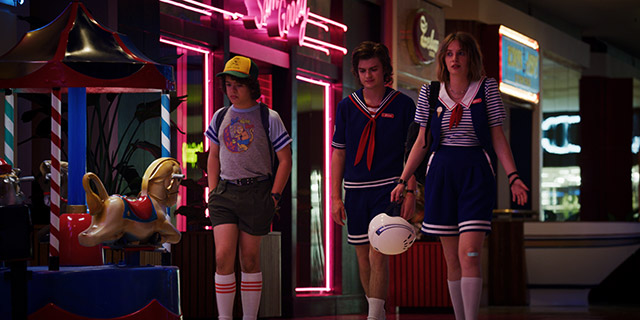 3. Those short shorts the boys had to wear all season? Yeah, they weren't into it. 

"When I first put the boys in shorts during their first fitting, they asked 'Do I really need to wear shorts these short?' If you notice throughout the season, the shorts grow shorter. Not only to the boys grow taller, but I felt like it was a helpful way to not be so jarring. And it's the dead of summer," Amy said. 
4. Starcourt Mall was an actual mall that was renovated for the show!

Chris Trujillo, Production Designer for the show, shared that they briefly considered building a mall for the show, but soon realized that it was an "unrealistic undertaking given their schedule and resources." So after hunting down tons of possible locations—most of which are malls in various states of disrepair, they finally found a mall that was actually a shopping haven in the '80s.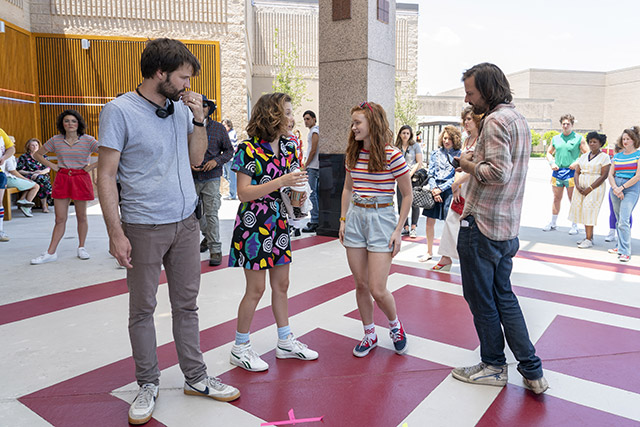 "We found this one and obviously, this architecture, you can't make up," he said. Bustle reported that the mall is actually Gwinnett Place Mall, which was very popular in the '80s, but has since shut down. Netflix was able to use one wing of the mall and basically overhauled it. The goal was to make a solid mix of storefronts that would have been in a Middle American mall in 1985. We see brands and stores like The Gap, Hotdog on a Stick, J.C. Penney, Sam Goody, and even Radio Shack with their logos and products from the era.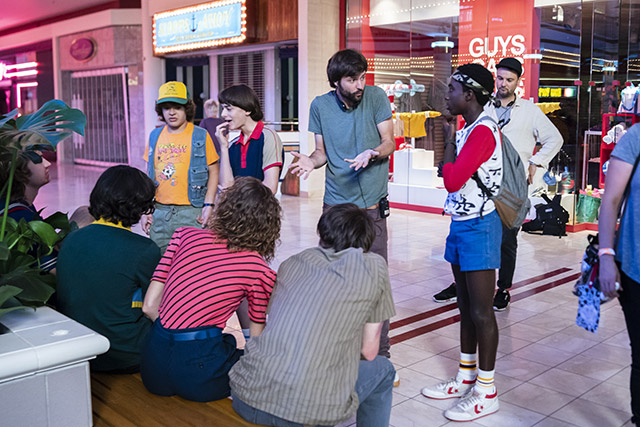 Insider tip: A part of the mall is still operational. Behind the cinema facade is the last operational store in the wing that they were renting. 
5. Dacre Montgomery said playing Billy was "rewarding."

While Billy was never touted to be a crowd favorite since his debut in Season 2, we got to know his character more (and shed some tears for him!) this season. On playing such a tough character so different from how he is IRL, Dacre Montgomery shared that it was more fulfilling than challenging because it made him a better actor: "I just enjoyed [playing Billy] so much. I didn't feel like it was hard, everything came together. For example, when we did this big week...we shot a 25-page scene in four days, and we kind of locked ourselves in a space and we workshopped with Shawn [Levy]. It was highly emotional...I didn't think it was hard, I find it rewarding. I was covered in cuts and bruises from the wire work and the stunts...but we kept crying out of happiness by the end of it. If I told my 10-year-old self that this is you in 12 years, I don't know. I'm pretty lucky."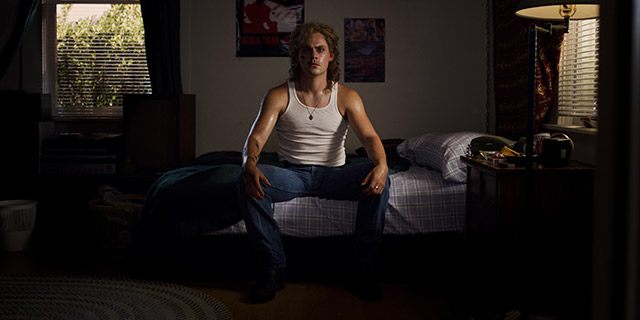 6. Eleven's fashion transformation this season is a huge factor, too.

After two seasons of wearing hospital gowns, a borrowed dress, socks, a wig, and Hopper's oversized clothes, we finally get to see Eleven wear cute clothes that actually fit her in Season 3—she even goes on a shopping spree with Max (Sadie Sink). When asked about this transformation, Millie Bobby Brown said, "I think it's really cool to see Eleven's style evolve because she's been told what to wear in this part of her journey. From Mike (Finn Wolfhard) saying 'wear a dress, wear long socks, wear a wig,' and then Papa (Matthew Modine) says 'wear a hospital gown' and Hopper's like 'I want you to wear my t-shirt and jeans.' She doesn't know what to wear herself. This is a season of Eleven knowing what she wants to wear and with Max's help and advice, it really does go far."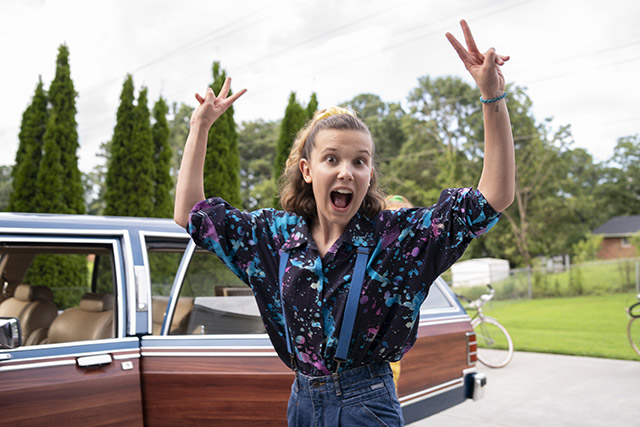 7. Millie Bobby Brown and Sadie Sink are best friends IRL, and they love that they get to do the same on the show!

The first two seasons of the show highlights the friendship between the original four boys. In Season 2, Max and Eleven didn't exactly get along. (Though Millie claims there really wasn't beef between Max and Eleven, and Eleven totally started the beef because she hadn't really met another girl her age before Max!) But in Season 3, we see Max and Eleven become the best of friends—going on shopping sprees and dealing with their teen love affairs together. Both Millie and Sadie agree that this was one of the best parts about Season 3: filming scenes together and not having to force themselves to play up a friendship for the camera, because everything is as natural as it seems.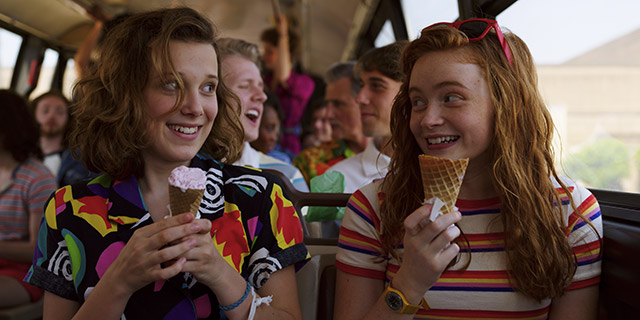 "We're two powerful girls in real life, and we're two powerful girls in the show. So putting two powerful forces—female forces together—is smart. [We see] girls that are tomboys like Max and girls that are a little confused like Eleven [can be] best friends it's really awesome to see that," said Millie. 
8. Erica Sinclair, played by Priah Ferguson, was predicted to be the star of the season by her castmates, and we couldn't agree more!

"She's incredible, super funny, and has the best comedic timing out of all of us, so I think people are going to love her character," said Finn Wolfhard aka Mike when asked what they think would be Season 3's most popular meme. "Lots of GIFs!" he added. We mean, he's totally not wrong: 
9. Maya Hawke and Joe Keery are huge fans of Priah Ferguson, aka Erica Sinclair.

As one-half of the #ScoopsTroop, Maya and Joe spent a lot of time with the highly-talented 12-year-old Priah Ferguson, and they have nothing but amazing words to say about her. "She sets an example as far as talent and preparedness and professionalism that I don't think I will ever rise to in my wildest dreams," said Maya.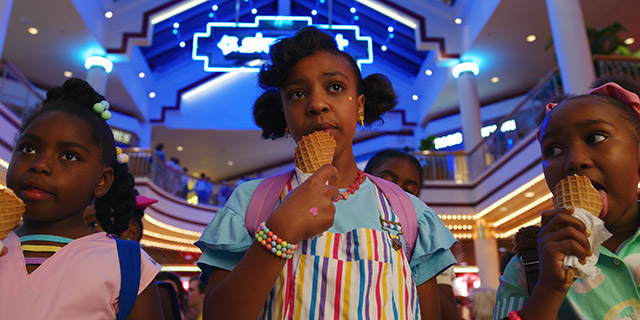 "She's so open to direction on the day. When Shawn was directing us, she's doing this scene and during the scene, Shawn yelled this direction from off-screen, she stopped, took the note, and then kept going. And she just turned 12. It's really amazing," added Joe.
10. Maya Hawke talked about playing Robin, the new girl in the gang.

Robin easily became one of our favorite characters this season. Maya Hawke opened up about playing Robin's character: "It's been an interesting part of filming: Figuring out what it's like to be an odd one out and what it's like to be a part of something where everyone you're around understands what's happening and you don't…[Robin] is really smart and she's really willing to take in information quickly and process it. She is open and curious, so finding that balance between what's overdramatic in how to react to the crazy things that's going on and what's not recognizing it enough, because I, Maya, have seen the other seasons and know what's going on. That has been a really interesting line to walk."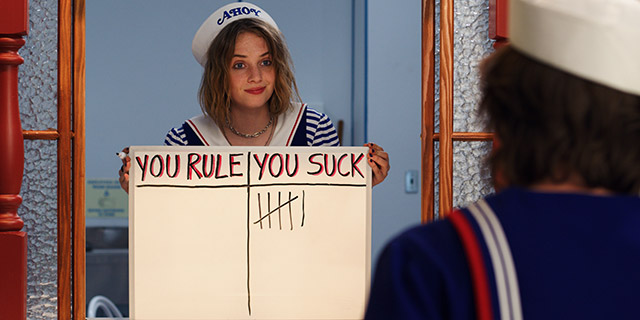 Follow Retty on Instagram.