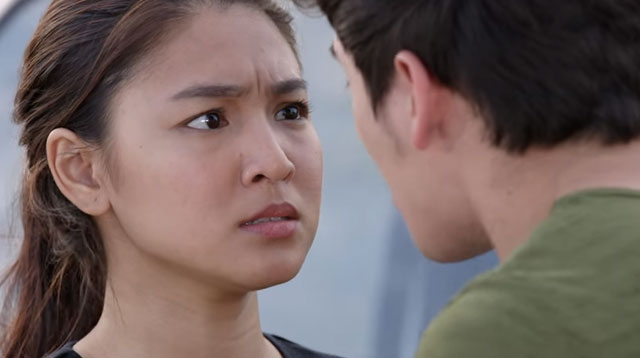 YouTube/ABS-CBN Entertainment
In case y'all have been living under a rock, then you wouldn't have known that Tuesday night's episode of On The Wings Of Love aka #OTWOLDisappointment was a HUGE. MESS. OMG. OUR. HEARTS.
OK. *breathes*
Just to recap, Leah (Nadine Lustre) flew off to Dubai with her sketchy (ehem, ahas) boss Simon (Paulo Avelino) for a once-in-a-lifetime work opportunity, leaving her hubby Clark (James Reid) distraught and in tears.
Here's the teaser for proof:
The ep ended with Clark *begging* his wifey Leah to choose him. (idk why he had to beg omg Leah)
I will always choose you and will come running home #OTWOLDisappointment #OTWOL #jamesreid pic.twitter.com/E39MsNyUAX

— Destiny (@rekdiMCR) February 9, 2016
So, before you get all riled up with Leah's stupidity selfishness decision, here, we gathered the best internet reactions to OTWOL's most disappointing ep ever. 'Cause really, what's the point of the show if Leah and Clark don't end up together? SMH.
Word.
Everyone right now probably #OTWOLDisappointment pic.twitter.com/kFCQ0SJJ35

— Kaka (@kakacorral) February 9, 2016
BB CLARK!
"She had a choice to trust me" -Clark

Seeing him cry in pain breaks my heart. @jamesxreid #OTWOLDisappointment pic.twitter.com/zQEmEfCRJw

— Marinelle ? (@marinellelotado) February 9, 2016
Hay, SIMON!
Continue reading below ↓
Recommended Videos
YES. Trust, trust, TRUST!
HUHUHU
#OTWOLDisappointment got me like..... pic.twitter.com/FCdwQaZ7ot

— HBD 2 ME (@josemarielove) February 9, 2016
No. They're both crying. My heart just can't take this scene. Plus that flashback! #OTWOLDisappointment pic.twitter.com/ogFUHOz1zA

— Chè (@cumatmejames) February 9, 2016
Popoy is that you?
For Best Actor James Reid. You've improved a lot. #OTWOLDisappointment pic.twitter.com/0eL7uYSTYT

— Rhiza (@rhizamanzano) February 9, 2016
Brace yourselves, people, we've got three weeks left of OTWOL. It's gonna be one helluva feelsy ride.  
Follow Jacinda on Instagram.