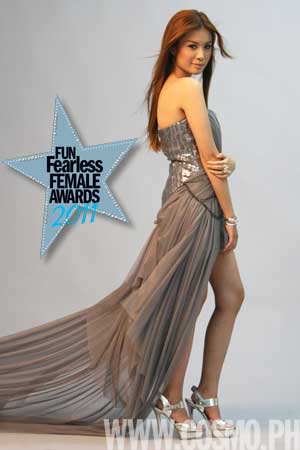 For anyone who spends a substantial portion of their days online, it's hard to miss the name Tricia Gosingtian. This gal is the complete package. She is a photographer, Forever 21 brand ambassador, model, and occasional video actress. And while her photos have been published in both local and foreign publications, her claim to fame in recent years has been as a blogger who's gotten global fashion leaders buzzing.

This 22-year-old made headlines with her recent trip to New York Fashion Week for Fall 2011 as one of Tumblr's 24 sponsored bloggers. As the only Asia-based representative invited to the event, this Filipino-Chinese fashionista got to meet some famous faces, including designer Oscar de la Renta and Marie Claire fashion director Nina Garcia.

In addition to her personal blog (Tricia Will Go Places, which, as of press time, has nearly 40,000 followers), she also posts photos of her polished style on Lookbook, where she commonly makes the weekly Top Looks lists. Since venturing out from behind the camera, Tricia has been in-demand for all things style and fashion-related. Looks like all this acclaim is just the beginning for this globe-trotting gal.

See behind-the-scenes photos of Tricia's Fun, Fearless Female shoot with the Cosmo team when you launch the gallery. Watch for the video coverage and interview in CosmoTV soon. And look out for her What's In My Bag? feature tomorrow!

To see the rest of the Fun, Fearless Female Awardees, grab the May 2011 issue of Cosmopolitan Magazine, with Venus Raj on the cover, in stands now!
Continue reading below ↓
Recommended Videos
1159