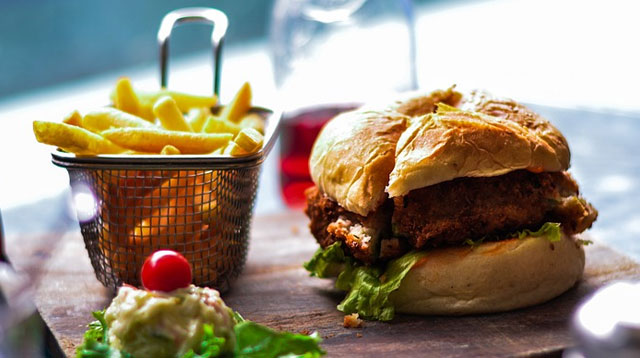 When you're comparing nacho-cheese-blasted fried corn triangles to saturated fat bombs wrapped in compressed carbs, 1) there are no winners, and 2) the best you can do is "Well, that wasn't as bad as I thought." Because hangover cravings are no laughing matter, we consulted Keri Gans, RDN and author of The Small Change Diet to shake the scales from our eyes re: greasy pizza slices, which are, coincidentally her personal favourite. Hold on to your artificial flavours—it's not going to be pretty.
6. INSTANT NOODLES: MIGHT AS WELL DOWN CYANIDE
5. BURRITO: IS IT EVEN WORTH IT?
4. CHEESEBURGER: "HEY, WE'RE GETTING IRON"
This is like a burrito that hasn't achieved its final form yet, so not quite as damaging as it could be. The upside is that beef = iron, and there aren't so many fatty extras aside from the cheese.
3. PIZZA: IT'S THE SAME AS A CALCIUM CHEW, RIGHT?
2. DORITOS: SURPRISINGLY NOT THAT AWFUL
1. FRENCH FRIES: AYYYYYY
"The beauty is that it's surprisingly low in sodium." That's an actual quote from an actual certified Grade A nutritionist! This is based on a medium serving, but you could order a small and/or be that jerk who asks for no salt to reap the admittedly meager benefits. Plus, with the potatoes' potassium—again negligible, but we'll take what we can get—this is practically a Gatorade.

***
This article originally appeared on Cosmopolitan.co.uk. Minor edits have been made by the Cosmo.ph editors. 
Recommended Videos