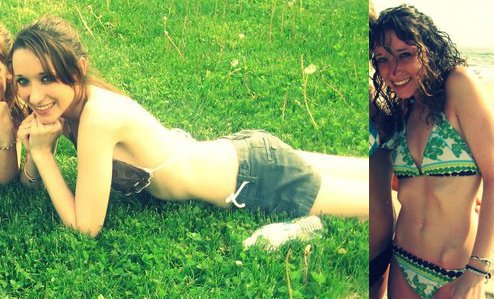 Jeannette Suros, 24, from Pittstown, New Jersey, began dieting at 10 years old, cutting out fatty foods and sugar, and drinking coffee to suppress her appetite, reports the Daily Mail. As a teenager, the 5-foot-2-inch gymnast and cheerleader weighed just 64 pounds. She'd exercise from 9 p.m. to 3 a.m., wake up at 4 a.m. to take 3-mile runs before school, skip breakfast and lunch, practice gymnastics or cheerleading after school, and lie to her parents to get out of eating dinner.
"I thought for years in order to be accepted and do well with gymnastics, I had to be skinny," Suros wrote on her Tumblr. "Then I got into all-star cheerleading as a flyer, and I thought, 'I have to be skinny so I don't lose my place,'" she continued. "[My eating disorder] convinced me that if I was skinny, I would be accepted and pretty, and I would be invisible to pain."
Suros's expectations weren't realized: At 16, she collapsed at school and was rushed to the hospital where she was diagnosed with anorexia nervosa. When word got out, her peers taunted her by throwing food and calling her fat.
By the time her parents convinced their daughter to undergo treatment, it was almost too late. At 17, Suros suffered a heart attack en route to an eating disorder unit, landing her in the intensive care unit instead. Against the odds, she recovered and was transferred to her original destination. In the hospital's eating disorder unit, she was drip-fed and prohibited from exercising, slowing gaining 35 pounds.
Continue reading below ↓
Recommended Videos
But that wasn't the end of it. "Even having a heart attack didn't make me realize the danger I was putting myself in," Suros told Daily Mail. She spent her senior year of high school in and out of the hospital until 2012, when she agreed to undergo treatment at an eating disorder center to become a better role model. "I was babysitting for kids who looked up to me. I didn't want anyone else to turn out like me," she told Daily Mail.
Now that Suros weighs 105 pounds—a healthy weight for her height—and has been in recovery mode for nearly four years, she wants to raise awareness and help prevent eating disorders, depression, and suicide through a project called Be•YOU•tiful me and her Tumblr account, which features body-positive quotes and messages.
"You will always go further in life when you love your body rather than hate it," she wrote on Tumblr. "Your weight does not define you! This doesn't just go for people struggling with an eating disorder—this goes for everyone."
***
This article originally appeared on Cosmopolitan.com. Minor edits have been made by the Cosmo.ph editors.