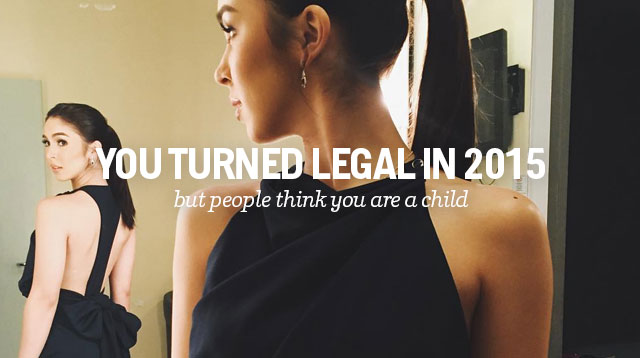 Instagram/@juliabarretto
1. Adults don't take you seriously. Your parents have a hard time adjusting to the fact that you are of age, so every time you ask permission to go out, the answer is always no. "But moooom, I'm an adult! I can make grown-up decisions already." *throws tantrum*
2. You have officially given up on your dream of getting taller. Because let's face it: Kung 5' ka ngayon, 5' ka na forever.
ADVERTISMENT - CONTINUE READING BELOW ↓
3. You really want to get a tattoo or an extra piercing that is not on your earlobe. You want a tattoo, but you have to ask for permission.
4. You were born in the same year as Kylie Jenner. Quits lang naman kayo, except she owns a mansion and a Rolls Royce.
5. Which brings you to ask your folks: "Pwede na ba ako magka-boyfriend?!"
6. You turned legal in 2015, but people think you are a child. One time you were in line to buy tickets for an R-18 movie, and the cashier took one look at you and said, "Ma'am, R-18 po 'to." And you were like, "Te, 18 na po ako." Cashier: "Hehehe."
7. If you come from a super conservative family, you can't post bikini photos on Instagram unlike the rest of your friends. If you do, you probably  have a tita who will comment, "Has your father seen this?" *deletes photo*
ADVERTISMENT - CONTINUE READING BELOW ↓
Recommended Videos
8. There is pressure to find a course you want to take up in college. So you're constantly being asked, "What do you want to be when you grow up?" Adults have no chill and give you weird looks when you tell them you haven't fully figured out that part yet. You're not supposed to know what you want out of life yet...right?
9. If you are halfway through college, there's a voice in your head that says you have to shift out of your course because you are unhappy. There are days when you ask yourself, "Why am I taking IT again when I don't like programming?" Or, "Do I really want to stick to BS Biology when I'm not even sure if I want to be a doctor?" Or, "Why am I memorizing the periodic table of elements when I want to be a film director?" And our favorite, "WHY AM I EVEN IN SCHOOL." *throws tantrum*
ADVERTISMENT - CONTINUE READING BELOW ↓
10. Until you realize it's too late to shift out. Especially when you start computing that if you want to shift out of Chemistry to pursue a Communications degree, it'll take you *starts counting* ten million years to graduate. 
11. People consider you a fake '90s kid and it is kind of true. The Spice Girls released "Stop" the year you were born, so you vaguely remember the dance steps. In fact, you only know the steps because The Real '90s Kids reference the music video, like, all the time.
12. Adults give you shit for not spending your childhood playing outside. That is not true. You still played outside during recess and lunch breaks. You KNOW how to play patintero, luksong baka, and luksong tinik. Talk to the kids born in 2000, because those kids grew up with iPads.
13. When you tell people that your favorite movies of all time include High School Musical and The Cheetah Girls, they give you the death stare.
ADVERTISMENT - CONTINUE READING BELOW ↓
14. People also give you the death stare for not knowing The Backstreet Boys and NSYNC. I mean you kind of do, and you know some of their songs, but Justin Bieber and One Direction were your heroes growing up and you are not ashamed of it.
15. There is constant pressure to live an Instagram-worthy life. People really do judge your Instagram feed because social media stalking is a legitimate hobby. All your photos must be of the same size and you only use the HB1 and HB2 filters on #VSCO. Starbucks latte + white background + HB1 on #VSCO. 
16. Hence your IG feed is so well-curated, it can be displayed in the Museum of Modern Art. Yup, it takes a lot of effort.
17. Your mom is upset, because your weekend uniform consists of the following: crop top + high-waisted shorts + white sneakers. "Wala ka na bang ibang damit?"
ADVERTISMENT - CONTINUE READING BELOW ↓
18. There is a great desire to travel everywhere. You can't afford plane fares yet, but your Internet browser is full of bookmarked articles on Best Hotels In Bohol For Under P2,000, Best Places To Go To In Baler, 8 Countries Millennials Can Go To Without A Visa. For future reference, yo!
19. Despite all these struggles, being born in 1997 is actually awesome. You're not making your own money yet, but you know you'll get there. Right now your priority is getting through college alive, so you can graduate with honors (or just graduate, period). The thought that there is an exciting adventure waiting for you keeps you sane, and you can't wait to get there. Girl, the best is yet to come.
Follow Sandra on Twitter.
EXPLORE COSMO