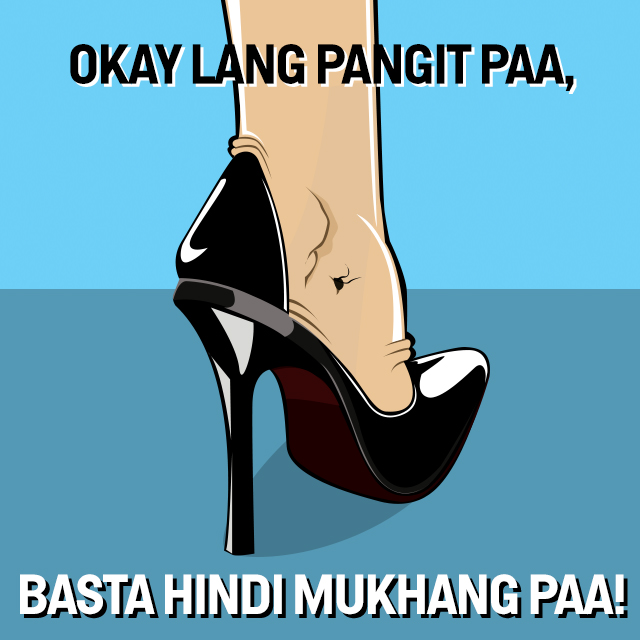 Jico Joson
1. It's a love-hate relationship with sandals, slippers, and peep-toe heels.
And let's not even talk about those sexy ankle-strap heels. One look and you'll fall in love with them. So you'll try them on only to realize your feet don't look good AT ALL. HUHUBELLS.
2. You can't stop staring at your friends' beautiful feet.
Even at strangers' gorgeous toes—no ugat, super puti, and just pretty! Lord, bakit naman ganoon? Buti na lang maganda ako! 
3. Your forever mantra is, "Okay lang pangit ang paa! Basta hindi mukhang paa."
You always tell this to your friends whenever they joke about your ugly feet. Your witty reply is always, "Bumawi naman ako sa face value!" PAK GANERN!
Continue reading below ↓
Recommended Videos
4. Playing footsie isn't an option during dinner dates.
It's nice to cuddle in bed and play footsie with your guy under the table during date nights. But every single time you imagine your luya feet, you immediately retreat because the thought is a huge turn-off for you. (But hey, if it works for your guy, true love 'yun!)
5. They'll never see a #shoefie post on your Instagram feed.
Some girls post photos wearing their sandals. Other girls will boast of their pretty pedicure. Are you that girl? You are not. In fact, you've never posted a photo a #shoefie! You're so scared your toes might distract your followers and keep them from double tapping your post.
6. You love lounging by the beach...and scrubbing your feet with the sand.
Exfoliate pa more! Tiwala lang! Gaganda rin kayo!
7. You feel like you are judged whenever you get a pedi at a posh nail salon.
You take a deep breath seconds before you take off your shoes and surrender your forever haggard-looking toes to your manikurista—who looks at them with wide eyes and says, "Ay, matagal ka nang hindi pumupunta no?" Can people not state the obvious? It hurts my feelings. Why can't nail technicians be discreet about it? Why can't we talk about other things?!
8. Foot spas are your BFFs!
After an hour of intense scrubbing and massaging, you feel like a whole new person. There's so much hope in foot treatments, because they make you feel like you are at your most beautiful and you can conquer the world. Halle-LUYA!