In the last year, it's probably felt like we spent most of our time in front of a screen—mindlessly scrolling through our feeds, watching shows and movies for hours on end, and working overtime. While there isn't anything innately wrong with doing any of that, you reach a certain point when it feels like it's gotten repetitive. So if you're looking for an activity that can be a fun, new outlet and get your creative juices flowing, listening to podcasts might just be what you need. 
We know: Podcasts have been around *forever* but if like us, you're just beginning to discover 'em, the choices can be overwhelming. It seems like there's a podcast for every kind of listener—true crime, adulting, horror, comedy, you name it.
So in an attempt to discover a few gems, we're bringing you Slow Down with Cosmo, where we listen to a podcast every week and share our first impressions, favorite episodes, and takeaways to give you an idea of what you can expect to hear. We pick a podcast, listen to the first episode, and then randomly choose four other episodes, depending on our own interests. 
ADVERTISMENT - CONTINUE READING BELOW ↓
For our first review, we're putting the spotlight on Ang Walang Kwentang Podcast by director Antoinette Jadaone (Tonet) and spoken word artist Juan Miguel Severo (Gege). 
First Impressions: Episode 1

In Episode 1: The College Heartbreaks That Made Us, Tonette and Gege talk about their innocent crushes and past relationships and how it molded the way they approach love. 
***
"You know how when you see something funny while you're scrolling through your phone at 'di mo namalayan na nakangiti ka na pala, then your mom goes, 'Anong nginingiti-ngiti mo diyan? ' I got that question while I was listening to Episode 1 of Ang Walang Kwentang Podcast! I completely lost it at Gege's 'twenny or 10?' line and when Tonet signed up for a bowling class because of her crush tapos wala siya dun! I love the way they're able to laugh at themselves and the endless supply of jokes. It made me look forward to the next few episodes." -Ysa
"One word: nakakatuwa. You ever get that feeling when you listen to something and 'di mo kailangan masyadong mag-isip? This podcast will give you just that. I found the first episode fun, light, and entertaining. It had the right mix of relatable jokes and hugot, which made it even more ~real~ for me. Nothing fancy, just regular kwentuhan about the good old college days. TBH, it felt like I was back in my favorite org room and kausap ko lang yung mga friends ko. Saya!" -Lou
Favorite Episodes

Episode 27: Unang Yugto-Ender: Mga Eksenang Gaya sa Pelikula (with JP Habac)
"Ok, I'm gonna be really honest here: This is my favorite because I'm so, so in love with the masterpiece that is Gaya sa Pelikula. And hinanap ko talaga 'tong episode na 'to because of the show. I squealed while Gege was talking about the guy from PUP and when he answered that guy's boyfriend about what his course is: 'Architecture pero magshi-shift ako sa film.' Apart from that, I really appreciated the fact that I learned so much about what went into creating some of our favorite local films like I'm Drunk, I Love You and That Thing Called Tadhana. 
ADVERTISMENT - CONTINUE READING BELOW ↓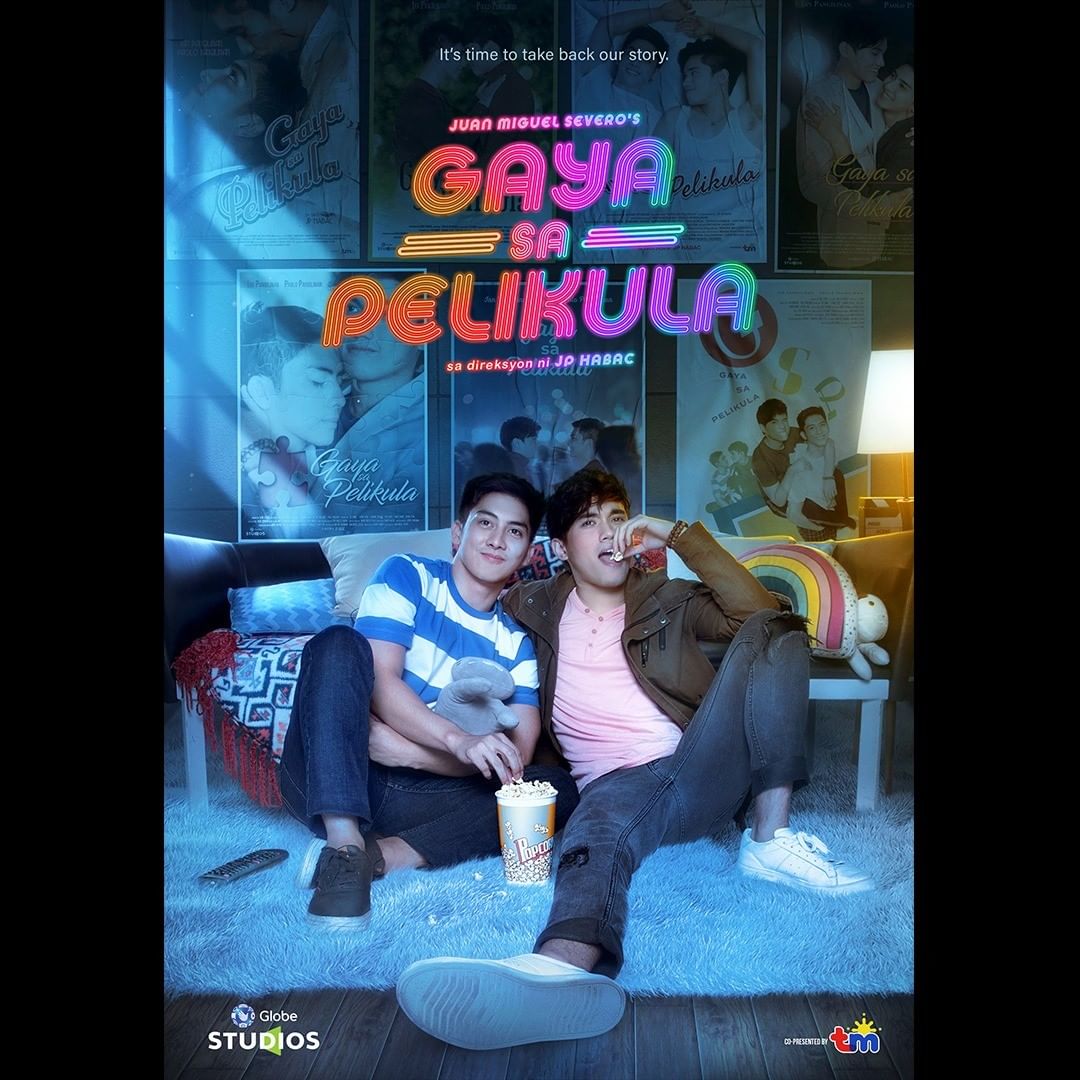 Also listened to: Episode 7: Lupa, Lamunin Mo Ako!, Episode 49: F*ck Lang 'To, Ha? Feat. Paulo Avelino and Charlie Dizon, Episode 50: Ang Phone ng Jowa ay Isang Delikadong Bagay Feat. Paulo Avelino and Charlie Dizon." -Ysa
Episode 29: That's So High School! 
"This episode was my favorite because it was sooo relatable. Two minutes into the podcast, I found out that I went to the same all-girls high school as Antoinette Jadaone! All her stories gave major throwbacks. From crushing on our male teachers (LOL) to having rivalries with other batches, I was reminded me of how fun high school really was. And honestly, if I could go back in time and experience those four years all over again, I definitely would! Nakakamiss!
ADVERTISMENT - CONTINUE READING BELOW ↓
Also listened to: Episode 2: Mga Kwentong Lasing, Episode 21: When Our Longest Relationships Are Friendships, Episode 33: Kumusta? Parang Tumaba Ka!, and Episode 46: Help! Napag-iiwanan Me! " -Lou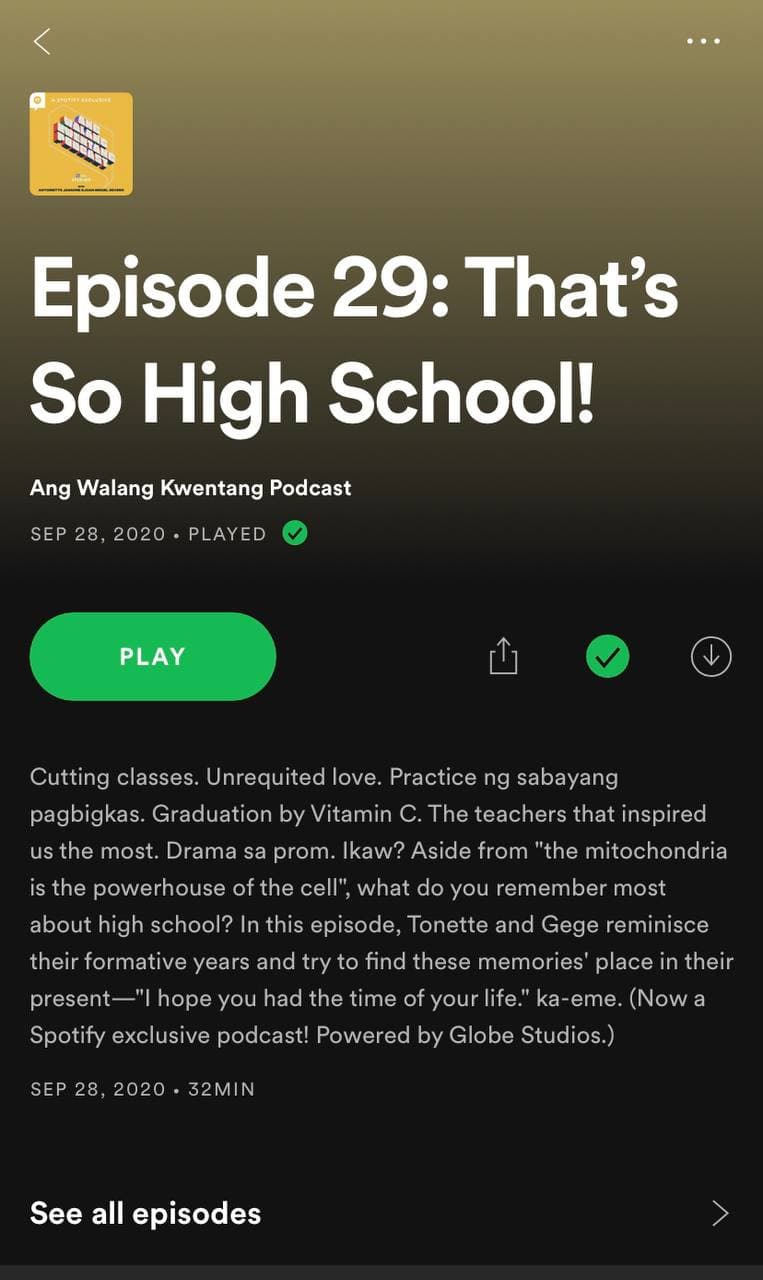 Favorite Quotes

"My favorite quote is from my favorite episode! When they were wrapping up the podcast, Gege said that the magic of storytelling is realizing that you're not alone, that it becomes a shared experience. He also said, 'Sometimes, you write to live twice or to experience things one more time or to pay tribute to things that happened in the past.' As someone who also writes for a living, it was a nice encouragement to write for myself once in a while." -Ysa
ADVERTISMENT - CONTINUE READING BELOW ↓
"My favorite quote is from Episode 29: That's So High School. Tonet paraphrased a line from one of her favorite movies, Stand By Me. She said, 'I think, you'll never have friends like the ones you had when you were in high school. Iba pa rin yung memories na binigay nila nung high school, kasi ito yung pinaka-purong friendship, e.' And I agree! Shout out to my high school barkada na until now friends ko pa rin. Even if we all went our separate ways—some abroad, some with families of their own—whenever we get together, it's as if nothing has changed. We're still the same makulit and maingay girls from before, haha." -Lou
Will I Keep Listening?
"The world of podcasts is new to me. The only other one I've really listened to is Megan Young and Mikael Daez's because I used to love their travel videos, so when they launched their podcast, it was a natural transition. Ang Walang Kwentang Podcast is equally insightful but a different kind of fun. I like the way their conversations just flow. And it's true what they say: Laughter is contagious kasi tawa lang ako nang tawa while they're laughing. I feel like I need more of that in my life. I appreciate the way they always end with a lesson or something insightful to get you thinking. Hindi lang siya kalat, basically. So yes, I will keep listening! I plan on starting from Episode 2 and listening from there. I want to understand all the jokes kasi, haha!" -Ysa
ADVERTISMENT - CONTINUE READING BELOW ↓
"Yup, I will! Overall, I think what makes this podcast great is that their kwentos are things you've either experienced already or are experiencing now. Think about it: love, relationships, hugot, and pop culture. We all have our own thoughts when it comes to these topics. Also, it's nice to see the energy of Tonet and Gege together. You might notice in some episodes that they'll go off topic and sound all sabaw, but I think that's just what makes it better, more fun even. I plan on starting my week with an episode; thanks to Ang Walang Kwentang Podcast, I now have something that'll help make my Mondays bearable." -Lou
***
We're officially on Viber! Be part of our growing community and subscribe to Cosmopolitan Philippines now!