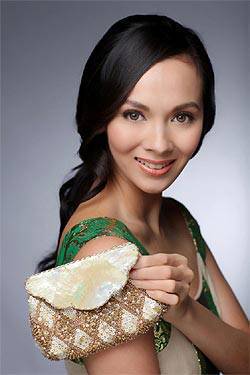 Fashion is in
Amina Aranaz-Alunan
's blood. As the daughter of a bag manufacturer, the former fashion magazine stylist spent most of her days as a child immersed in her mother's business, interacting with the company's employees and clients. So it's only natural that she would follow the fashion leanings of her mother.
Now, as Creative Director and Designer of their store Aranaz, she not only designs bags; as co-founder and faculty member of the
School of Fashion and the Arts
, Amina also designs the future of hundreds of young hopefuls who want to penetrate the local fashion industry.
In an interview with the
Philippine Daily Inquirer,
Amina admitted that she did not see the appeal of their bag business at first. But when her brother Miguel started selling their export overruns to his classmates in Ateneo de Manila University (where she majored in Interdisciplinary Studies) in 1998, the young Amina decided to expand the enterprise. From 1999 to 2003, the family sold their products in Christmas bazaars. In 2004, the City Golf Plaza in Pasig asked them to become one of their in-house brands.
At first, they wanted to keep the store exclusive. "And at that time, in 2004, our vision was really to keep it an out-of-the-way boutique, to keep it exclusive. So that's why we chose that space," quotes the
Philippine Daily Inquirer
in 2007. "We wanted to capitalize on that perception that Aranaz was exclusive and that it was hard to find. That's why we chose to not open in malls yet."
However, a fashion bazaar in Rockwell changed all that. Today, Aranaz boasts of two stores in the Power Plant Mall and Greenbelt 5, both in Makati. Described as "exuberantly designed" and "painstakingly crafted," Aranaz bags, with its native materials and modern designs, have found a market here and abroad.
[nextpage]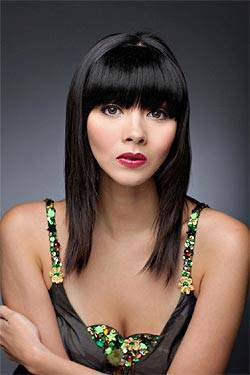 The idea of founding SoFA, on the other hand, came up when she was taking her MA at the Instituto Marangoni in Italy. Finding a dearth of legitimate fashion universities in the country, she decided to start a school with fellow Instituto Marangoni graduate
Loralee Baron-Soong
(a former brand manager for Rustan's).
The School of Fashion and the Arts turned out to be the
first specialized fashion college in the Philippines
when it was founded in 2008. When it started, SoFA merely offered seminars and workshops. Now, it offers a wide range of associate degrees, certificate programs, and short courses. Besides Amina, who teaches Bag Design and Fashion and the Arts, the SoFA faculty includes fashion luminaries
fashion designer Jojie Lloren
,
New York-based designer Brian Tenorio, makeup artist Xeng Zulueta
, and
Project Runway Philippines' Eli Gonzales
.
Amina said that maintaining SoFA is no easy feat. Aside from managing two businesses, she is also a mother of two and an endorser for Avon's new line of lipsticks. "Starting a school is easy, but maintaining it is a different story because you have to make sure your product is always good. And because our product is their education, we always have to keep evaluating what we teach our students. So we're still in the learning process ourselves," she said in an interview with the Sunday Inquirer Magazine.
Still, she hopes to turn SoFA into a full-blown fashion university. This dream may soon turn to fruition; Amina knows exactly what it takes to succeed. "
With focus, self-discipline, skills development and prayer, you can turn your passion into your career
," she said. "
Being an entrepreneur is a 24-hour job; it is intertwined with everyday living.
"
Continue reading below ↓
Recommended Videos