Charley Magalit was a professional opera singer in Manila when she decided she needed a change of environment and better career opportunities.
Despite not having the financial means to fund an education abroad, she set her sights on pursuing her dream, and six years later, she's touring the United Kingdom as both the understudy for the lead and a major character in Amélie—a role that calls for a native French accent.  
The journey to the West End was one that came in many acts, and wasn't always pretty. Charley pursued a degree in Music with a major in Vocal Performance from the University of the Philippines College of Music, despite some relatives' belief that she would not have a lucrative and financially rewarding career. She went on to become a Disney Princess—literally—to earn money for further studies abroad, eventually earning her master's in Musical Theater from the Royal Central School of Speech and Drama.
Before she bagged the role in Amélie, she got her "big break" in a UK production of Cat in the Hat. In the midst of all these, she grit her teeth and did the work, saved money, and was rewarded—even if it meant taking on odd jobs and occasionally sacrificing sleep.
Continue reading below ↓
Recommended Videos
Below, Charley takes us through her journey. 
When did you first get into theater? 
I got into theater in my sophomore year of college. I was having an existential crisis at that time and was feeling overwhelmed with how amazing my colleagues sounded, and I was looking for the perfect outlet. I remembered that I had joined a non-professional play in our parish a couple of years back and reminisced on how much I enjoyed the experience, so when the next opportunity for an audition for a play came, I took it right away. I auditioned for Sir Floy Quintos' Isang Paniginip na Fili, which was being staged by Dulaang UP. I sang "Minamahal Kita," a Kundiman, and was cast as part of the ensemble and as an alternate to the character "Paulita Gomez."
Needless to say, after Fili, I was hooked on theater and found myself wanting to learn more about acting. Since then, almost all the general electives I took were more often than not related to acting or dance. I also kept on auditioning for Dulaang UP and became a semi-regular guest actress; it became my second home on campus.
Describe the audition process for becoming a Disney performer and how you got a job.
I was initially auditioning for Hong Kong Disneyland, but I didn't get the job. What I didn't know was that they were also looking for someone to fill in for some roles for the Disney Cruise Line, which is based in Florida. I remember the casting director taking a video of me singing and dancing during the live auditions. They later on communicated with me via email to ask for more self-tapes of my singing "A Whole New World" and some dialogue from the script.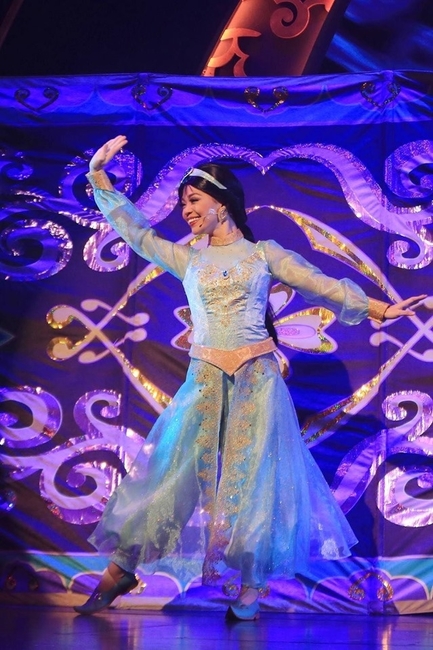 Luckily, they saw me for a few characters they needed on the Disney Cruise Line (DCL), which was based in Florida. So the DCL came as sweet serendipity.
What was the application process like, and what kind of visa did you have to get?
It was a month or so before I got an official offer via Disney and instructions on how to obtain a seafarers visa. Apart from the medical exams, I had to attend seafarers training in Manila which had both practical (first aid, fire response, abandon ship response—jumping off a 14ft platform) and written exams. It took a total of three months to undergo training and to process visas before Disney sent me my flight details to Toronto where we rehearsed.
Disney took care of us very well, so I didn't really have to worry about preparing anything before flying to Toronto for the two-month rehearsal or after each leg of the contract.
How was the pay?
The pay was very good. About $1,000 a week for the performance contract and $700 per week during rehearsals. Accommodations during rehearsals were paid for, and we lived on the ship while we performed. Disney took care of us very well, so I didn't really have to worry about preparing anything before flying to Toronto for the two-month rehearsal or after each leg of the contract; they took care of every flight from the Philippines to Toronto, Toronto to Florida, and Florida to the Philippines after the contract was over.
How did you go from Disney Cruise Line in the US to Hong Kong Disneyland? 
After my cruise line contract, I expressed interest to move to a land-based park and casting directors advised me to keep an eye out for the Manila auditions in Hong Kong Disneyland (HKDL). They auditioned in 2014 for a brand new show for the Story Book Theatre. In the first round, I sang "A Whole New World" and then was asked to stay for callbacks. During callbacks they introduced the new song to us and paired us up for the duet section; they also took videos of us. After a couple of months, we were given offers sent via Mickey Mail.
I flew to Hong Kong as a part of the opening cast of Mickey and The Wondrous Book In September 2014.
 
In Hong Kong, we were housed in one of the hotels for a week and then we had to look for our own accommodations after the first week of rehearsals and training. Although I was initially worried, it was easy to find accommodations near the park as there were so many Filipinos; a couple of my batch mates were also looking for accommodations. The pay wasn't as much as the Cruise contract but it's still really good along with the benefits the company gives you—I was earning about P180,000 a month.
In the midst of all that, how did you find the time to keep up your voice and apply to music schools abroad?
Our schedule in HKDL was very light, averaging 30 hours per week so in order to keep yourself fit and motivated, you had to look for things to keep you occupied or boost your creativity.
I would give myself voice lessons at least twice a week and learn duets with my fellow vocalists. Some dancers would even give classes. The actors in the group even looked for duologues that we would read and try out in between shows. On my second year in Hong Kong, that's when I proactively started looking into grad schools in both the states and in the UK.
What was the application process like and how much did your studies cost you?
Since Hong Kong was under British rule before, a number of British arts schools still hold annual auditions in Hong Kong, so I took the opportunity to audition for a couple of them while I was there. For the other schools I was prospecting, I needed to submit self-recorded demo tapes instead of appearing at a live audition. I also needed to prove my proficiency in English and submit an essay as to why I wanted to pursue a Master's Degree. I was asked for self-tapes for The Royal Central School of Speech and Drama even if I wanted to fly to Singapore for a live audition; they informed me that none of the MA Music Theatre would be there to see me. I had to prepare two contrasting songs and two contrasting monologues.
I had to use my savings for my studies—everything cost about P1,000,000. 
I initially wanted to apply for a scholarship but most have already finished their application period and one had to make sure a school has already offered you a place before applying for bursaries. I had to use my savings for my studies—everything cost about P1,000,000. Thank god for my relatives who took care of me here when I arrived and who gifted me some winter clothes and other necessities when I started living in London during term time.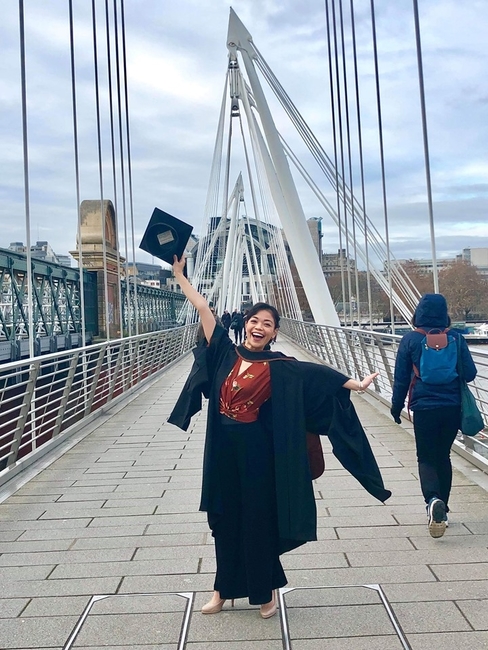 Describe life in Europe as a music student from Asia.
Europe was a completely different ballgame from Hong Kong or the US. My previous travels or migration to other countries were because of a job, and this was the first time I was going to stay in a country with a student visa. I had no means of acquiring income for the first few months and the cost of living in London was quite steep. I had family outside of London but it would have taken a crazy amount of commuting.
 I started waitressing in December until the end of the school year, only missing shifts if I had to work on a performance or on an exam. My employers were kind and quite understanding; I told them right away that school was my priority.
So I was scraping off every penny from my investments and savings in bank accounts back home on the first two months. I started waitressing in December until the end of the school year, only missing shifts if I had to work on a performance or on an exam. My employers were kind and quite understanding; I told them right away that school was my priority. I remember memorizing lyrics, lines, and sometimes even choreography during the quiet weekday shifts where we rarely had any customers.
Apart from the financial struggles, I'd say that the lack of sunny days definitely affected me on my first year. I was still getting used to the cold temperature but I found it extremely difficult during the winter months because you rarely get any sun and it does affect your mood or psyche.
How did you juggle everything?
Our course ran for 10 hours, five days a week; it was intense even for those who didn't need to work after school, so you could only imagine how tired I was. A typical day for me would be Iike this: I'd get up at 6:45 a.m. to get ready for an 8:00 a.m. class. I'd leave the house at 7:30 a.m. and bike to school. 
I lost so much weight because of this crazy schedule. I seriously do not know how I did it.
Body conditioning would usually be the first class of the day. We do all of our morning classes until about 1:30 p.m. then have an hour for lunch. We would be back at 2:30 p.m. and then do the rest of our classes until 5:00 to 6:00 p.m. I would then be expected at work at 6:30, have a half-hour dinner break, and then work until the restaurant closes at 10:30. I  tried to be in bed by midnight.
I lost so much weight because of this crazy schedule. I seriously do not know how I did it. I think I was just so determined to get my degree and start performing. Coffee, water, food supplements were my best friends.
I earned an average of £150 (P10,000) per week from my waitressing job. I was earning £8.50 (P570) per hour and then it would cover my rent of £500 (P33,500) per month, and groceries. I would baon restaurant food to reduce my grocery cost sometimes and my partner would buy groceries for me sometimes when he visits.
Describe your experience in Cat in the Hat.
It came as a surprise; it was one of the last few shows I auditioned for a few months before my student visa expired. I was desperately trying to look for a sponsor and was not sure if the producers were visa sponsors; in order to work in the UK you will need a company to sponsor you. Sponsors must have a sponsorship license. I was working on a Tier 5 Creative Working Visa.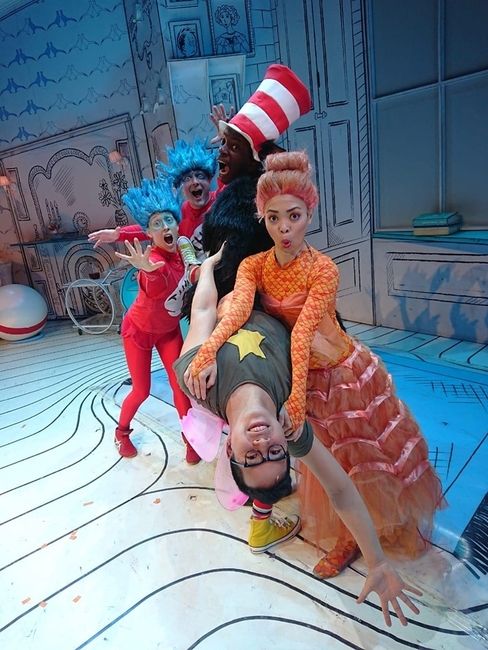 I was very thankful that I had my operatic background because it was exactly what they were looking for. I sang a legit musical theater song—"Never" from On the Twentieth Century— and the flavor of the song was exactly what they wanted for the character of Fish. Out of 1,000 candidates, they chose me for the character. It was one of the most interesting auditions I've ever done as I had to be in a human-sized hamster ball. When I was offered the job, I immediately left for France to apply for my UK working visa (I wasn't allowed to apply from within the UK.) I stayed with my partner in Paris while waiting for my visa to be approved. I was also invited to sing Fish's song, "Life Inside a Bowl" for the season preview of the theatre company. It was such an exciting new chapter of my UK life.
Auditions for Amélie came during the tour of Cat In The Hat. My agents submitted me for the casting Amélie and its director asked for a couple of self-tapes: one of my singing "Times are Hard for Dreamers" and the other, lines from the script spoken in a French accent. It helped that CITH was a kids' show, so some days we would be done by 3:00 p.m., and I would have time to work on my audition tapes before the theater closed. I worked on the materials and the tapes for a week. When I submitted it on the deadline, my agents let me know the day after that I was cast to be Amelie's cover.
What was it like being Asian, from Asia, but playing the part of someone who speaks with a French accent?
It was a lot of pressure to speak and sing in the accent. The goal was to sound authentic and yet to not push it so much so that it didn't sound like we were making fun of the accent; we also needed to be clear as to not sacrifice the story.
I was very lucky that I have a personal, very legit accent coach—my partner! He is a Frenchman who lives in Paris but was born in Toulouse. The moment I was told that I needed to learn a French accent, I immediately sent him my script. He did recordings for me and then I just parroted his accent! He is also the reason why I can speak a bit of French now.
What is your income like now and how are your living expenses? 
The income is quite good for musical theater here. CITH and Amélie were both tours, therefore, aside from our base salary of £550 (P37,000), we also had touring allowances of about £250 (P17,000). My agent takes a small percentage of my base salary.
The touring allowance helps a lot. I get to save most, if not all of my base salary because everything is covered for with the touring allowance. It's just a matter of booking transportation and accommodations as soon as possible. It also helps to cook your own food instead of eating out. I book accommodations weekly as we change cities every week.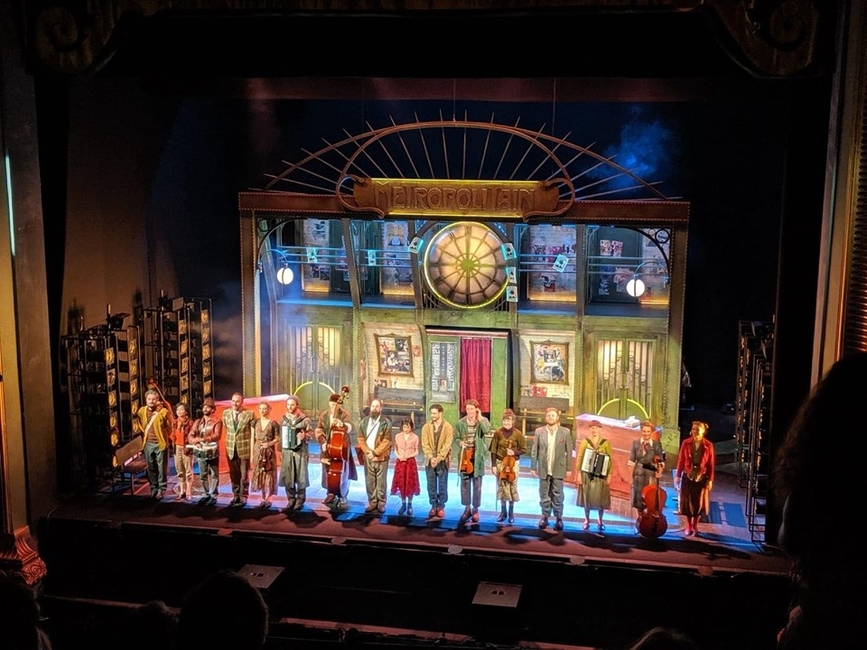 Describe the industry in Manila vs. the UK. How did your experience in Manila prepare you for your career now?
For me, the UK theater industry is a more progressive version of Manila's. For one, they (Brits) have more funding for the arts than we have back home; therefore, theater companies, especially arts council funded theater companies, take more risk in terms of what they stage and who they hire to stage and perform said productions. They will give more opportunities to newcomers because they don't want people to get bored with the actors audiences see as well. Theaters here are very mindful of inclusivity and diversity as well; they will provide shows for disabled members of the community, children, and will strive for diversity in casting. In addition, almost all the cities in the UK have theaters that receive touring companies and that produce their own shows; in effect, everyone really is exposed to theater.
In Manila, there's no space for risk, so theater companies take the same directors, the same actors...
In Manila, there's no space for risk, so theater companies take the same directors, the same actors...people who they can be sure of ticket sales, and I have not heard of a company that caters to disabled audiences yet, perhaps some shows in CCP, but only very few to null. Everything is also very concentrated in Manila. The rest of the regions would rarely or never get touring shows unless it's a show for schools.
In the UK, I noticed that everything is very organized and has a formal system. I found it really helpful that we have equity here because they oversee so many things that we do not even bother to think about back home; different types of contracts, breaks, transportation allowances, insurances. This entity sees to it that everyone is being treated well, and serves as the mediator in the industry. I don't think Manila is ready for equity yet.
The quality of talent in Manila is of international standards. 
Even though the UK and Manila are different in terms of management, the quality of talent in Manila is of international standards. I can definitely see any one of the theater actors or actresses in Manila performing here in London. We are so talented that it's such a shame how we can't expand theater productions and promotion of the arts on a national scale.
I think that since I came from Manila and experienced some terror creatives when I was starting, working here has become easier because everyone is so nice. They still expect you to give 100 percent but they'll say it in a calm way; you won't feel like you were harassed.
How do you deal with competition, rejection, and disappointments? 
I've experienced competition, rejection, and disappointments as early as seven, when I joined my first singing competition in school. I think the feeling of being rejected then compared to being rejected now is the same except, I just get over it faster. It helps that I don't obsess about getting a job so much because I tend to be paranoid over it more than just coming into an audition room to sing a song. I think of it as a learning experience every time, doing my little self-assessment after every audition.
Got advice for anyone who dreams of having a career in theater?
My advice is to stop dreaming and start doing. Put your goals into paper, visualize and then put them into action, do something every day to reach those goals... I do not think it's wrong to have ambition as long as you don't step on anybody getting there, and it's a bonus if you can help other people reach their own goals along the way. You don't need to be ruthless to be successful.
I want people to know that success is measured in different ways; it's not the same for everyone. And that art is all about a person's perception of beauty. One casting director, one reviewer, one audience member, will like or hate you more than the next person will. Don't take everything to heart; you must know how to discern what will be helpful to your growth. Being a professional artist won't be easy, but I hope you find the moments where all the hardships will be worth it.
*Answers have been edited for clarity.