Through her journey to self-discovery, Audrey Tangonan has been a sports analyst, a radio broadcaster, and a business owner. She's also dipped her toes in youth and sustainability programs, but only took the plunge and risked it all when she founded Sinaya Cup—the first menstrual cup brand launched by a Pinay.
What made you want to start a menstrual cup business?
In 2014, I joined a sustainability competition by The Do School. It's a program that's actually from Germany, but I got lucky because they had it in New York that year. They gathered 20 people from all over the world to collaborate in a 3-month social enterprise. Our challenge was to come up with a sustainable cup. The coffee industry in New York is booming and they have a really big waste problem because of those to-go cups. I mean, some people go to Starbucks six times in one day! So while I was in that program, we researched different kinds of reusable materials. We even came up with a system where the customers could get their money back if they bring back the reusable cup or mug. We leaned towards silicone cups because they're virtually indestructible. That's how I discovered menstrual cups! My personal advocacy is waste management, so when I saw the menstrual cup, I was instantly curious—curious enough to buy my own cup from Kickstarter.
Continue reading below ↓
Recommended Videos
What was it like when you first tried it on?
I'm not going to lie, it was tricky at first! But it also allowed me to move a lot. I used it for travel, especially for surfing and diving. It really blew my mind that this product existed and not a lot of Filipinas knew about it.
What were the first steps you took to make Sinaya happen?
Well I had an idea, right? But I wanted to know if it was actually good so I entered Go Negosyo. I got a lot of negative reviews! The mentors really wanted proof that this kind of product would work in the Philippines and I didn't have anything with me except for my idea. I tried another competition, but I got the same feedback. Nobody was giving me any funding. Finally, I decided to just follow the Lean Startup Method. I risked it all and used my own savings.
I guess it all started last June—that's when everything sparked. By August, I was already in touch with different manufacturers. I flew abroad and visited the factories in November, where I got the first 100 prototypes. I couldn't risk having my manufacturer just send me the products. I wanted to establish a relationship. I started selling the menstrual cups by December. That first move set me back around P20,000, but the Lean Startup Method is all about failing fast and learning faster.
How did you come up with the name Sinaya?
Sinaya is the Tagalog goddess of the ocean. It comes from Aman Sinaya. I really wanted to use her as a reference because it signifies the control of flow. The story behind that folklore is that Bathala (the sky god) and Aman Sinaya had a fight. Bathala threw pieces of land on the water that's how our islands were formed. I like it because even though they were in competition with each other, the story presented them as equals. They had an equal playing field.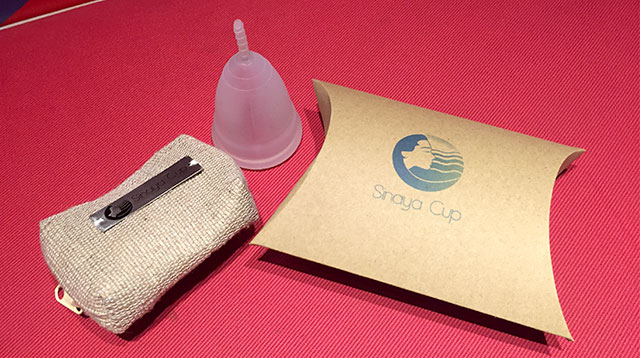 What is Sinaya's goal?
Sinaya is all about women's empowerment. Filipinas are pretty conservative. We always hear about things we shouldn't do. We shouldn't climb trees; that's for boys. So when we're on our period, we are even more restricted to certain activities. We've all experienced someone sitting out of an activity and saying, "Ay, meron kasi ako." There's this notion that we shouldn't do much. That takes away too much! Ang daming oras na nawawala sayo.
Right now, we're trying to reach out to women who are environmentalists and who lead active lifestyles. Because the nature of the cup's usage is a little uncomfortable for Filipinas, we thought it'd be better to tap into women who are already active/women who need alternatives to napkins, so they can help us inspire other women to try menstrual cups.
What are the challenges of getting Sinaya off the ground?
The biggest struggle has been attempting to break the taboos! I mean, it's a challenge, but it's also an opportunity to talk about [reproductive health.] Because the product is worn internally, there are A LOT of questions about virginity. People think we're promoting the violation of women because of misconceptions about virginity and purity. We're not forcing the product on people who believe that the hymen should be intact before you get married. That's a choice and we respect that, but we also want women to have an informed choice. Hymens bleed and hymens heal. We think that putting too much importance on the hymen oppresses women and their choices.
Another challenge is trying to get more people to buy it! Not only because of the taboos, but also because 1 menstrual cup can last 2 to 5 years, so whenever a potential first-time buyer is interested in trying a menstrual cup, we only have that small window, because there are other businesses selling foreign menstrual cups in the Philippines.
What makes Sinaya a social enterprise?
We're still developing this side of the brand but for every cup we sell, we'll donate a cup to a woman from a rural community who can't afford menstrual products. We've already donated menstrual cups to almost 40 women in La Union and Tuguegarao. In Tuguegarao, we established a partnership with Days For Girls Philippines. They donate reusable/washable pads to school girls. During the trip, we tried introducing menstrual cups in their activities. We had a health talk with them as well. That was our pilot donation program. That was last April so we are due to go back to the community to ask them how it was.
What advice do you have for young entrepreneurs?
You can never go wrong with a business idea that genuinely improves people's lives in ways you feel passionately about. Be bold enough to start as soon as you can in making your ideas happen. You may make a lot of mistakes and you might end up in a different direction from your original plan but who you become after the journey will be worth it.
Follow Ysa on Instagram.