When you think of the gaming world, what, or rather, who do you see? A lot of people still think that this industry is for the guys, but nothing could be further from the truth. Slowly, women are not only joining, but leading in game development. Take Ria Lu, for example. Ria is the founder of Komikasi Games, a company that makes casual games for brands as part of their marketing campaigns. We talked to her about her experience as a game developer. 
Describe your job as a game developer.
I run a company called Komikasi Games. Game development is collaborative, and so you work with designers, programmers, artists, and sound engineers. In our case, we also work with clients [to make sure] the game meets their objectives. My role is usually that of a producer, the one who connects all of the roles together. But I say "usually" because, since our company is not a very big one, sometimes I also end up doing design work, system analysis, and even illustration for some of our projects.
Continue reading below ↓
Recommended Videos
What's your experience like as a female game developer?
The local game industry is very open to females. In fact, many studios are clamoring for more women because it really softens the atmosphere when there are women there. There's just not a lot of interest from women to be in the game industry, I think, which is sad. I've played many foreign games that are aimed towards women, and I love them. And I would love to make women-targeted games with other women. I mean, I enjoy hanging out with my male peers and playing games with them and collaborating with them. I love the action; I love the adrenaline rush; I love the aggression of the games I play with the guys. But every now and then, it would also be nice to play or design games that deal with more feminine things, and my guy friends in the industry aren't really that comfortable with that. 
I would love to make women-targeted games with other women.
How did you get into this industry? 
I played games when I was young. I grew up with SNES and Sega Saturn and Gameboy. I enjoyed playing games because they made me feel things. They made me feel powerful and important, like I could change the world. And I thought it would be really nice to have the ability to invoke those kinds of feelings in others, too. That's what put me on the path of game development. In college, I took up Computer Science (there were no game courses in the Philippines then). Then, I got myself a scholarship and studied game art in Japan. After that, I came back to Manila and set up Komikasi.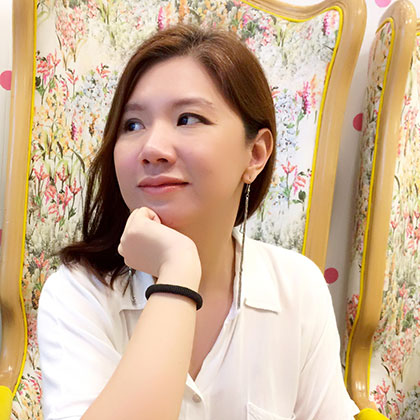 What apps do you use every day and how or why are they essential to your productivity?
Messenger tops the list. Most of my communication with my teams and business contacts happen there. Next is Gmail. Work from phone is a real thing. Calendar is also very much used. There's a lot of coordinating involved in this industry. I subscribe to an app called Blinkist. It gives you a condensed version of non-fiction books, and I listen to it when I'm stuck in traffic or when I'm waiting for someone. I also love a Japanese game called Love Scramble. If I need a quick escape, I play it.
I enjoyed playing games because they made me feel things. They made me feel powerful and important, like I could change the world. 
What do you think is keeping Filipinas from pursuing jobs in STEM?
I think Filipinas are generally practical. And the game industry, particularly, isn't exactly top of mind when you talk of practicality. It's a difficult industry, and there's still that mindset associated to games that games are frivolous and not necessary. Another reason, I think, is that STEM has a very cold and impersonal image to it, and Filipinas value relationships and connections. So, I think, whenever people think of STEM, the image is about building machines or dealing with code rather than connecting with people. And that's what's turning them off.
What kind of changes would you like to see in schools and in the workforce to encourage women to advance their STEM-related skills?

I think first of all, we need to change how we look at STEM. It has to be seen as a means to an end and not an end in itself. Our problem, I think, is we push STEM for STEM's sake. We need to focus on the projects we're building and the problems we're solving. And if we, women, think STEM can help us solve those problems, then we'll go into STEM.
I didn't go into games simply because I wanted to make games. I wanted to make games because I wanted to make people feel like they are capable of doing things. I wanted to give them that respite when things are stressful. I wanted to excite them. So for schools, instead of simply teaching robotics, why not focus on a project, say, transformable fashion.
What's the most exciting thing happening right now in the world of technology?

One of the more exciting parts of gaming that I see right now is the rise of women-targeted games. They're like Korean dramas, but interactive. Gamification and Serious Gaming (games with a primary purpose other than entertainment) are also on the rise, bringing game and play concepts into otherwise mundane tasks. And that's exciting for me. On the technology side, there's a lot of new tech to play with. Many of the tech we see in Minority Report, Star Trek, and Ready Player One are slowly becoming our reality. We have virtual reality, and once the omnidirectional floor (like a treadmill that goes in all direction) and haptic feedback (you get to feel it when someone hits you in a game) are perfected, you can just imagine the type of immersion we can achieve. We have 3D printers that can print things like pancakes and chocolate now. And we have very sophisticated AI that can understand normal human speech. But the most exciting thing in the world of technology is that people are beginning to understand the effects of technology on people, and we've realized that, like anything good, technology needs to be used in moderation. This realization is the most exciting thing in technology because now we're designing technology, sometimes deciding not to add them in certain parts of the experience, to enhance human connection instead of replacing it.
As a game developer who supports the International Labour Organization's #girlscandoIT Scholarship Programme, what are you most excited about?

What I'm most excited about are the new games and content that girls have started making. I enjoy my own share of action and explosions. But when a girl directs content, the flavor is different, too. And I like having that variation. So, if more girls can start making more content, I think that's a very good and exciting thing.
To help more women get into IT careers, the International Labour Organization has launched the #girlscandoIT Scholarship Programme. The scholarship is part of the ILO Women in STEM Workforce Readiness and Development Programme in the Philippines, which seeks to provide women with critical soft and technical STEM-related skills, employability, and leadership training coupled with targeted mentorship to help women gain quality employment and advancement opportunities in STEM-related jobs.

The programme consists of more than 200 scholarship slots in information technology trainings for women in animation, game development, software development, web development, and impact sourcing. The scholarship is implemented in partnership with the Technical Education and Skills Development Authority (TESDA), the Department of Information and Communication Technology (DICT), with the support of JPMorgan Chase Foundation.

Interested women applicants can choose to apply at the Human Resource Development Institute (Taguig), Top Peg Animation (Las Pinas), Bayan Academy (Quezon City) and MFI Polytechnic Institute (Pasig). They must at least be 18-45 years of age, a high school graduate, interested and passionate about technology. 
Follow Ysa on Instagram.