Name: Moriel de Dios Lim
Age: 29
Previous occupation: Emergency room nurse
Current occupation: Professional freelance makeup artist (Follow her on Facebook and Instagram) 
How long have you wanted to be a makeup artist?
My interest in makeup started in 2010 when I tried to explore other career options and enrolled myself in a professional makeup artistry course while holding a stable job as a nurse at a government hospital.
Why didn't you pursue a career in makeup sooner?
My discovery of makeup was kind of accidental. It was something that I never thought I'd be passionate about at first. I just felt like there was so much more to me than just being in the hospital. Don't get me wrong; I love taking care of sick people, but at that time, my soul was searching for something that would make me feel more alive.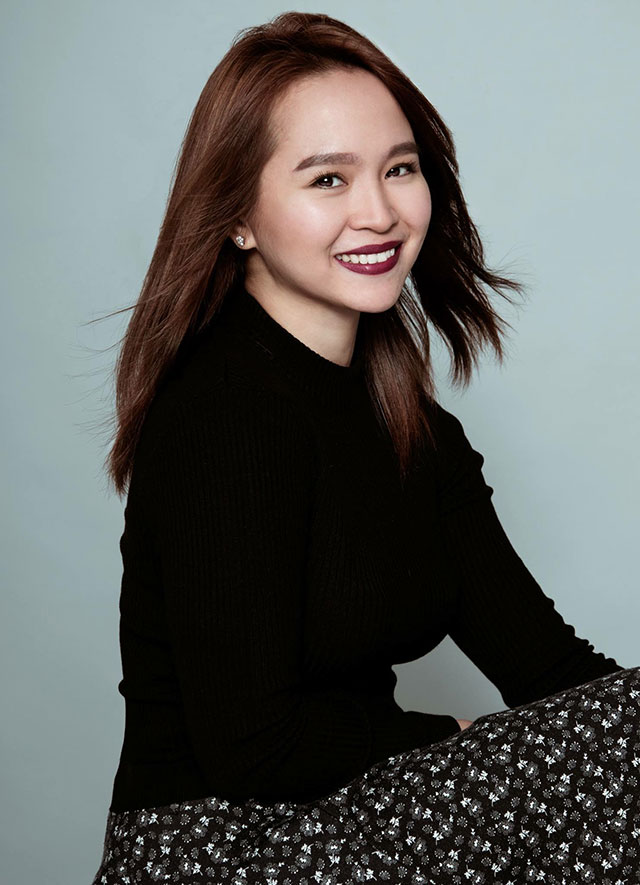 What made you decide to leave your previous job and pursue a career as a makeup artist?
In 2013, my then-fiancé (now my husband) proposed to me. The first thing that came to my mind was, "I better take that leap of faith now and resign from my nursing job so I can fully concentrate on being what I really want to be, and that is to become a full-time makeup artist. If not now, when?!"
At that time, I was hesitant to resign from work because my parents and my closest colleagues were against it. They said, "You are lucky because you have been given the chance right away to hold a nursing job at a government hospital with a good salary; why would you risk losing this job to become a full-time makeup artist when you are not even sure if you'll be successful in that field?" They also said, "You can even work in Canada or anywhere abroad if you want to because you have years of experience."
Continue reading below ↓
Recommended Videos
And they were right. Besides the fact that my fiancé and I needed money to raise funds for our wedding, I wasn't even sure at that time if I'd have a place in the industry. I was uncertain about whether or not people would hire me and trust me enough to do their makeup. But still, I decided to resign from work and market myself as a MUA. At the start, I'd do makeup for free and participate in ex-deals so I could expand my network and know more people in the industry.
Describe a typical day at your previous job, and describe a typical day at your current job.
A typical day at my previous job is kinda crazy. I interact with a lot of medical practitioners: doctors, medical technicians, radiologists, etc. I get to meet people from all walks of life, take care of them, and attend to their needs. As you all know, the emergency room is one of the busiest areas in the hospital. I attend to emergency cases of pregnant women, stroke patients, heart attack patients, those involved in vehicular accidents, those suffering from stab wounds, etc. I deal with blood and different kinds of mess every 12-hour shift.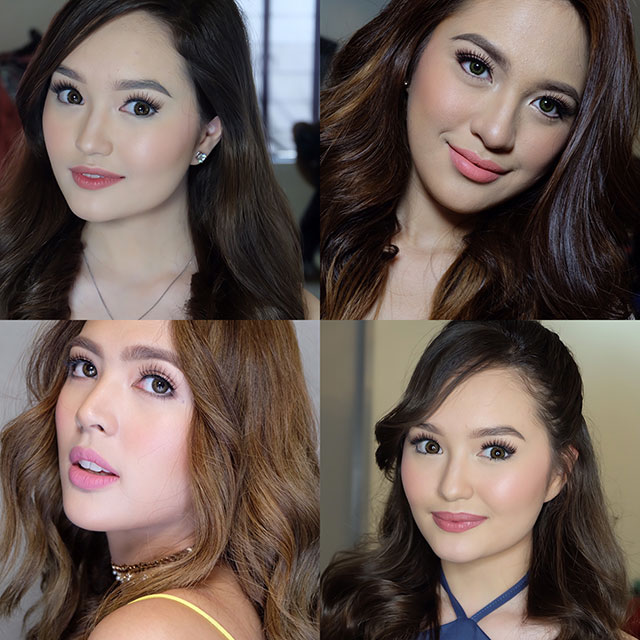 A typical day in my current job is sometimes tiring, but most of the time fulfilling! When my client is a bride, an early call time is necessary. I interact with a lot of suppliers in the event industry: photographers, videographers, coordinators, and more. When I'm doing makeup for celebrities, I get to meet people from the entertainment industry, such as seasoned makeup artists, talent managers, and photographers.
What challenges did you go through in your transition?
I guess the most challenging part was when I resigned from work and it came to a point where I was broke; I didn't even have the money to afford getting a taxi to go to gigs or build my makeup kit, and people would keep asking me to do makeup for free because they thought that since I was a newbie, I did not deserve to be paid that much.
What convinced you to stay on this path?
I knew from the very start since I resigned from my work that the road to where I wanted to be would never ever be easy. I just said to myself over and over again, especially whenever I was in very difficult times, that hard work will really pay off in the end.
To this day, I still remind myself that hard work, a clear vision, and trusting the Lord will take me to where I want to be. I cannot yet say that I'm already there, but I know that I'm one step closer to my dreams each day I decide to be patient, persistent, and passionate in what I do.
What lessons have you learned since deciding to pursue your passion?
I learned that faith in the Lord, fortitude, persistence, resilience, and humility will always be your best armor everywhere you go.
***

Name: Martie Datu
Age: 35
Previous occupation: Banker
Current occupation: Visual artist (www.martiedatu.com)
How long have you wanted to be an artist?
I dreamt of being an artist even before I knew I wanted to be an artist.  My mother saw that I showed interest in art at the very young age of three, so she taught me what she knew about drawing and encouraged me by giving me sketchbooks, paints, pastels, drawing pencils, etc. This made me fall in love with the arts even more. I would sketch during my playtime and would use my mother's old photographs as reference.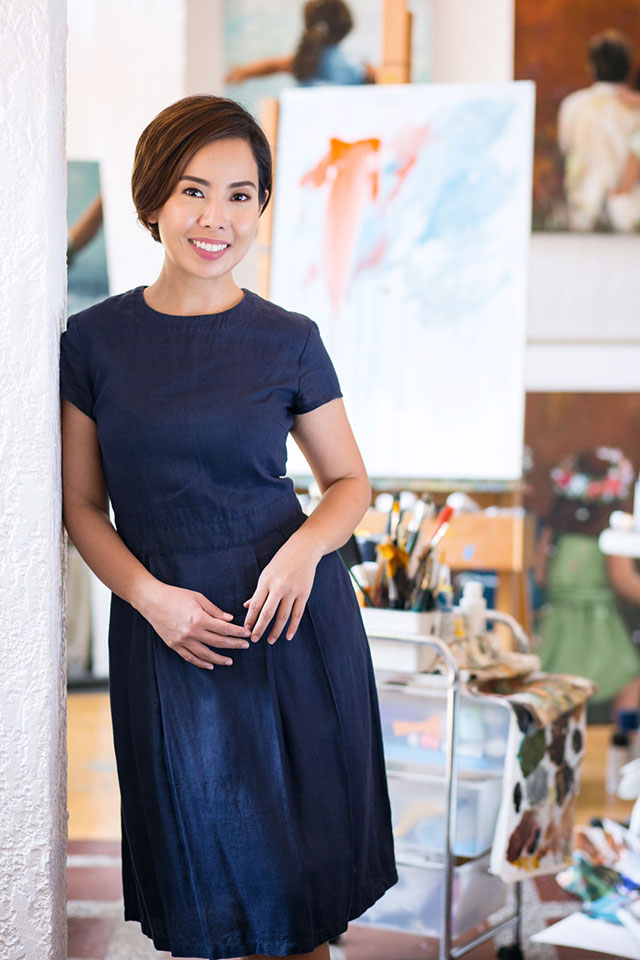 Why didn't you pursue a career in art sooner?
I dreamt of being an artist but I never thought it would be possible for me to become one, and full-time at that, in the real world. My late father was an investment banker and I saw that he was passionate about it and he was happy. So instead of taking up fine arts, I chose finance and ended up with a degree in Management of Financial Institutions from DLSU. Because of this, I set aside the arts and labeled my painting as just a hobby. 
It was because of that decision that I was given an opportunity to work for a multinational bank in Singapore, where I was reunited with my first love, the arts.
Finding spare time during my weekends, I sought to fill it with creativity. So I searched and found myself in the studio of Dipa Ein Siak, a Singaporean artist who was educated and trained in London and was a professor for eight years in Singapore's Lasalle College of the Arts. She saw my gift and encouraged me to pursue and explore my creativity further. This led me to spend my last two years in Singapore juggling two hats as a banker and painter.
What made you decide to leave your previous job and pursue art full-time?
Being abroad and outside my comfort zone of family and friends allowed me to have plenty of time to pause and reflect. I realized that my drive to stay and succeed in the corporate world was half-hearted, abundant in obligation but lacking in enthusiasm. I kept trying to fit a certain mold that the people around me have set.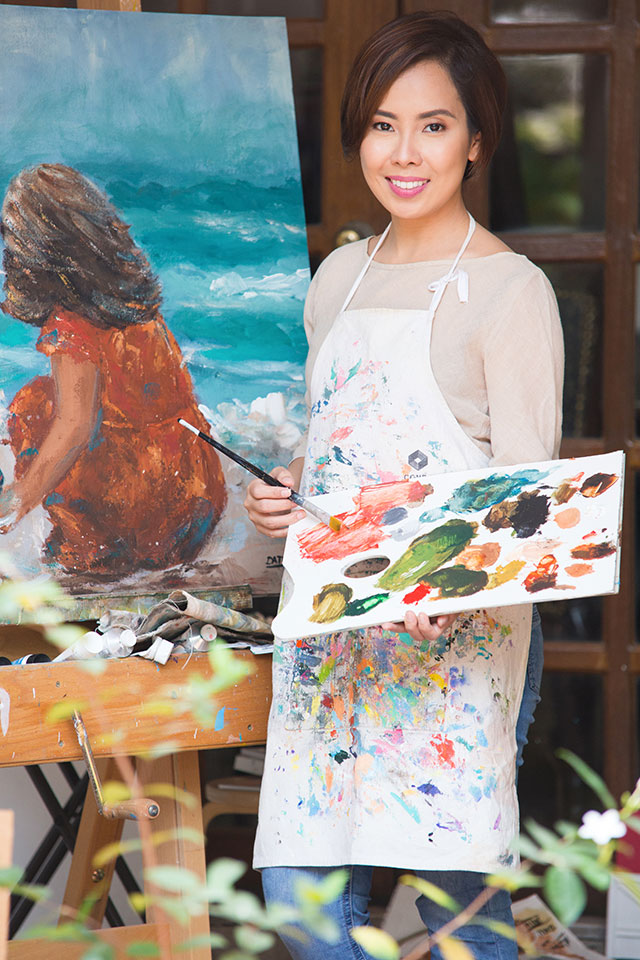 My realizations and my father's passing made me look at my options including going home to Manila. At that time, I was invited by a British multinational insurance corporation to join them and help build the Philippine market in Singapore. Promises of money, comfort, status, and prestige were being dangled in my face, but they were not good enough to convince my heart to stay. With true conviction, I decided to end my banking stint, go back home to Manila to be with the family, invest in my craft, and be joyous.
Describe a typical day at your previous job, and describe a typical day at your current job.
A typical day at my previous job: I arrive early at work, eat breakfast at my desk, attend market meetings, review the trades done the previous day, take client calls, execute morning trades, create reports, eat lunch if possible, submit documents, execute afternoon trades, take client calls, and repeat.
A typical day at my current job: I wake up pretty early for quiet time, meditation, and journaling. And then I have a decent breakfast with my mother and spend about an hour or more talking about current events, life, love, etc.  I head off to the studio and set my to-do list for the day. I do my admin stuff mostly in the morning—documenting my work, replying to emails, and keeping up with social media sites. And then I paint for five to six hours in my studio.
What challenges did you go through in your transition?
Just like a painting, I started my career with a lot of unanswered questions. Where do I start? Would I sell enough to sustain my craft? Where do I find the right people who share the same vision? Unlike other artists who started with a gallery representation, I chose to begin my journey by taking the creative and business ends of the art world in my own hands. I wanted to know the ins and outs and go through every minute detail personally. It was anything but easy. Not knowing what you are up against can be frightening and disheartening.  
Putting my work out there was a huge challenge because my paintings are very personal, thus, prone to criticism. I do not hold a BFA degree and I did not have any artist CV to present to the world.  I started my career with nothing but a heart wanting to create. There's a huge vulnerability risk and it can be troubling. I met people who asked for my artist credentials before seeing my work, and some who tried to put me down because I'm doing something unexpected, or they think that being an artist is not a real job and that it's more secure for me to go back to the corporate world.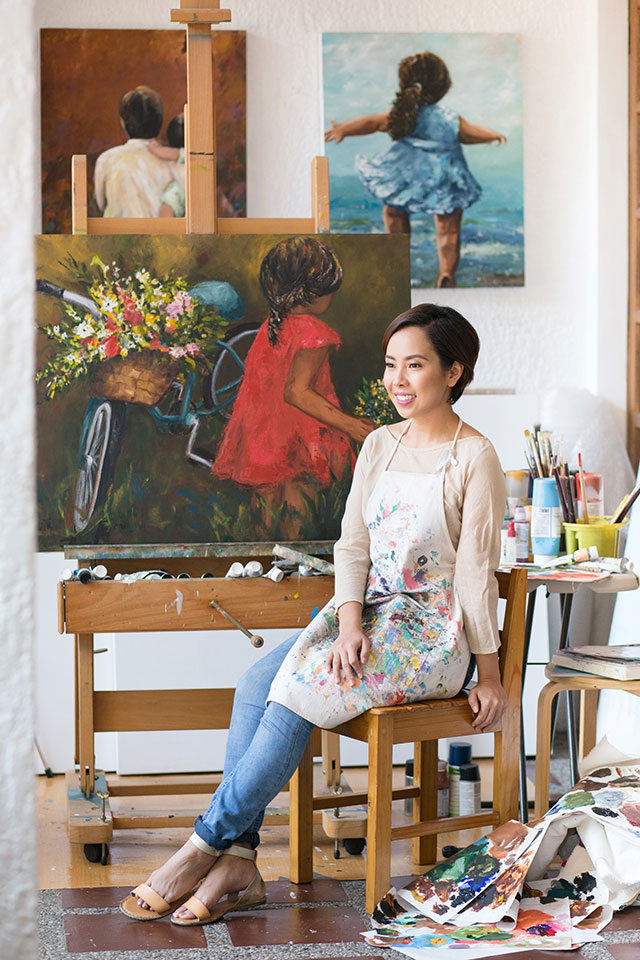 What convinced you to stay on this path?
I believe that when you fulfill your calling or when you do what you are created by God to do, opportunities knock on your door. As soon as I arrived from Singapore, I went around looking for a place to show my work. I walked into one of the galleries in BGC and mustered up the courage to show my work. Right then and there, the gallery gave me the opportunity to showcase my paintings. I held my very first solo exhibition and opened the show on my 33rd birthday. The place was packed and overflowing with love and support from family, friends, and strangers.
I recently celebrated my third year as a full-time artist and it has been quite a rollercoaster ride. Although it's different fronm what I was used to in banking, I can confidently and honestly say that I am happy and that I love what I do.
What lessons have you learned since deciding to pursue your passion?
I learned to stop trying to make a living and start making a life. Do not be afraid to find and do what makes you want to get up in the morning, what makes your heart beat faster. You'll never know how many lives you'll move and touch by doing what you love. I think if more people did that, it might even help change the world.
***
Name: Marrian Pio Roda Ching
Age: 28
Previous occupation: Writer for a sustainability corporate communications firm
Current occupation: Senior writer and editor, Bureau of Public Information ARMM in Cotabato City
How long have you wanted to do work that uplifts the Bangsamoro people?
I first moved to Cotabato City about four years ago, but at that time I just wanted to leave Manila in which my life had become stressful despite being mundane. I guess you could say I wanted to escape. After just three months in the Autonomous Region in Muslim Mindanao (ARMM), I've had the chance to work with human rights NGOs, many of them grassroots organizations. I had the chance to talk to human rights advocates, internally displaced persons, even members of armed liberation groups. From them I've learned so much about the Bangsamoro struggle and Philippine history that were never taught in school. Those first few months did it for me—when every day meant unlearning a lot of the things I learned about Mindanao before, especially about the Bangsamoro.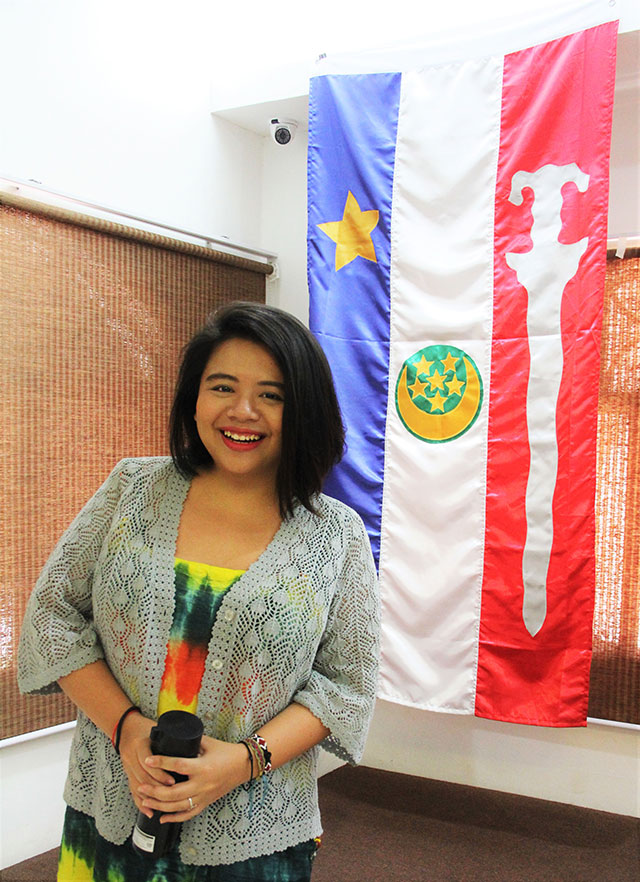 Why didn't you stay in that first job in Cotabato City?
I had to go back to Manila because of my family. When I took that first job, I didn't ask for my family's permission or for their opinion. I left abruptly. One week I was just "volunteering" in the ARMM, next thing I was packing my bags for a full-time job in a human rights organization based in Cotabato City. I don't think my family, especially my dad, had time to process everything that was happening then.
What made you decide to leave your previous job and go back to working in the ARMM?
The decision to go back had been made way before I accepted my previous job. That job was beyond okay; no question about that. The pay was good, the location was great—our office was in Ortigas—plus I got to work with friends I can talk to about things other than work. But, since I got back to Manila, I've always told everyone that I wouldn't be staying for long. That one year in Manila was spent conditioning my family and preparing them for the time when I'll leave again to be back in the Bangsamoro. Family gatherings and Christmas reunions meant asserting that I'll leave again to work in a place that I fell in love with, doing work that was, to me, clearly my calling. My friends knew this as well. When I told my former boss about the offer from the ARMM regional government, he immediately knew I had to leave Manila to take the job.
Describe a typical day at your previous job, and describe a typical day at your current job.
In my previous job, I was behind a desk most of the time. I did a lot of writing, some editing, and a bit of layout work. I wrote mostly about sustainability and corporate responsibility. Sometimes I'll meet with clients to discuss communication strategies, and then meet deadlines.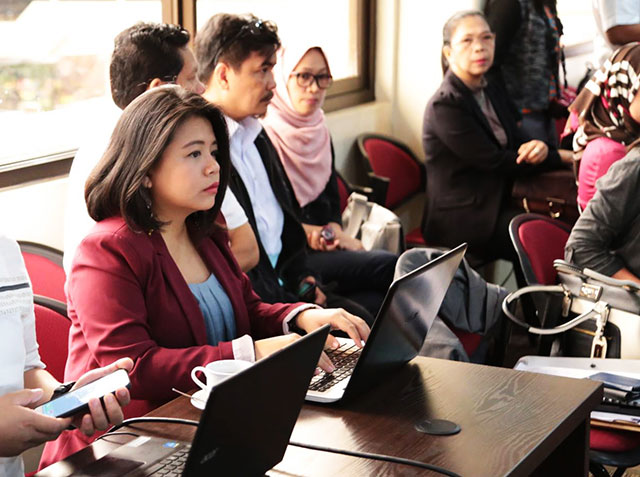 My current job involves a lot of writing about the Bangsamoro, which means learning about the Bangsamoro as much as I could in terms of history, policy, and what actions the government—both at the national and regional levels—can take to make sure that policies reflect the history and values and needs of the Bangsamoro people. I used to take writing for granted, because I was confident that I knew what I was doing. But being an outsider writing for an often misunderstood Filipino minority has helped me grow as a writer. Writing about everything in relation to the Bangsamoro struggle means more than just writing good grammar and sound sentences. It means always struggling to understand an issue from the Bangsamoro perspective and helping other people unlearn their deep-seated biases against the Bangsamoro.
What challenges did you go through in your transition?
The transition had more to do with a change in sectors than a change in location. This is the first time I'm working in government, and this is something I never imagined happening! Takot ako magpalamon sa sistema, and there was a time when working in government always felt like a step backward. What makes this one different, however, is that I am working in the Autonomous Region in Muslim Mindanao, and we have a lot of concerns that are unique and vastly different from those that other regions have. Here, we're all trying our best to assert the dreams and aspirations of the Bangsamoro people in the national agenda, and as long as there are Filipinos who fail to understand the historical injustices on which the Bangsamoro struggle is based, working in the ARMM regional government will always be relevant.
What convinced you to stay on this path?
A sense of purpose and the love that I have for this place and its people. Everything that I have learned from my past jobs, especially in relation to human rights and government policy, gained a different dimension when it was placed in a context of minority rights and a people's right to self-determination.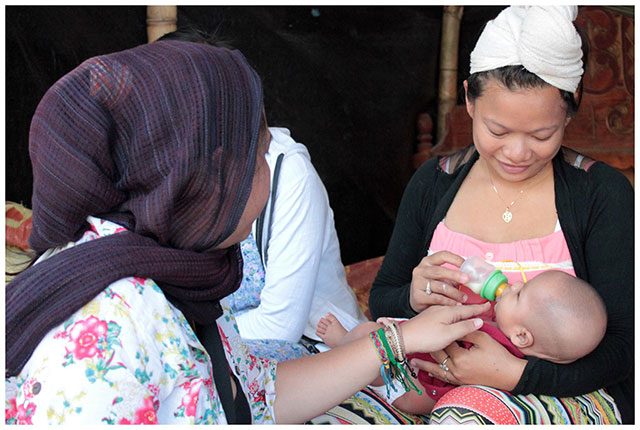 What lessons have you learned since deciding to pursue your passion?
Sometimes you have to unlearn a lot of things to gain a deeper appreciation of the truth. Growing up, I've heard a lot of people talk about Mindanao and the Bangsamoro with an emphasis on fear. Discussions about Muslims are often more about biases and less about facts, and there are a lot of people whose understanding of Islam is incredibly shallow—they cower at the mention of "Allahu Akbar," which simply means "God is great." Every day I am here means another day of learning from and about the Bangsamoro, and not everybody gets this chance. As exciting and interesting pursuing all this is to me, I've also learned that not everybody is open to it and will always question the wisdom behind my decision. This is also the reason why I always invite my friends and family to come here, and why I make an effort to meet up with friends who are visiting wherever in Mindanao they may be. I've found that people understand me better after they've seen Mindanao for themselves, and realize how there is so much to love here.
***
Name: Kath Eustaquio-Derla
Age: 31
Previous occupation: Internal communications specialist
Current occupation: Freelance writer and romance author based in Kuala Lumpur, Malaysia (Check out her book, Before I Do, on Facebook)
How long have you wanted to be a writer?
Looking back, I think I've always wanted to become a writer all my life. But the first time that I felt like pursuing the kind of writing that I really wanted to do was when Cosmo.ph's Bedroom Blog by Veronica came to a close in 2013. I wrote it for almost three years since 2009 and I had plans of turning it into a book. I had a working manuscript but, unfortunately, I didn't get the chance. I parked the dream for a while until finally, in 2014, I self-published my own book, Before I Do. I finally ticked off two items in my long list of goals: one, to publish a book, and two, to become an author. I then knew for sure that creating contemporary romance stories is the kind of writing that really sets my soul on fire.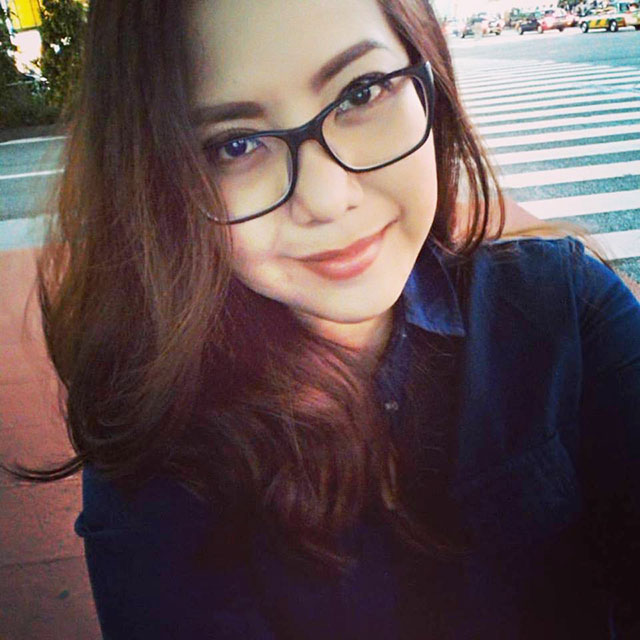 Why didn't you pursue writing full-time sooner?
I was scared to let go of my corporate life—the money, the benefits, and the daily grind. I loved the smell of fresh emails in the morning and the sounds my high heels made on the tiled floors. I loved the company cars and the events, the stress and the highs I get after a successful campaign. I loved the paychecks and everything it afforded me. I guess, most of all, I was terrified that I wouldn't earn the same if I go full-time as a freelance writer so I can focus on writing more books.
What made you decide to leave your previous job and pursue writing?
A few years ago, I made a decision to follow my husband abroad, in Kuala Lumpur. At that time, my career in corporate communications was just taking off. I was in a very good multinational company. I was renting my own condo. I had a great social life. And I was blessed to have such a close-knit family. I was earning more than I could spend. But I dropped everything and followed my husband to Malaysia. For someone who is career-obsessed, egotistic, and downright stubborn, it was one of the most difficult things I have ever done to date.
Two years ago, my husband told me this: "Don't worry about it babe, maybe your time to be successful is not now. Maybe in the future, when my success is waning, you will be the successful one."
At that very moment, I realized that love (and marriage) really is about compromise and being each other's greatest supporter. Our life abroad has led me away from the corporate arena by choice, but it brought me to a new path: writing books. Soon, I will publish the first spin-off of my first book Before I Do, wherein I collaborated with 32 writers.
Describe a typical day at your previous job, and describe a typical day at your current job.
The last corporate job I held was as an internal communications specialist for a large BPO in the Philippines. My whole day would be a blur of emails, a series of meetings, oculars, and events planning. If I wasn't working at the office until 9:00 in the evening, I'd kickbox at the gym with my trainer. Sometimes, I'd get so busy at work that I couldn't even allow myself to admit that I was tired. And you know what, I honestly loved it because every billable hour meant money for me.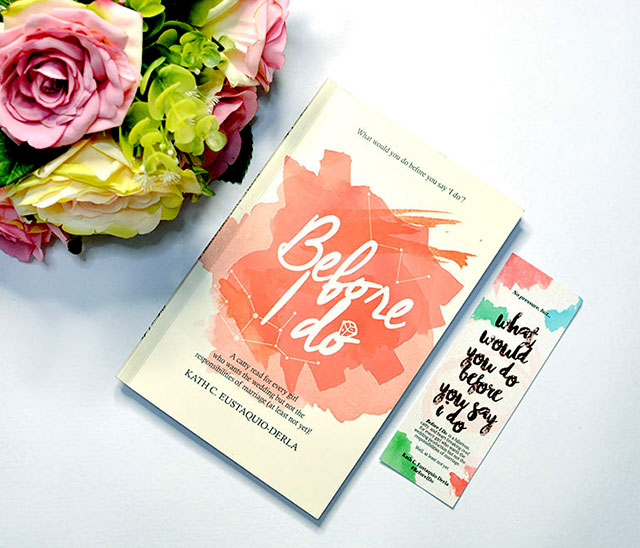 When I decided to go freelance, I told myself I would hustle to the same beat. Today, I maintain several freelance writing jobs for clients abroad. I also took digital marketing and consultancy projects. I told myself that I would hit the same salary figure I left in Manila without corporate backing.
Before I sleep at night, I write a few chapters of Before I Do's prequel (What Am I To You published in Bookbed) and sequel (Finally, I Do—soon to be published). I also run an online romance writing and mentoring program titled "You Are Cordially Invited–A Before I Do Series" wherein I teach people how to start and finish writing a contemporary romance manuscript. I currently have nearly 20 students.
What challenges did you go through in your transition?
It took me a while to find freelance jobs that really pay well. But God really provides through strong connections I didn't know I made. Friends referred me to companies and to give back, I do the same. And so far, it's been great. I used to have a problem with time management but my last corporate job fixed that for me. My training in my last corporate job prepared me for the projects I am handling now.
What convinced you to stay on this path?
I'd like to say passion but the honest answer would be stubbornness. I set goals and I am often stubborn about them. But as I learned, you have to be flexible with your methods. As a freelancer, you steer your own ship and pray that you keep afloat. Unlike other people who follow a career path that is pretty much straightforward, my corporate history seems like a mix-and-match of stints in creatives and marketing. I felt lost for a few years. But now, I realized that everything I have learned in the past—design, copywriting, marketing, communications, and even events management—I am able to do to build products that are my own. Finally, my starburst-shaped career path made sense to me.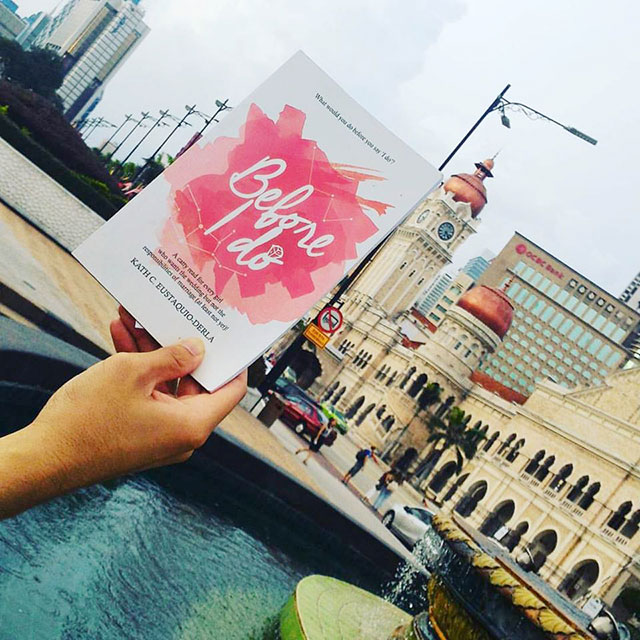 What lessons have you learned since deciding to pursue your passion?
I learned that it's okay to be ambisyosa. When I was younger, I always wondered what it would be like to have a book with my name on it in the bookstores. I would walk down the fiction books aisle and touch the books as though I wrote them. In 2014, that finally happened when my first book hit the bookstores, but I was already in Malaysia then. Today, whenever I visit Manila, I would go to the bookstores and ask the customer service personnel if they have Before I Do even if I already saw a copy. You have to be what your passion is. You have to treat yourself like a brand. This is a type of lead generation I learned in marketing. And then I tell myself finally, I am doing this for me.
Follow Cheekie on Twitter.