With the rise of COVID-19 cases in the Philippines, the government has imposed different measures to contain it. When it comes to the workforce, some companies have already implemented work from home setups with their employees. This setup is fairly common in some industries, while for some, it's something completely new. If you, like a lot of people, are still learning how to work under this arrangement, we've gathered tips from Pinays (including those who are part of our Cosmo Mixers group on Facebook) who have been doing it for some time. Here are some of the best answers:
"My number one work from home tip is to wake up early—preferably before the rest of the world (or at least the rest of the team). It gives me a few hours to figure out my to-do list, sort through my emails, and do some research without anyone bothering me. I find that when people work from home, things are more frantic because you're not as 'accessible' and people can't just walk over to you when they need something. The extra hours before everyone wakes up mentally prepares me for that." — Ysa
"Una, have a routine. Have a dedicated time to start working and a designated area to do it in. If it helps to fix yourself up before work, do so. Ako, I really shower and put on lipstick. Next, if you're leading a team, set daily start of the day calls. It sets the tone. Same with having end of the day calls to check on where everyone is na on their goals. Also if you can, magpaaraw ka kahit 15 minutes lang. I was vitamin D-deficient, which led to depression." — Paula
Continue reading below ↓
Recommended Videos
"Give yourself a work schedule (specify your 'office' hours) and if possible, set up a designated area for work. Separating 'work' from 'home' is essential, especially when you work from home! Those small, extra steps will help in maintaining these boundaries." - Jewel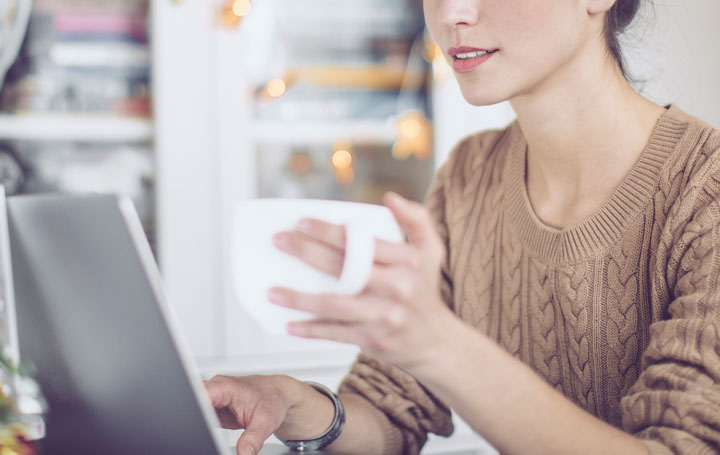 "As much as possible, work as far away from your bedroom. Before COVID-19, my company already allowed me to WFH one to two times a week. I learned that it's good to still keep your bedroom a space where you can rest and not a place to work. Sometimes, WFH tends to feel like you have 'longer hours' because of distractions. Keep a checklist and don't forget to eat on time."  -Trish
"I recommend creating a routine to keep you on track for the rest of the day. Wake up early, brush your teeth, shower, put on your skincare, and even makeup if you feel like it. Utilize productivity apps and create as many lists as you'd like to stay on top of everything. I think it's also important to take breaks throughout the day. Get some sunshine, smell the air outside your house—anything! Be honest and transparent with your team and your boss. It's easy to just go MIA when you're working remotely. But don't do that! Also, when you have con calls—which you probably will! Make sure to mute your mic and disable your web cam after picking up so your team doesn't have to hear what's going on in your homes." – Retty
"Look presentable even when you're just sitting in your bedroom with your bed a few feet away from you. I don't mean dressing up in full corporate attire; just a nice-ish outfit that's an obvious upgrade from your usual pambahay. Besides dressing nice, I put on some lip tint and make sure my hair looks neat. I find that helps me get in the right frame of mind to work. Also, it helps that every time I catch a glimpse of myself in the mirror while traipsing around the house, I don't think to myself, 'Oh, look at that blah-looking bum in that blah-looking outfit.'" – Cheekie
"I think the most important thing to have is a to-do list. It's easy to lose track of tasks especially when you're at a space that's comfortable. Make sure to stick to your daily routine, but give yourself 'brain breaks' in between. Having water and snacks near my work area also helps. It keeps me productive!" –Lou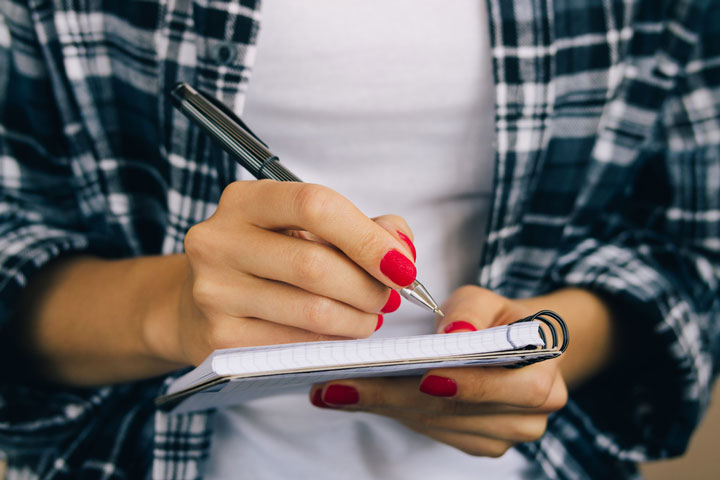 "I work away from my bedroom because I found that working from my bed makes me feel lazy. Instead, I have a desk space with all my essentials: Notebook, pens, a glass of water, and a desk calendar. It helps me keep the 'work' mindset, and sitting upright is great for posture too!" – Andie
"Don't work on your bed! Also, try not to work in your room so you don't feel like doing something unrelated to work, like cleaning your room." – Barbara
"Manage the number of breaks you take in between work. It can get tempting to stand up or check your phone every now and then with no one around to observe you but scheduling your breaks, by setting it every other hour or after you cross off something from your to do list, helps you stay focused and keeps you motivated throughout the day." –Kleo
"Manage your notifications on messaging apps, especially those involving a lot of teammates. If you're part of different chat groups like me, it can definitely get overwhelming and distracting if you have so many banner pop-ups (with sounds!) on your desktop as you are working on one thing.  I make sure only mentions of my name will have banner pop-ups, for example; for the rest, they will just be on the chat group's feed, which I routinely and frequently check throughout the day. Experience has taught me that focusing on one thing at a time delivers the FASTEST results. If you are spreading yourself too thinly by replying to multiple groups at a time WHILE working on something that's due, you won't meet your deadline. Think of it like this: In person, you can only deal with one meeting at a time too, right? Same rules apply when you're working from home." – Jillian
"Change out of your pambahay (or at least look decent) and take a shower and brush your teeth as if you're going out so you don't feel sluggish!" – Gia
"Setting a work schedule is really helpful. It helps you set your mentality of how your day will go, and also lets the people around you (both at home and in work) adjust. It also helps maintain a work-life balance by setting a boundary on when work starts and end. Also, as much as possible don't work in your room, or at least your bed. This helps you from feeling lazy and stuck in the same place most of the day. It also keeps the sanctity of your room as a place of rest!" – Julienne
"Make sure you have a designated work place away from the bed. :) May tendency na ma-burnout if you just place a folding table and make your bed as the chair, especially if you have the type of work na hindi ka na makaalis ng laptop mo. Pakiramdam mo sa kama na umiikot yung mundo mo. Snacks are important! Can be fruits, cookies, etc., but just make sure you have snacks because it saves so much time from unnecessary trips outside. Nakakasira din siya minsan ng groove sa pagwork pag bigla ka umalis. And those na hindi mahilig magchat sa Messenger, maappreciate mo ang Messenger or any messaging platform! For a madaldal person like me, medyo grabe adjust na wala ka makachika so extra BFFs kami ng Messenger sa ganitong panahon. Saktong chika lang kasi pag intense chika, makakalimot ka sa oras." — Patricia
"I've been working from home full-time since August last year, and I think what really made me productive at home is investing in my home office setup. I only have the essentials for now—a work desk for my laptop and a legit office chair. Having a space at home designated for work makes me go on 'business mode,' as in, I could tell the difference compared to those few times I tried working from my bed or couch with a portable laptop table. Oh, another tip is to take breaks, but don't take too long or too many because it throws you out of the zone. Haha! Take breaks as if you're still in the office (I usually have a 5-minute coffee break, a 5-minute chika break, a 15-minute recess, and an hour-long lunch every day). For lucky ones like us who have flexi-time, in times of dire need, take a nap or a walk outside your house. You'll certainly feel refreshed and ready to roll after." – Ginyn
"Take a shower before you start working! I've tried working in my pajamas and going online as soon as I got out of bed and it just didn't work for me. It also helps when you eat breakfast beforehand, treating your work from home days just like a regular day in the office." – Lily
"Invest in noise-canceling Bluetooth headphones. Bye to your mom's nagging voice, your fur baby's barks and everythaaaang. Learn to brew your own coffee. Cold brew or do it with your coffee brewing method of your choice. Or if you're a basic bitch like me, Nespresso is heaven-sent. Put alarms for breaks. Stand up, walk, get water, eat snacks, etc. Sitting down for so long is a health hazard. I've been in the IT industry for 14 years, which means I've had the option to WFH for that long." - Bev
"There are apps to track your productivity like Trello, Asana, and many more. I personally love Trello and been using that for four years. It lets you connect to your messaging apps like Slack or other web communication tools. You can also download it to your phone and turn on/off notifications for your tasks." – Angel
*Answers have been edited for clarity. 
***
We are officially on Viber! Be part of the Cosmo Viber Community by clicking here! You can also visit the Sticker Market and download the "Cosmo Girl Sticker Set" here to be automatically part of the group. The stickers will only be available until April 27, so don't miss out on the fun!
 Follow Retty on Instagram.