Yes, we Cosmo chicks love anything on a budget, and if we could get something we love for a much cheaper price, we most definitely would! But, there are just some things that are definitely worth spending on, at least once in our lives (or, once a year or month), just for the experience.

One of them is the Filipino Civet or Alamid coffee, touted as the world's best and most expensive coffee. Anywhere else in the world, it can sell for as high as USD 100 per cup! But here, in the new Alamid Cafe Xpress in Recreational Outdoor Xchange (R.O.X.) at Bonifacio High Street, The Fort, you can enjoy a luxurious cup at a more reasonable price of P270 (a bit pricey for coffee, yes, but totally worth it!).

Where To Go:

Alamid Cafe Xpress is located inside R.O.X. in B1, Bonifacio Highstreet, Taguig City. Visit their website www.alamidcafexpress.com or email basil@arengga.com for more info.

What To Try:

Coffee connoisseurs, celebrities, music and outdoor lovers flocked to the launch of Alamid Cafe Xpress at R.O.X. last February 8 (view the gallery to see event photos). This is one experience coffee lovers among you surely wouldn't want to miss! Considering how much a lot of us rely on coffee to get through our super busy and stressful days, it's so refreshing to try the best one there is. And, aren't you proud it's made in the Philippines?

You can enjoy that precious cup of Alamid coffee in different blends, depending on your desired coffee fix: Coffee Press, Espresso, Americano, Cappuccino, or Blend Your Own, which allows for a more customized mix. Php270.00 would get you an 8oz cup (just enough for that rare experience). Those who can afford it can purchase a kilo of Alamid coffee roast for a whopping P24,000, good for 100 cups. (Yes, we did mention it is expensive coffee!)

Alamid Cafe Xpress not only boasts of the rare Alamid coffee, it also specializes in single-origin blends, which means you can request a particular coffee variant from a province or have it mixed with different coffee beans and blends.

What's Special About The Taste Of Alamid Coffee?

One sip, and you'll know the difference. It's rich, uniquely flavorful, and smooth in your mouth. Even after you've finished the cup, you would barely, if at all, have that not-so-pleasant after taste that other ordinary coffee blends and types would leave in your mouth. It's so good, it's quite a pity you can only enjoy a little at a time! But, that's what makes it even more special, don't you think? Enjoy this when you want to give yourself that extra treat after a super stressful week (or when you've just received your pay check!).

Even the process of making alamid coffee is interesting (and quite a story to tell)! Go to the next page to see the process flow of how Coffee Alamid is made and the menu of Alamid Cafe Express. Click the 'view gallery' button to see some photos from the launch event.
[nextpage]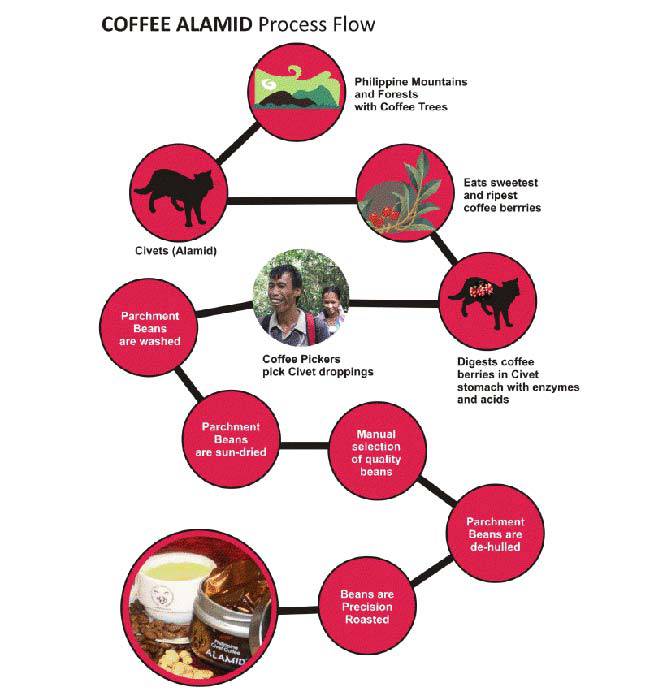 Alamid Cafe Xpress Menu

Siphon Signature Coffee
Alamid Coffee, P270
House Brew for the Day or Blend Your Own, P80/P150 (good for 2)

French Press Signature Coffee
House Brew for the Day or Blend Your Own P70 (good for 1)/P135 (good for 2)/P265 (good for 4)

Espresso "KapeRanggot"-Based Coffee
Espresso, P75
Americano, P80
Cappucino, P90
Cafe Latte, P95
Cafe Mocha, P95
Maple Cafe Breve (8oz), P105


Launch the gallery to see who attended Alamid Cafe Xpress opening.
Continue reading below ↓
Recommended Videos
963