A lot of us already enjoy walking down that relaxing strip called Bonifacio High Street at The Fort. But have you maxed out all the fun you can possibly have there? Here are Cosmo's fun
gimik
ideas to try with your group this weekend.
Food Trip.
A visit to Bonifacio High Street will never be complete without the food trip, of course. With the many restaurants and cafes in the area, you can't help but make your first malling activity one of dining. Channel
Sex and The City
and try having breakfast
al fresco
at Krispy Kreme, Bo's Coffee, Figaro, or Pancake House as you catch up on the latest news with your gal pals. Grab a hearty lunch at Mini Shabu-Shabu or T.G.I. Friday's, then have dinner or a nightcap at the Texas Roadhouse Grill or Clawdaddy. Cheat on your diet for a day and enjoy the sumptuous meals the restos in this strip have to offer!
Get a relaxing massage.
After a long, hard week at the office, Cosmo chicks deserve to pamper themselves and recharge before another week begins. Why not book an appointment at The Spa for a full body massage and scrub to help you ease those tired muscles?
Attend the seminars/classes offered at Fully Booked.
Yes, it's one of the biggest book stores you can find in the metro, but this Fully Booked branch isn't just about books. They now offer photography classes, art classes, basic speed reading, and different business seminars as well, for you to develop a new skill or two.
Walk your dog.
Boni High Street is known for being animal-friendly. And that explains the different breeds of dogs walking around the area (with their owners, of course) that you often do not see in regular malls. Just be responsible enough to bring your own poop cleaner so you help keep the area clean!
[nextpage]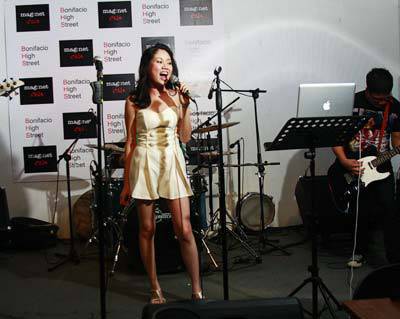 Reconnect with your inner kikay child
and bond at Club Princess. Bring your niece or little sister and go giddy being surrounded by the pink interiors, funky nail polish in all imaginable colors, hair glitter, makeup, and other
kikay
stuff that will surely bring back memories of how you used to play dress up and wear mom's high heels!
Rock your heart out.
Mag:Net Cafe hosts various events that include poetry reading sessions and the highly popular
Rockeoke Nights
,
where visitors and guests can rock with a live band to their hearts' delight--on center stage or among the crowd. Guests frequent the place for the live music and awesome food. The place can get pretty crowded so it would be best to book a table if you intend to enjoy the night here with your gal pals.
Enjoy art
. High Street is known for being open to art of any form, be it sculpture, painting, and overall decor. Take a stroll from one end of the strip to the other, and you won't even notice how far you've gone as the wonderful scenery captures your eyes, soothes your senses, and makes you appreciate life just a bit more.
Make you own stuffed toy
. At Animal Land, you can be a kid once again as the store lets you choose the body parts, color, size, and shape of the stuffed animal that you want to create! It's a truly fun experience for the Cosmo girl who loves to work with her hands--or wants something different and light to try with her man.
There are a lot of other activities you can do while at Bonifacio High Street. You can practice photography, skateboard, or just sit down for coffee and read a book. All that matters is you have fun doing them!
Continue reading below ↓
Recommended Videos