Though often marketed as a "healthy" hazelnut spread, we're not dumb. We know it's not healthy; anything that tastes that good can't be. Still, we eat it like it is, and we always feel #blessed when it's part of a pasalubong package.
Nutella is made of these five ingredients: cocoa, hazelnuts, palm oil, skimmed milk powder, and sugar. But because you're human, you probably think, "Oh, that doesn't sound too bad," even though palm oil has been linked to cancer. We get it—it's not real unless you see it. So to all the visual people out there, feast your eyes on this: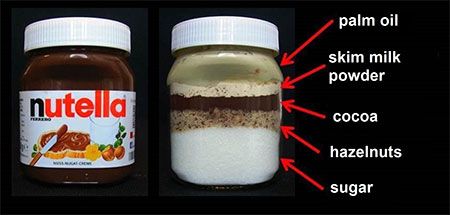 Continue reading below ↓
Recommended Videos
This isn't to scare you into banning Nutella from your diet. We're just reminding you that it's probably not a good idea to have it within reach when you're craving, depressed, or bored. 
Follow Ysa on Instagram.