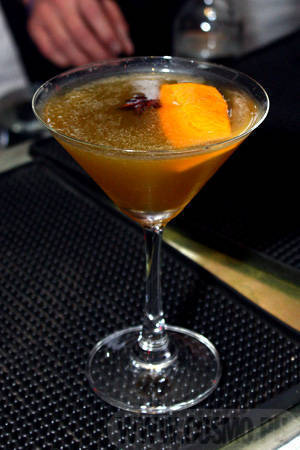 Out with the old, in with the new! That should be our mantra for 2013 as we start the year on a positive note. Forget that bad breakup with what's-his-face or that rejection letter you received from the nth company you applied to. Shake off the bad juju and start fresh; after all, isn't that what the New Year is all about?

And what's a better way to jump back on track than a ladies' night with your favorite girlfriends?

Cosmo had the privilege of meeting with Diageo Reserve World Class Asia Pacific regional manager Colin Chia, and the winner of the Diageo World Class Final Asia Pacific 2012 Kae Yin during the launch of the World Class Bartender of the Year 2013 at Opus Restaurant and Bar.

As a treat for our readers, Taiwanese bartending champ Kae Yin concocted a custom-made Cosmopolitan cocktail on the spot, just for us! He explains, "I'm going to make a different kind of Cosmopolitan infused with green tea liqueur which gives it a more oriental taste. Basically, it's the Asian twist to a classic Cosmopolitan."
Continue reading below ↓
Recommended Videos
We sampled the special mix and it was absolutely delish! Want to know how to make your own Asian Cosmopolitan? Check out our exclusive recipe below!

The Asian Cosmopolitan
by Kae Yin

Ingredients:
45 ml Ketel One Vodka
15 ml Green Tea Liqueur
12 ml Lime juice
30 ml Cranberry juice
Orange zest
Star anise

Shaken and strained into martini glass. Cheers!

The Diageo World Class Bartender of the Year 2013 competition will run through December 2012 to June 2013, with the country's best bartenders from the hottest clubs and hotels vying to represent Southeast Asia in the World Class Finals in July.