Here's something everyone knows about me: I dislike going out at night. Don't get me wrong, I am not a boring human being. I've gone out to bars and clubs for GNO. I've had a couple of beers and shots with guys. I am not awkward at socializing and meeting people, because I've always been OK with meeting new people. But I was never the type to text my friends, "Hey! Valkyrie tonight. G?"
My idea of fun was always pretty simple: Me, drinking coffee, with a book in my hand. Sounds swell, right? But the wonderful people at Nestea invited me to cover the #MyNestea Beach event for six days, on the weekend of LaBoracay. Which also happens to be the craziest, biggest, fun-nest weekend on the island, according to everyone.
"But you're kind of a tita! How are you going to survive six days of intense partying?" they all asked.
So I took that as a challenge, and said yes because why not. And also, #YOLO? (IDK, did I use that term correctly?)
The first thing I did on the island was go to the foam party called the Summer Plunge Party at Tides Roofdeck. I have never attended a foam party in my life and did not know what to expect. For instance, I did not know you could drown from bubbles. Halfway through the party, Nestea's Leanne Jacinto dragged me out of the crowd to dance in the middle, and the foam machine started spurting out so much foam, we were burried in bubbles. It was sooo much fun!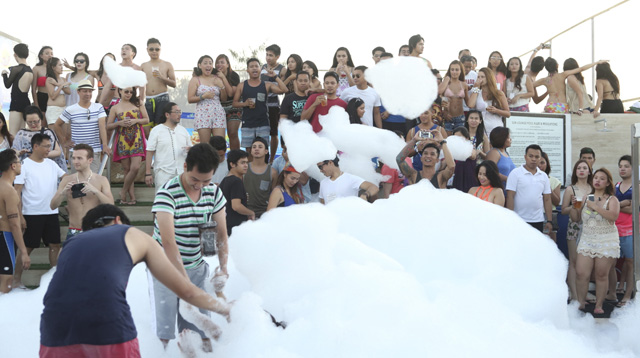 The Summer Plunge Party at Tides Roofdeck. You don't see me in the photo, because I am literally buried in foam.
The music started to pick up, too, and I found myself dancing to the beats of DJ Nina, DJ Ludwig Van Beat, and DJ Ron Poe.
I also got to party with Daniel Matsunaga!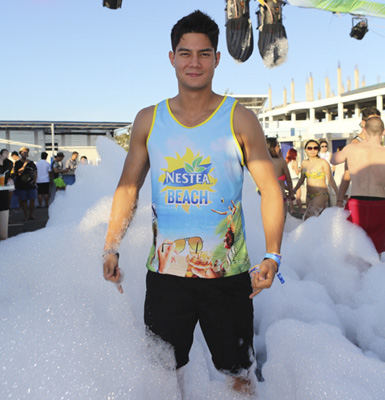 Wow this guy is good looking IRL. Erich Gonzales, you are a lucky lady!
But the highlight of the six-day event was Nestea bringing in two of the biggest international EDM DJs to Boracay—DJ Sander Van Doorn and Knife Party—who played at Epic Bar in Station 2.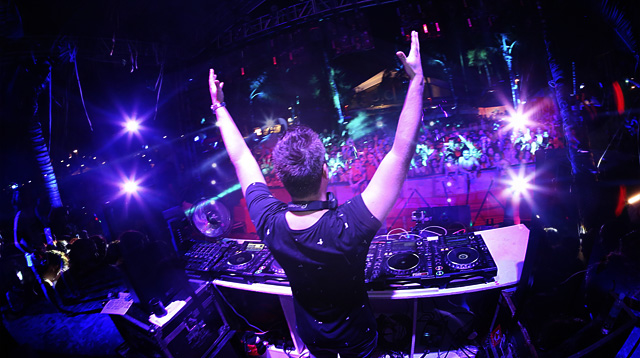 Solid beats from DJ Sander Van Doorn and Knife Party
Their sets were so good, I found myself in the middle of the crowd with a bunch of foreigners who were creating their own mosh pit.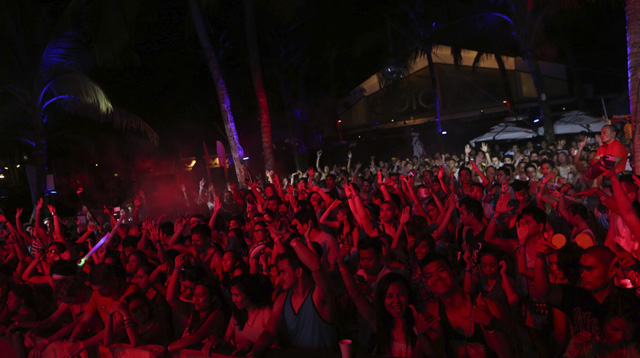 Everyone was pretty happy, yeah?
Mosh pits are only fun if you are taller than everyone else. The foreigners were about six feet tall, so every time they slammed into us, we just...died. Not fun. (Okay, probably fun if you're drunk.)
Aside from all the cool parties I attended, I was lucky enough to watch volleyball players Gretchen Ho, Amy Ahomiro, Michelle Gumabao, Cha Cruz, Rachel Anne Daquis, Dindin Santiago, Carmela Tunay and Trisha Santos during Nestea's Beach Fantasy Beach Volleyball Match Championships. I am officially a fan of the girls, because not only are they amazing athletes, they're all ridiculously good looking, too!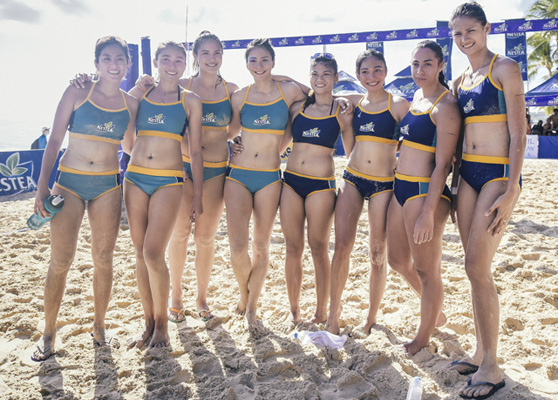 (From L-R: Gretchen Ho, Cha Cruz, Michelle Gumabao, Rachel Ann Daquis, Carmela Tunay, Trisha Santos, Amy Ahomiro, and Dindin Santiago)
I mean, seriously. My belief is that you basically have to be a goddess to be a volleyball player.
So did I enjoy my whole partying experience? Totally. It was fun to let loose, down a couple (fine, a lot) of shots, party with strangers, and overall have a spankin' good time. I now have an appreciation for EDM and songs that go tugs tugs tugs tugs. I also learned that while I hate the taste of alcohol, it's not something I would totally shy away from. But I don't really need it to have a great time.
Do I see myself actually going to Boracay just to go crazy? Probably not. The party lifestyle isn't for me. But it is an experience I think every twentysomething should go through at least once in her life—tita or not.
So go to Boracay. Party if you want to. Meet friends. Go out of your comfort zone. If it's something you've never tried before, just do it. Because I don't think it was ever a crime to try something—and like it—for the first time. 
Now that I'm back in Manila, I can't wait to drink my coffee, read my book, and burry myself under the sheets, because #Tita4Lyf.
Follow Sandra on Twitter.