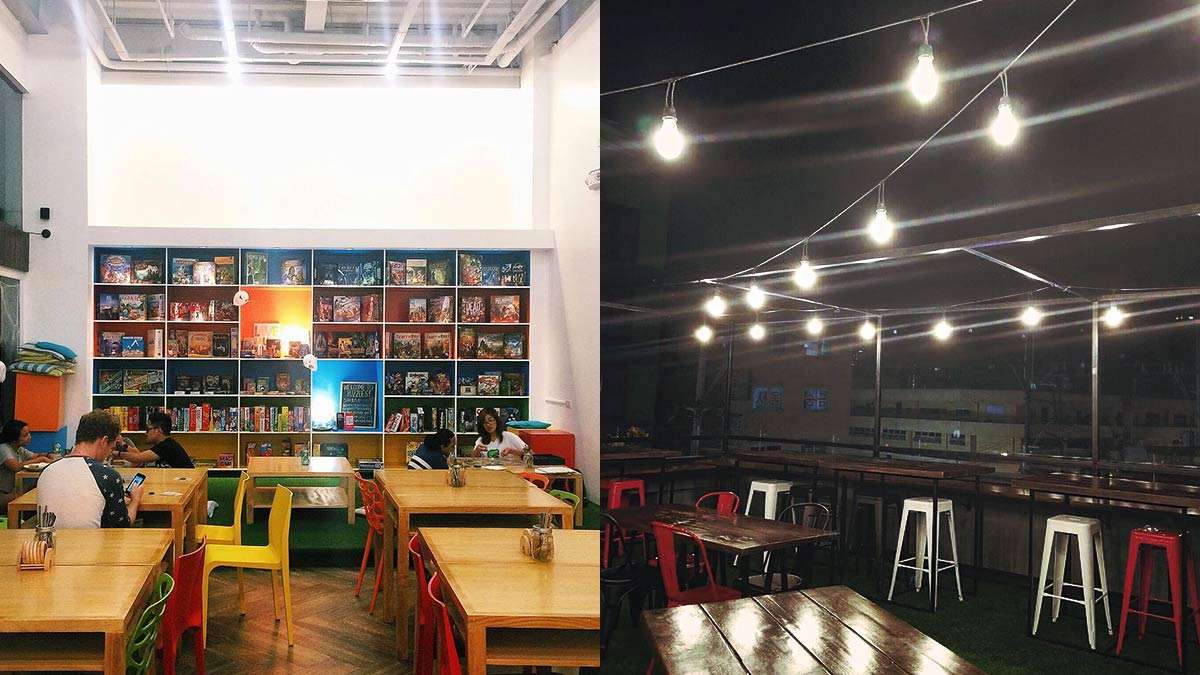 There are lots of reasons why people choose not to splurge on Valentine's Day. You could be a student on a budget or waiting on a paycheck that hasn't come in yet. Or maybe your date just isn't into all that commercialized romance. Regardless, there are tons of ways to spend some QT with your cutie. Here are our top picks for affordable date spots around the metro.
UP Vargas Museum


Address: Roxas Ave, Diliman, Quezon City
The Vargas Museum at UP Diliman is open to the public. And for Php 30 each, you and your date can spend an afternoon exploring the multi-story gallery. From the contemporary art work in the roomy ground floor, to the historical pieces in the upper levels, this sun-drenched space is a creative way to make memories with your special someone. Plus, afterwards, you can stroll through the lush green spaces around campus, and snack on some legendary street food.


Lucy in the Sky Cafe


Address: 222 Wilson st., Greenhills, San Juan City
If you're looking for a unique sit-down spot, Lucy in the Sky Cafe, near the Greenhills Shopping Center, is an Instagram-worthy venue. They serve quirky coffees, hearty meals, and sweet confections. So you can have a quick, casual date here, or lengthen your stay with a few more courses. This is especially fitting for couples who are into healthy eating—everything on the menu is vegetarian or vegan!


Baan Khun Thai


Address: Many branches nationwide
Set the mood for the rest of your evening by getting an indulgent aromatherapy massage at Baan Khun Thai. With its multiple branches all over the metro, you can book a couple's session pretty easily. Before you go, be sure to do a quick search online for promos. Depending on which branch is offering the discount, you could get the Php 550 massage for more than half off.


Arigatori Yakitori-ya 


Address: Judea St., Moonwalk, Parañaque City
For a no-fuss date in the South, stop by Arigatori Yakitori-ya. This alfresco eatery serves beer, ramen, and a wide selection of pulutan. Students in the area might enjoy their Valentine's Day promo. From February 13 to 19, they're offering their Wagyu Beef stick and matcha beer for only 100 Php. 


Cinema '76 Film Society


Address: 160 Luna Mencias St. Brgy. Addition Hills, San Juan del Monte
For a unique movie experience, visit Cinema '76 Film Society, a sixty-seater indie theater in Addition Hills. Cheaper than your average mall theater, and with an arguably better selection, this venue is the perfect place to take that movie buff you've been dying to go out with. Check the cinema's schedule on their Facebook page to see what local and international indie films are showing around Valentine's Day.


Fyre


Address: 5060 P Burgos cor Guerrero st. Brgy. Poblacion, Makati
Grab a couple drinks with your date at the newest rooftop bar in the hip neighborhood of Poblacion. They've got low beer prices, awesome DJs, and a great panoramic view of the city. The bar works well for group dates. But it's also laidback and spacious enough for you to find some privacy with your Valentine.


Books from Underground


Address: Padre Burgos Ave., Manila
This date is perfect for the anti-Valentine's Day people who refuse to partake in the convention of flowers and chocolates. Set in a Manila underpass, this second-hand bookstore is one of the city's hidden gems. The unpretentious stall has one focus: books. And great titles, which aren't available at bigger retailers, line the space from floor to ceiling. Even though it doesn't look like much, you and the booklover of your choice can easily spend a couple hours here, just browsing. Many of the books cost less than 200 Php. But the story you create on this quirky date will be priceless.


Puzzles BGC


Address: 5th Avenue corner 28th Street, Bonifacio Global City, Taguig
For some playful competition, head over to Puzzles, a board game cafe in BGC. There is a fee per player, and each person is required to spend at least Php 150 on food. But considering you can stay here all day, playing any of the hundreds of games they keep in stock, it's a pretty good deal. Plus, the snacks are seriously delicious. Be warned though—it can get a bit loud in here.


Climb Central Manila


Address: Mayflower St., Greenfield District, Mandaluyong City
Get physical with your Valentine at the best climbing gym in the city. Facing a challenge together is a great way to deepen a relationship. And the constant flexing doesn't hurt either. This isn't the cheapest date though. An adult pass costs Php 400. And extras like socks, shoes, and a harness can add up. However, what you get in return is all-day access to the gym, and all-day attachment to your climbing partner.


FringeMNL


Address: Multiple locations around Manila
Every February, the Fringe Manila art festival injects the city with groundbreaking creative events—many of which are free, or simply request a donation. From burlesque shows, to film screenings, to spoken word acts, exciting activities pop-up in local galleries, bookstores, bars, and more. Whether you and your date are art lovers, or just want to do something a little different, Fringe Manila will be an exciting, memorable way to spend time with each other.


Follow Pauline on Instagram.
Recommended Videos