When you think of the words "zero waste," what comes to mind? Most people write it off as a concept that's too hard—almost impossible—to live by, but that's probably because you're picturing an extreme or unattainable version of what it means to live a zero-waste lifestyle. 
It's not about fitting a year's worth of trash into a jar!
Cosmopolitan sat down with Dani Rodriguez, the 28-year-old zero-waste advocate behind Minimal Manila. In 2016, Dani started her blog to document the steps she's been taking toward "minimizing" the trash she produces.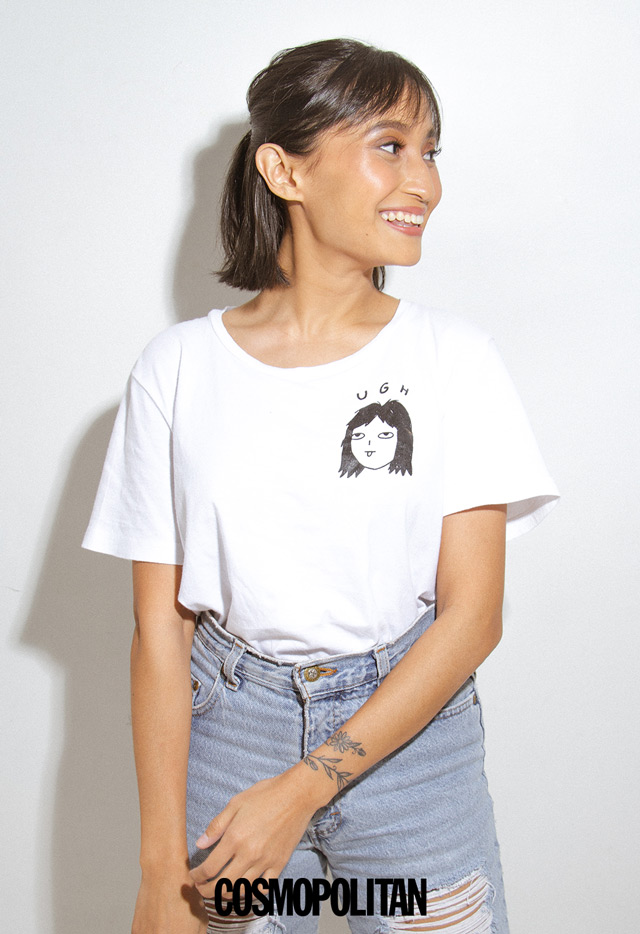 What does a zero-waste lifestyle look like exactly?
Zero waste can look different depending on where you live, your lifestyle, and socio-economic background. Essentially "zero waste" is a goal but because we live in a system that doesn't allow for this just yet, it's just what we're aiming towards. What I like to tell people is that following a zero-waste lifestyle allows you to become more conscientious of your trash output, and eventually, where the products you use come from. It's not about fitting a year's worth of trash into a jar! It's really about trying to reduce what we don't need. A lot of the times, we never really think about the extra stuff that comes with buying one thing. So, it's just really rethinking the essentials!
What made you decide to go zero waste? Have you always been mindful about the environment?
I've always been conscious about environmental issues, even at a young age! I think maybe I watched too much Captain Planet when I was a kid? I was always aware of all these BIG issues—climate change, the trash in the oceans, deforestation, too much air pollution—that were too daunting for an individual to tackle; I always thought big government agencies and international organizations would be the ones to take care of that. In 2015, I stumbled upon this story of a girl who was able to reduce her trash output significantly just by saying no to things we don't really need and switching to alternatives. This was my first foray into the zero-waste world. It appealed to me because it's something you can do on a personal level. You don't even have to follow what other people do; just do what makes you comfortable, and it's definitely a learning process.
Continue reading below ↓
Recommended Videos
When you looked at all the trash you were producing, what was the biggest culprit/source?
Food! I used to take out food a lot and buy a lot of drinks in plastic packaging. But it was also little things like an item I bought from a store that came in an excessive amount of sando bags.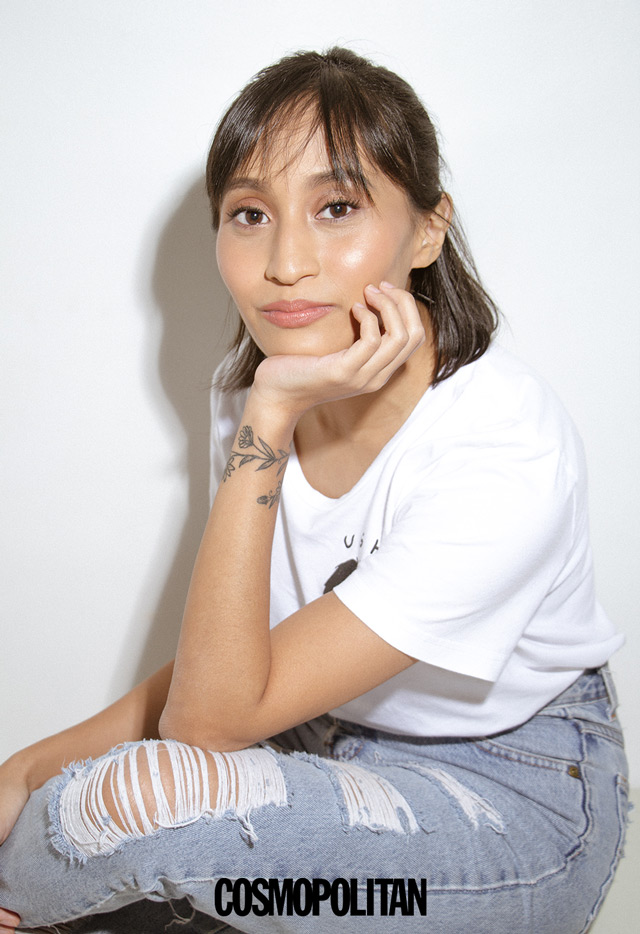 What's in your everyday zero-waste kit?
I never leave home without my tumbler—my favorite one is my dented Klean Kanteen that has been with me since I started. Other must haves: a reusable eco bag (helps if it's foldable), a little pouch if I wanna buy snacks, reusable straw and chopsticks (sometimes I bring reusable cutlery but chopsticks get the job done, and they're less hassle to carry around and wash).
There's no such thing as biodegradable plastic!
What's been the easiest and hardest parts about your new lifestyle?
The easiest part would have to be saying no to things like bags (plastic or paper) and straws (plastic or paper); the hardest? People, LOL. Some are more curious about this lifestyle, but I get a lot of weird looks and sometimes, it's just not very encouraging when people I surround myself with on a daily basis kinda just...don't care. 
What myths would you like to dispel?
It's not the same for everybody. Following people based in more affluent countries is good but don't expect the same experience or outcome they have because our social and politcal climates are super different. Wala tayong farmer's market on weekends but we do have palengkes!
IT'S OKAY TO MAKE TRASH!!! Don't be discouraged 'cause you made a mistake or made a choice to use something disposable. Learn from there and move on. Also, you're a human being—you will create waste no matter what, but also, don't use this as an excuse to keep using disposable things. 
There's no such thing as biodegradable plastic! In order to break down (not biodegrade), they need certain conditions (like the right temperature, amount of oxygen, etc.). If not met with these conditions, they don't disintegrate. Oxo-biodegradable bags literally just become tiny pieces that find their way into the air, water, or soil.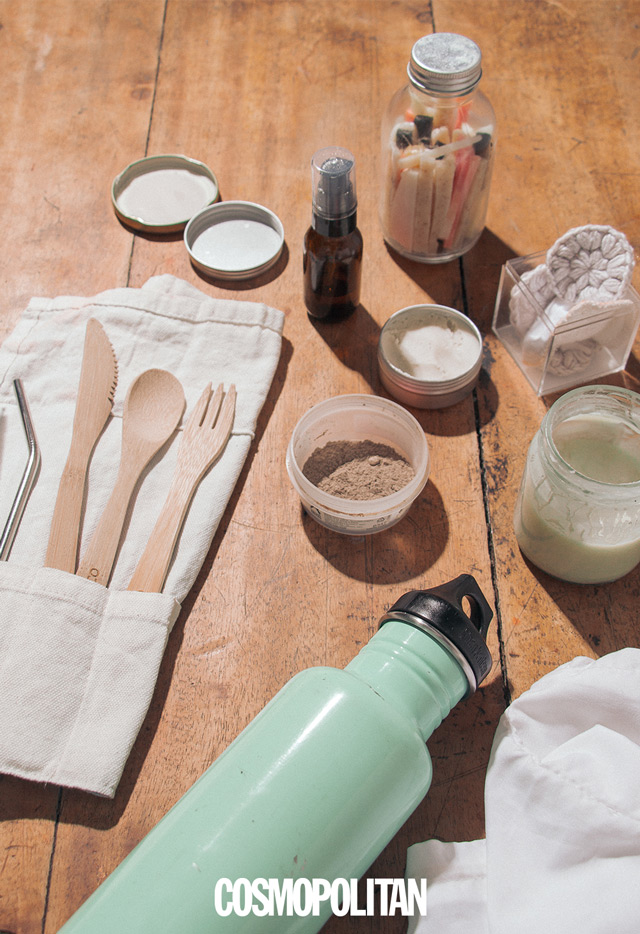 What mainstream "eco-friendly" or "zero-waste" practices would you like to correct?
It's not always about the 'gram. I would rather have people make do with what they have than buy all new items that fit a certain aesthetic. 
Please research before purchasing anything—especially when it's marketed as "green" or "eco" by a big company. Don't be fooled by the label. A lot of these are plastic-based mixed in with a natural material to seem more eco-friendly.
Support local as much as possible! We have many amazing sellers that are transparent about their business practices. These businesses most likely use organic ingredients and are directly supporting local farmers and produce!
Don't make the "trash jar" your end goal. I learned that the hard way. Malulunod ka lang sa resibo.
List your favorite local brands—ones you'd recommend to anyone who's interested in going zero waste.
Zero Waste Basics, Daniela Calumba, Island Happy Zero Waste, Zero Waste Hub, Sinaya Cup, Ecobar PH
MAKEUP BY: Genstein Yuzon
Follow Ysa on Instagram. 
EXPLORE COSMO