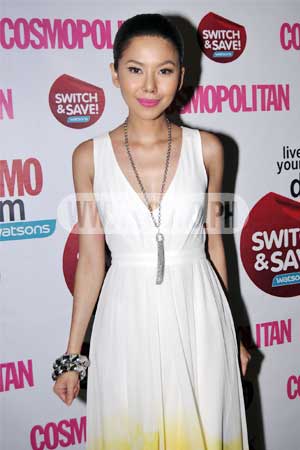 Every week, I dish about topics as diverse as beauty products and fashion to boys and falling in love.
However, with my birthday this July 1, I wanted to share something a little more personal as my way of celebrating with all my beloved Cosmo readers. 

If there's one thing that most of us are afraid of, it's getting older. 
Balloons and bouquets to buffets and birthday cake--at first, we all love them! Yet as the years go by, many of us either celebrate in secret or don't even celebrate at all. It is a dreadful reminder that we are one year older.
In my best-selling book, Face to Face: The Healing Power of Make-Up, I share, "What I hate about getting older is aging. What I love about getting older is growing up."
If there's one thing in this world we should never fear, it's getting older. Sure, age calls for more anti-wrinkle creams, facials, or combating the declining speed of our metabolism, to name a few, but all those are nothing compared to the wisdom, peace of mind, confidence, and self-awareness that only life experiences can bring to an individual.
Oftentimes, we are so busy warding off the process of aging that in turn, we stunt the growth of our own spirit. Just as we need to be consistent with our daily beauty rituals for optimum results, we need to be persistent and consistent in absorbing all we can with what life has to teach us--every single moment of the day. This is where true self-confidence emanates from.
Remember, everything in life is a test. Accept that and embrace it with open arms. These tests only strengthen your core being so that no matter what may come your way, you aren't swayed, distracted, or discouraged.
Realize that when one is happy and content, it shows in her aura and disposition, which is also known as "inner glow"--that which many pay countless currencies just to acquire, not knowing that this can only be achieved when we have fully accepted this honing process we call life. 
They say, when you wish for something for yourself, it isn't as strong as wishing for something for another, as this is an act of true love.
So my dear Cosmo readers, for my birthday, rather than blowing a candle, sharing a cupcake, or taking a shot of some booze, my ultimate wish is for all of you to see the true beauty of getting older. 
That's why it's called, "getting." It's something to gain from.
Choose to gain from every experience because when we appreciate all that life has to offer, our sense of contentment only heightens every future experience even more.
It never just has to be "sweet 16". Sweet can pertain to every number you choose it to be.
Recommended Videos