On November 28, 2015 James Deen, a popular porn star who contributes to the rape fantasy genre, was accused of rape by another popular porn star, Stoya.
Stoya, who dated James in 2013, tweeted about her experience: "James Deen held me down and fucked me while I said no, stop, used my safeword. I just can't nod and smile when people bring him up anymore."
Safeword is a code word used in BDSM to either stop the scene or reduce the intensity at once when things get "too much" or "out of control." Safewords are meant to ensure that rough sex stay safe and consensual, meaning they should protect a person from being raped or assaulted. So if James allegedly ignored the safeword and continued, then he did sexually abuse Stoya.
James, however, denied the allegations against him, calling them "false and defamatory." He says he respects women "professionally and privately."
I respect women and I know and respect limits both professionally and privately

— James Deen (@JamesDeen) November 30, 2015
But porn actresses he's dated or worked with have been coming out, sharing experiences similar to Stoya's.
Stoya received support from Joanna Angel, a porn veteran, who had also dated James from 2004 to 2010. Adult actress Sydney Leathers told The Daily Beast that Joanna had warned her of James. "She told me when I first got into the business that I should avoid him—that he has boundary issues, basically that he tries to break women."
Continue reading below ↓
Recommended Videos
Former adult performer Tori Lux wrote on The Daily Beast that in 2011 James "ruthlessly attacked and degraded" her while shooting at a major porn studio. She recalls that James grabbed her by the throat, hit her hard on the face five or six times, causing her jaw to become sore.
Performer Ashley Fires also came out, sharing that James assaulted her two or three years ago in the communal bathroom of porn company Kink. He allegedly blindsided her, pushed her to the sink and bent her over. She says that when she turned and saw it was him, she "was like, 'James, no. What are you doing? Stop it! No, no, no, no, no!'" Ashley was able to wriggle herself free, and heard James tell her that if she changed her mind, she should go to his room.
Ashley tells Buzzfeed that she's been telling her story for years, but people only began listening when his ex Stoya shared what happened to her. 
Sadly, not a lot of people are taking their allegations seriously. And it's not because of "lack of evidence." Tori got it perfectly when she explained why she didn't tell the police about the abuse. "People—including the police—tend to believe that sex workers have placed themselves in harm's way, and therefore can't be assaulted."
Unfortunately, this rings true even here in the country where most sex workers are forced into the industry because they need to make a living and there's no other option. You'd expect people to be more respectful, but nope, that's not the case. When a local news site reported the accusations against James, some Facebook users commented: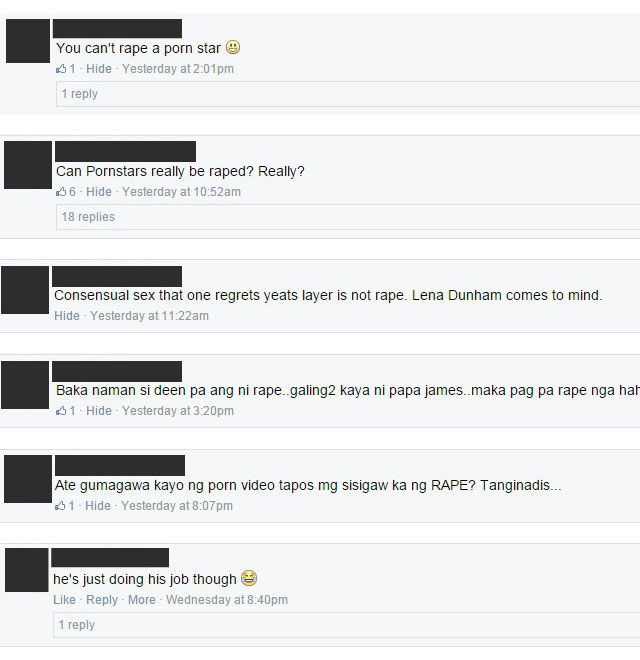 People forget that ANYONE, including porn stars, can be raped and assaulted. Just because people have sex for a living or are naked most of the time, it doesn't mean they want to be harmed. Sure, unlike sex workers here in the Philippines, Stoya wanted to be one. So what? A porn set is and should remain a controlled environment. When one can't handle what you're doing to her, you should stop. That's the right thing to do in ANY situation, even if it's your job to simulate rough sex.
If thinking porn stars can't be raped is bad enough (and utterly stupid), maybe the worst thing anyone can ever think is that they're not at all worthy of being heard or talked about.

It goes to show how little or no respect is given to them who are, by the way, human beings like the rest of us. They have dignity too, and it's sick people who disrespect or think lowly of them that take that dignity away.
Follow Stephanie on Twitter.