We went to the Manila International Auto Show 2015 on April 9 at the World Trade Center and although we were totally thrilled when Cosmo's 8 Sexiest Model alumna Ria Bolivar unveiled the sleek new Mazda2, something else caught our eye: Ria's stunning silver gown and the rest of the 20 beautiful couture pieces designed by formula racer and master designer, Mark Bumgarner. 
"The pieces [were] inspired by the colors of the new Mazda range: soul red, black, and gray. I also imagined the women who will be driving these cars; sexy, classy and sleek!" says Bumgarner, whose collaboration with Mazda Philippines and Cosmopolitan proved to be one of the highlights of the annual auto show.
Mazda Motor Corporation's program manager Minoru Takata led the unveiling of their new car design, while Cosmo's 2014 8 Sexiest Models strutted down the Mazda runway as they showcased a collaboration of the two big brands.
ADVERTISMENT - CONTINUE READING BELOW ↓
The Mazda2 series has been a favorite by car critics and enthusiasts since 2007, with the newest model improved even further. "The Mazda2 has a sleek, accelerating motion, and makes you feel like you're a cheetah when you ride the car," says Takata. The car also offers the perfect mix of fuel economy and performance, proving you don't need to use a gas guzzler to experience a smooth ride.
According to Takata, the creators behind the legendary series have designed the cars in a way that it debunks your misconceptions of what a compact automobile is—it's built to withstand speed while being very fuel efficient, so it's great for weaving through city traffic, and good for travelling long distances too (say hello to road trips with the barkada!).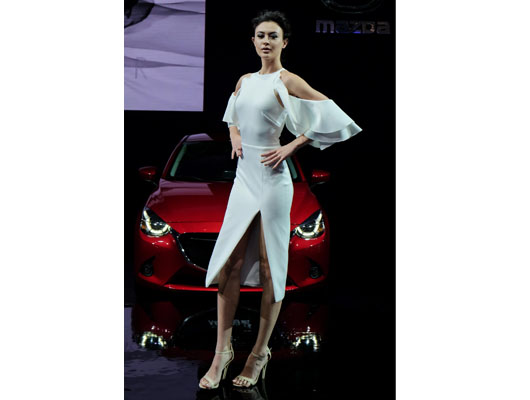 "This collaboration depicts fashion, style, and quality. Mazda, Mark Bumgarner, and Cosmopolitan—all stylish, sleek, and sexy—a perfect union," says Steven Tan, President and CEO of Mazda Philippines. Host Joey Mead-King (another Cosmo 8 Sexiest alum) hosted the launch in a stunning red jumpsuit by Bumgarner, of course, and perfectly mirrored the new Mazda 2's sexy, luxurious lines. 
Kim Ross, Jodilly Pendre, Hye Won Jang, Chanel Olive Thomas, Tola Orendain, Olivia Medina, and Katarina Rodriguez walked the runway as a true Cosmo Girl would, while wearing Bumgarner creations  in silver, black, white, and red, in his signature feminine, sexy cuts. Maggie Wilson-Consunji, Bumgarner's ravishing muse, wore a red carpet-worthy gown.  See more of the fashion show in the gallery below! 
Thinking of getting the Mazda2? This new design will be available in the Philippines come July! Check out their website for more details!
Mark Bumgarner Just Released A Hot New Collection
1 of 17