Jacklynne Lambino sits down with us to talk about how her rakets and unparalleled work ethic allowed her to go on her ~*dream*~ trip to Europe—without any regrets.
We're sure people are dying to know: how did a 22-year-old afford to tour Europe for two months?
A LOT of hard work and sleepless nights! I'm from the slums of Makati. My mom is a public school teacher, and my dad is a driver; we're not exactly well-off. But I've been working online since I was 12, and most people don't take that into consideration when they judge me and invalidate my experiences. Bakit ko daw inaatupag ang pag-tra-travel kung naghihirap ang pamilya ko? Tinalikuran ko na daw ba sila? They assume things about me and our situation without knowing the full story. But my dream is to travel, and I do everything I can to make it happen.
What kind of jobs or rakets have you had?
Because my mom was a public school teacher, I had access to the school computer and the internet. Back then, Friendster was on the rise. I started making Friendster layouts; I only learned from tutorials. Glitter graphics pa uso noon. Initially, there was no pay. I just shared my work, and soon enough, people noticed. They started asking for customized layouts with their names. I began charging P30 per layout. It wasn't too long until I got into heavy coding, and again, I learned on my own. My customers were corporations who wanted their own Friendster accounts. I upped my fee from P300 to P1,000 per layout.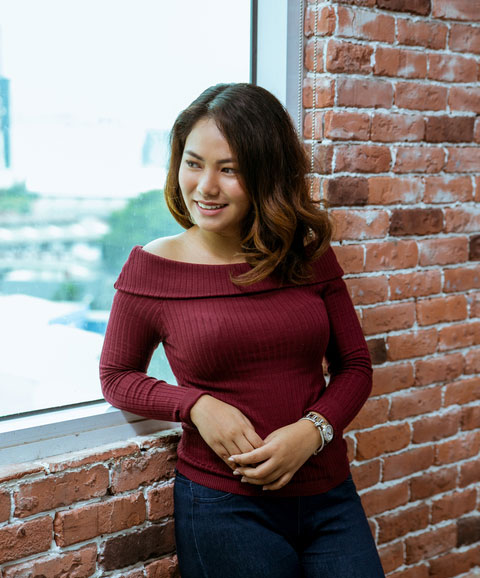 Continue reading below ↓
Recommended Videos
But Friendster didn't last very long, so I looked at the market trends and saw that cosmetic lenses were booming! At 13, I looked for a supplier and found a decent one in Hong Kong. I was their first Filipina distributor. Cosmetic lenses used to cost around P1,700 to P2,000, I bought a pair for P700, and sold it for P1,500. I felt a little uneasy about the whole process though, so I decided to move on from that.
When I was 15, I signed up for oDesk, which is now Upwork, and that's sort of how my writing career began. In retrospect, I probably should have charged my clients more because, on average, I only got paid P50 for a 1,000-word article. I didn't know better back then. I was a ghost blogger. These bloggers had really big platforms, so, of course, companies wanted them, but there was just too much material. Thankfully, I found a pretty solid writing gig with a company from New Zealand. I was paid P16,000 a month, and I did have a quota, but eventually, I got to decide how much I wanted to write. It wasn't always easy. I've definitely been scammed before!
When I turned 17, I deviated from oDesk, and posted a writing service gig on Sulit—now OLX—naman. Someone from Texas responded! I wrote seven articles a week, but my college workload was pretty heavy, so I hired a team of ten writers from different colleges. I also had a client in Dubai who wanted me to transcribe Photoshop and Illustrator tutorials, which ended up being around 30 articles a week. I continued ghost blogging din, which isn't the best because wala talagang credit, but the pay was good. A 500-word article would cost around P2,000. I was making P60,000 a month, give or take.
So you've mostly been writing?
Yes, but like I said, balancing a writing business and college wasn't easy. I decided to stop right before my last year at Adamson. My next raket was as a makeup artist (kind of). Somebody really liked my makeup for my graduation picture, so I tried doing it for other people. The photographer liked the look so much that he helped me promote my gig in his office! I applied makeup on 300 people. I had classes at 11:00 am, but I woke up at 2:00 am so I can start working at 5:00 am! My fee was dependent on the person's budget, so I charged around P200 to P500—and I used all of my own products ha!
What was your first "real" job after college?
So graduation is usually in May, but I started working for Lazada in March! It was a standard nine-to-six job, and I made P12,000 (net) a month. I only stayed there for four months, because I really wanted to work for this American company, which was right beside our house. There, I was making a little over P40,000 a month, and 80 per cent of my income went to my savings. It was easy for me to save because my house was literally right beside the office so I didn't have to spend too much on transportation. Nagbabaon din ako noon so sobrang laking tipid! Because it was an American client, office hours were from 11:00 pm to 8:00 am. Even though I liked my job, I was itching to travel talaga.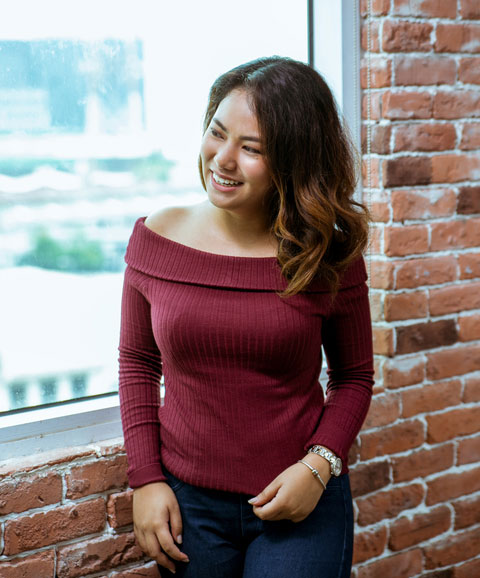 Was that when you decided to plan for your Euro trip?
Yes! I really wanted an experience, and I didn't think I could have that if I just went for two weeks. I asked my boss if I could take two months off (leave without pay)! Thankfully, pinayagan naman ako. Because I was mainly in charge of social media, I was able to schedule everything in advance—all the posts and newsletters. Inayos ko talaga lahat bago ako umalis. On top of that, I sold makeup on the side, and I made a ton of money from that—P100,000, to be exact. But I had no sleep. I'd go to work at 11:00 pm, leave at 8:00 am, and then meet up with people who ordered from me from 8:30 am onwards. After graduation, I had P80,000 in my bank account, and when I left Lazada, I had P35,000. I really had to hustle to come up with the money for Europe, and I was determined. And even though I had a relative in Europe, I wanted to only rely on myself.
Can you give us a breakdown of your trip expenses?
My visa application was P20,000—all in. I booked my flight via Skyscanner, which is why I only paid P45,000! Nagdala din ako ng pocket wifi, and that was P7,000. Because I wanted to see as many countries as possible, I booked a ten-country tour package with TourRadar for P90,000, WITH accommodations. And the places we stayed at weren't shabby, either—hotels, not hostels. The entire tour took two weeks, and we traveled by bus. I brought P150,000 with me, and I didn't deprive myself, although I was shocked at how expensive Switzerland was! I had to shell out P10,000 just to go up the Swiss Alps. Plus, their "canteen" meals were around P1,000! I was so used to only buying a P50 meal from Family Mart, so I wasn't about to spend that much on one meal. Kahit nasa Switzerland na ako non, nagbaon pa rin ako from the breakfast buffets of the hotels we stayed at. But, of course, I spent a good amount on gifts for my family. I'm really good at making money, but I also like taking care of my family.
What's next for you?
After I got back from Europe, I switched jobs for several reasons, but I am now the Digital Marketing Head of a company specializing in financial technology services. I do everything from Google analytics to social media management. I also know how to build websites from scratch. I worked hard to teach myself how to survive in the digital world we live in, and it paid off. And I never work for a company I don't believe in, so when I commit, I give it my all, which is probably why I've been blessed to find people who don't question my work ethic when I pursue my passion for travel.
Follow Jacklynne's story here.  
Follow Ysa on Instagram.