I'm a self-proclaimed beach girl. I've always been drawn to the ocean and on multiple occasions, I've referred to it as the place where I'm truly ~*at peace*~. I make it a point to visit the beach more than once ever year.
Last year, I went to Caramoan for a three-day trip with my family. It's been months and since then, I've been to other beaches but honestly, none of them came close to this gem. 
So where exactly is Caramoan?
Caramoan is located in the lower eastern part of Camarines Sur in the Bicol region. The Island has "a 4,000-hectare limestone forest" and is blessed with a rich environmental life. In Caramoan, you can expect white sand beaches, picturesque coves and caves, and thriving biodiversity.
During our trip, we booked an island-hopping tour which is complete with boat transfers from island to island, lunch for two days, and tour guides. It cost us around P2,500 per person. 
Here are the islands we visited during our three-day trip:


Matukad Island
When we got to the island, the tour guide asked my cousins and I if would be down to climb some rocks. We were totally unprepared—we were wearing our swimsuits and flip flops—but since we love a good adventure, we said YES! 
Continue reading below ↓
Recommended Videos
As you can see from our photos, the 15-minute buwis-buhay trek was absolutely worth it!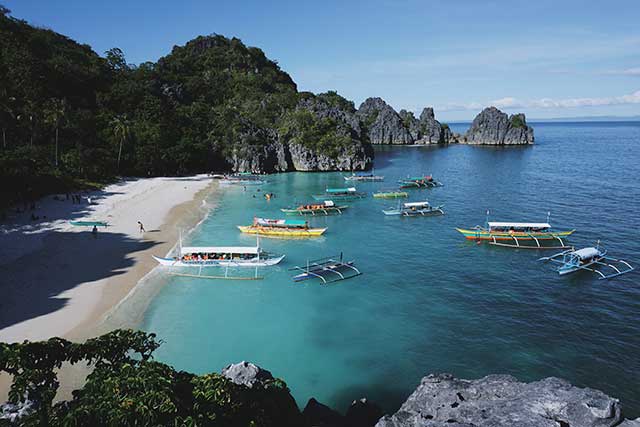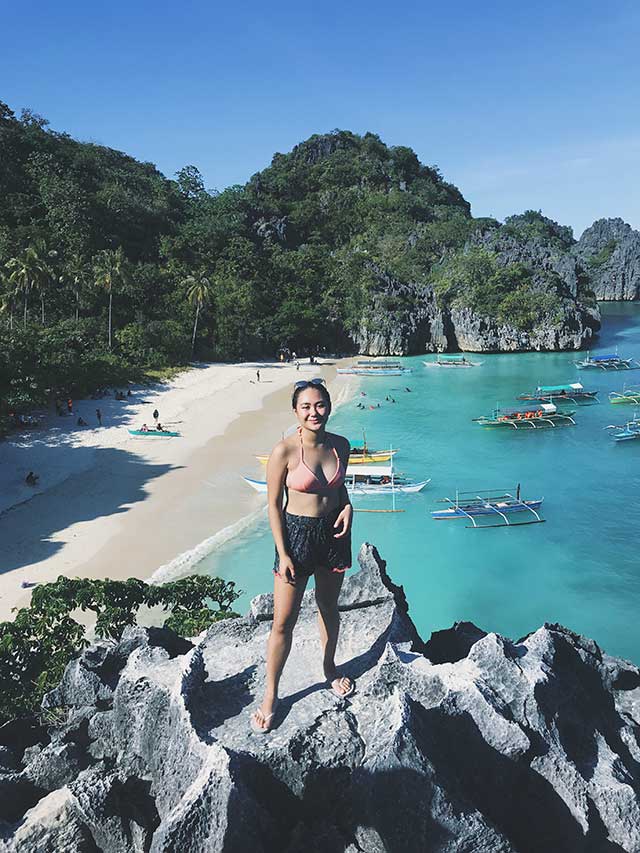 Gota Village
Fun fact: This is where they shot several seasons of Survivor. When we went to Gota, we were only allowed to take photos for a couple of minutes because the village was closed to the public. Also, we didn't have permission to take photos of them, but we also got to see the obstacles that they used for the show!
Liwan Island
TBH, Liwan was my favorite stop on our trip. On our second day, the tour guide asked us if we would be willing to trek for at least two hours so that we can explore a ~hidden part of the island~. He warned us that we'd come back with a major sunburn because it was hot out. No problem!
From our resort, we rode a boat going to Cotivas Island, which was the starting point of our trek.
Along the way, we passed by pretty white sand beaches. Actually, this was a rather risky way to explore the island—bangkeros prefer not to go this route because of the rough waves. We basically had this part of the island to ourselves!
Our adventure ended with the perfect view! I still dream about this place some nights. God, I miss it so much! 
Manlawig Sandbar
Unfortunately, it was high tide when we got to the island so we weren't able to witness the sandbar. Nonetheless, it was a fun part of the trip because we got to kayak and swim with the tiny fishes. 
Sabitang Laya
We did most of our swimming here! We didn't take many photos because this was our last destination—we already had enough content for our IG feeds, LOL! Compared to the others, this island was the most chill, and it was the perfect end to our island-hopping adventure. 
Follow Karla on Instagram.