Hungry for a holiday away from our rainy metro? With the four-day weekend from August 27 to 30 fast approaching, it's the perfect time to plan a trip to a place where it's still summer! (Not to mention, the Cosmo team will be there to accompany our promo winners to the Hong Kong Super Shopper promo--read on for details!)

Prepare your bags and plan your itinerary for Hong Kong to get some much-deserved R&R. The Hong Kong Summer Spectacular events are in full swing, with loads of enticing events and attractions you can explore. Here's a list of a few more activities to include in your HK must-do list:

1. Frolic in the sun and sand.

What's summer without going to the beach? There are actually many quaint beach areas in Hong Kong that are perfect for waterskiing, hiking, and surfing. Get a tan at Shek O, which boasts of fine seaside restaurants and BBQ stores. For those who want a relaxing, white sand beach, go to Tai Long Wan. For the adventurous ones, there are Cheung Chau, Sai Kung, Pui O, and Lido, which boast of various water sports and activities. And for the romantics, check out South Bay or Wu Kai.

2. Watch a concert!

After a day at the beach, why not catch a show at the Hong Kong Coliseum? Experience the adrenaline-pumping performances of famous Hong Kong pop stars and bands at "Summer Pop–Live in Hong Kong," a concert series that runs from August 25-28. For schedules and ticket reservations, check out their website.

3. Fall in love with the city from new heights.

Whether you're single, out with the girls, or on a romantic trip abroad, there are lots of things to do and love at The Peak, located at the top of the mountain Victoria Peak. They are currently celebrating "Summer Love," a program that lets visitors create their own "Love Photos" or take a romantic stroll along the mountain trails. Plus, guests can grab exclusive privilege offers from over 30 shops, restaurants, and entertainment venues in the area.

4. Explore the great outdoors.

Go nature-trippin' at Hong Kong Wetland Park, which turns five this year. They're celebrating with special nature events you can join if you're feeling adventurous. Check out their interactive programs about bats and mud crabs, or marvel at the dragonflies fluttering around the Indian lotus and water lily flower exhibits. It's a relaxing place where you can stop and appreciate life's simple pleasures.

5. Mingle with the A-list.

...or replicas of them, at least! Fancy meeting Brangelina or Nicole Kidman, maybe even Obama? Visit Madame Tussauds for a unique celebrity-inspired attraction, where guests can meet wax figures of their idols in six themed areas. Over 100 local and international celebrities are part of the collection, with exciting audio-visual effects that make for an interactive experience.

Plan on visiting Hong Kong with a group of friends or relatives (including kiddies)? Click on the next page to read about a great family-friendly attraction that's ideal for kids and kids-at-heart!
[nextpage]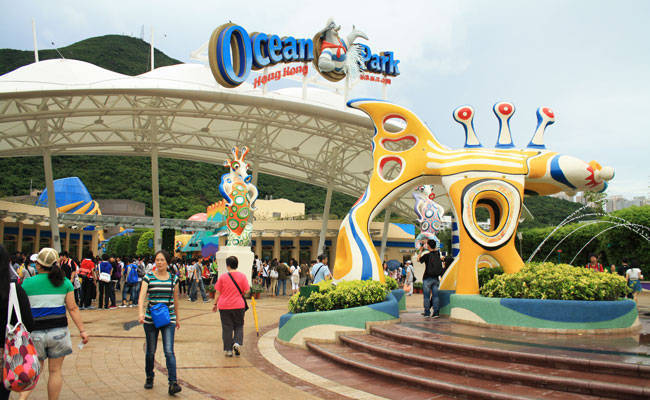 If it's your first time in Hong Kong, you simply can't miss a trip to Ocean Park! It's a fun attraction that your whole group can enjoy. Just because you're past the kid stage doesn't mean you have to lose your sense of adventure! Now is one of the best times to go because of Ocean Park's Summer Splash, an annual seasonal event that highlights the park's newest additions and latest programs.

There's something for everyone to appreciate in this amusement park. Read about some of our favorite attractions below:

Be a fearless thrill-seeker
Who to go with: Your barkada

Strap yourself into a raft in The Rapids, and hold on tight as you go on a wild ride through their new attraction, the Rainforest. Brave the elements, and you may even spot a furry capybara hiding in the trees. It's not just nature you'll be up against—the onlookers on nearby bridges have access to water guns and buckets to drench you with! It's an exhilarating way to cool off and bond with your friends.

Want something more daring? Head over to Thrill Mountain and ride The Flash, a ride that will make your head spin! Dare your friends to join you as you're lifted over 22 meters high and spun around 360 degrees. Scream your lungs out as the world whizzes by at 60 km/h! Hang on for dear life; you'll have the ultimate bravery bragging rights when you get back home.

Be an adventurous sight-seer
Who to go with: Your beau

If you're chilling with your man, we recommend taking a Cable Car up to the Summit portion of the amusement park for a quiet moment while you both enjoy the fabulous view. The cable cars take you leisurely up the mountain while you take photos of the whole park and plot the rest of your day. You'll also be able to see nearby beaches on the island, while you spend a few romantic moments up in the sky and away from the crowds below.

If heights aren't your thing, we suggest you take the faster mode of transport with a creative twist. The Ocean Express is a train that connects the Waterfront station to the Summit station, and seats up to 5,000 people per hour in each direction. What makes this ride different is that it's designed to resemble a submersible vehicle, offering you a simulated journey underwater. Snuggle up to your guy on one of the two-seater benches as you spot marine creatures "swimming" past you overhead!

At Aqua City, you can also check out Hong Kong's first and only fine dining destination in an aquarium setting, Neptune's Restaurant, which is a great date place for you and your guy. It's by a huge water tank that houses 5,000 fish from over 400 species!

Be an educated animal-lover
Who to go with: Your family

Make your vacation a learning experience by immersing yourself in the animal kingdom. Take your young siblings, cousins, or pamangkins to the Amazing Asian Animals exhibit, which showcases some of the region's most precious endangered animals that the park strives to protect. Meet Ying Ying and Le Le, two adorable giant pandas, and their new neighbors, the cuddly red pandas! You can see even more rare creatures on the Expedition Trail, where you'll find Tree Frogs (native to the jungle), a Pygmy Marmoset (the world's smallest monkey), and the Kinkajou (showing for the first time in Hong Kong!).

If the kids are more into marine life, they'll absolutely love The Grand Aquarium, which is found in the new flagship attraction area, Aqua City! As you enter, you'll get the chance to feel water creatures such as sea cucumbers and starfish at the Touch Pool. Then you can walk through dark caves and admire the glow of bioluminescent creatures. Proceed to the Reef Tunnel, where you can observe an entire coral reef ecosystem. Be sure to see the world's largest aquarium dome and a conservation story told on the world's first 360-degree water screen.

Ocean Park is located in Aberdeen, Hong Kong. Until August 31, General Admission tickets cost $250 for adults and $140 for children aged 3 to 11. Children under 3 have free admission. For more information, contact guest relations at (852) 3923 2323 or email gr@oceanpark.com.hk. Launch the gallery to see the sights in Ocean Park!

These aren't the only things to do in Hong Kong during their summer (which is now!). Click to the next page for an overview of some awesome shopping promos you can avail of in Hong Kong.
[nextpage]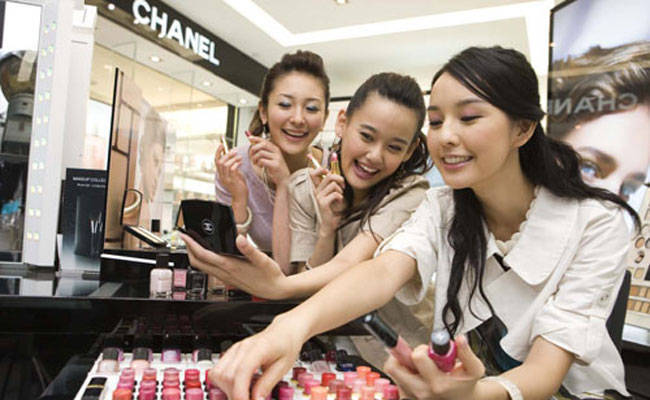 We already know Hong Kong is the shopping capital of Asia. But, did you know that in addition to the affordable and luxury fashion, the city also offers discount privileges to its customers? You girls are lucky, because two Visa promos that we previously announced are still up for grabs!

A Shopper's Dream Come True

The Pay by Visa promo is a no-sweat contest that offers you a chance to win Visa spending credits worth HK$10,000! All you need to do is spend over HK$100 with a Visa card and register on the Visa website to qualify. Three shoppers with the highest total number of transactions will win the contest, which will end on August 27.

You can also win big with the Visa go Surprises promo, in which a flash mob invades participating shopping malls from 3PM to 6PM every Saturday and three lucky spenders are given great prizes! Bonus rewards are given to those who use their Visa card at the mall! This promo will run until August 31.

The Ultimate Fashion Challenge

This month, the Hong Kong Tourism Board (HKTB) and Visa present the Visa go Super Shopper 2011, an annual contest open to various Asian countries. We're sending two Cosmo readers to represent the Philippines in the "2011 Hottest Summer Makeover" challenge on August 29-31! In addition to Hong Kong locals, our girls will compete against teams from Australia, Mainland China, Taiwan, South Korea, Japan, India, Malaysia, Singapore, and Thailand.

The 11 teams will each be given HK$20,000 Visa spending credit to create the best fashion makeovers for themselves. The winning team will be rewarded with a Visa spending credit worth HK$200,000! And the great thing about this contest is that there are no losers; whether they win or not, they'll be bringing home their incredible fashion finds!

There's so much more in store for you this summer in Hong Kong. Launch the gallery to see photos from Ocean Park, as well as some of the gorgeous beach and water areas you can explore this summer!
Continue reading below ↓
Recommended Videos
1422