If traveling to South Africa is on your bucket list, you're definitely not alone. This coastal nation on the southernmost tip of the African continent is as diverse as its 11 official languages. From watching a herd of elephants cross a river, to sipping some of the best wine in the world, a trip to South Africa has it all.
This journey will require discipline and commitment, especially in terms of time and money. So we've got all the insider tips for you to make the most out of what will be a truly unforgettable experience.
Get your documents ready.
Filipinos need a visa to travel to South Africa. You can either apply directly with the South African embassy in the RCBC tower in Ayala, or you can get it through VFS Global, which has a really helpful website with everything you need to know about visa requirements and how to submit your application.
How do you start planning?
If South Africa is the only country on your agenda, it's definitely doable to plan the trip on your own. Doing this independently will save you any agency costs and will also allow you to do things more spontaneously.
However, if you want to visit multiple countries, have lots of things to tick off of your bucket list, and want to leave the stress of coordinating to someone else, using an experienced travel agency can be a godsend.
Do you want to drink and eat your way through South Africa's vineyards and restaurants? Are you going on a family trip? Are you a solo traveler who wants to meet like-minded people along the way? Perhaps you want to fill your Instagram with a collage of wild animal photos? A2A Safaris provides tailor-made packages (bespoke prices upon request) that are built around the exact kind of trip you want to have.
ADVERTISMENT - CONTINUE READING BELOW ↓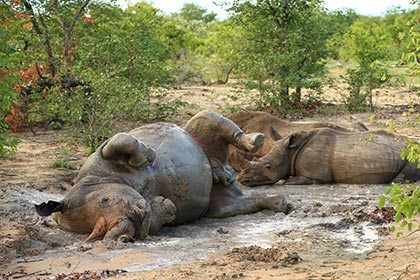 If you aren't looking for anything too fancy, African Budget Safaris caters to different price-points and has a great blog with practical trips for traveling in the region (packages start at P8,600).
In for a true backpacker's experience? The people at the Coast to Coast Backpackers' Guide to Southern Africa have put together a great resource of affordable accommodations (hostels starting at P700/night), day trips, and even adventure tours like shark cage diving and canyoneering!
What to wear
May to October is southern Africa's dry season. It's also the best season for wildlife viewing. This is because there is a lower number of watering holes and it's easier to see animals gathering in groups to take a drink or bath a la The Lion King.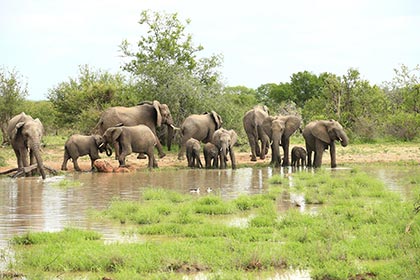 But don't write off that African Christmas trip just yet! During the green season (November to April), the lush bushes will make for some great scenery and you're more likely to see mothers showing off their newborn babies.
ADVERTISMENT - CONTINUE READING BELOW ↓
If you're on safari, your outfit choices will be dependent on the time of year. Your main goal is to make yourself look like one solid unit on the safari vehicle, so bright and distracting colors are not advised.
From July to October, go for grays, browns, or khakis, and incorporate some greens into your wardrobe if you're visiting from November to June. Mosquito repellant and sunscreen are necessary at all times. Bringing a light rain jacket is also a good idea, and if you're traveling in the winter months where temperatures can drop to freezing, gloves and a beanie will be very helpful!
Where to go
Cape Town is known as South Africa's "mother city." A metropolitan piece of paradise, this port city sits right below the country's most-visited landmark, Table Mountain.
Take a drive down the coast and end up at the majestic Cape Point where you can go for a hike, spot some of the many birds that call the area home, or just sit and watch the waves crash into the rocks below.
Once you've worked up an appetite, how about a seafood extravaganza at the Two Oceans Restaurant? Make sure you make a reservation as it fills up quickly!
ADVERTISMENT - CONTINUE READING BELOW ↓
Oh and don't forget to get yourself a pack of South Africa's favorite snack—biltong! Biltong is a dried, cured meat (similar to beef jerky, but a lot yummier), which can be made up of any sort of beef or game meat (think kudu, wildebeest, and more).
Getting a little thirsty? Cape Town is known for its many nearby vineyards and wine estates. A half-day wine tasting tour (P2,855) will be just what you need to learn more about the region's winemaking history while finding out firsthand just how yummy their products are.
Looking for a one-stop shop for food, shopping, and culture? Look no further than the V&A Waterfront. Here you can find souvenir shops, restaurants, street performers, and even a movie theatre.
ADVERTISMENT - CONTINUE READING BELOW ↓
It's also home to the Watershed, which is an indoor market displaying traditional African designs and lots of handmade crafts you can buy to take back home.
Johannesburg may not be one of South Africa's prettiest cities, but it is one that is steeped in history. In Johannesburg, you will find the township of Soweto, which was at the center of the Apartheid movement and was also home to Nobel Prize winners Nelson Mandela and Desmond Tutu.
Also, don't forget to immerse yourself in South African history and get to know the brave men and women who fought for equality and freedom at the Apartheid Museum.
Let's go on a safari!
The main event of any trip to South Africa is the safari experience. Most safari lodges provide two game drives a day—one at 5 a.m. and the other at 4 p.m.—to be able to see animals at both the crack of dawn and the early evening. Each safari vehicle usually has a guide, who will be able to tell you about every single creature and plant you pass on your ride, and a tracker who sits up front and is responsible for spotting animal footprints and following them to their source.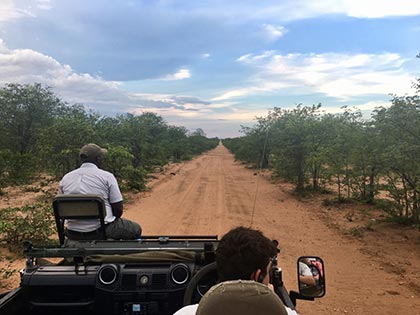 ADVERTISMENT - CONTINUE READING BELOW ↓
Everyone's goal during a safari tour is to see the Big 5—lion, leopard, water buffalo, elephant, and rhino—and your guide will make sure to make these a priority. Get your cameras ready!
It is common for both morning and evening game drives to end with a coffee or drinks stop overlooking a beautiful view.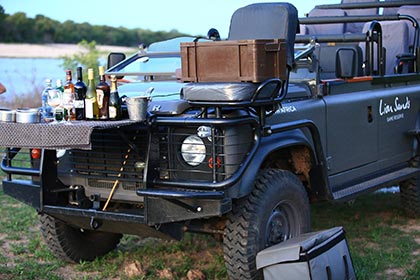 Where to stay
When choosing a base camp, it's a good idea to understand the difference between the Kruger National Park (KNP) and the Greater Kruger National Park (GKNP). The GKNP is home to private reserves, which means that you'll come across fewer safari vehicles when on your drive and you'll also be able to go off-road (driving off the regular paths and into the bush to follow animals as they weave their way through). Booking accommodations in the GKNP also entails a more luxurious and private experience.
ADVERTISMENT - CONTINUE READING BELOW ↓
Deep in the Timbavati Private Nature Reserve, which is part of the GKNP, is the Simbavati River Lodge. This family-friendly camp sits right on the Nhlaralumi River which makes for prime hippo viewing as you relax on their outdoor deck. Rates start at P20,700 per person.
The border between the GKNP and the KNP is unfenced and animals can roam freely, though vehicles in the KNP have to stay on the designated paths. Staying in the KNP is usually cheaper (starting at P1,124 per night) and you'll be able to rent your own vehicle and have the flexibility to go on an animal scouting adventure of your own.
If you want a bit of both, the Narina Lodge in the Lion Sands Game Reserve (starting at P35,000 per night) has its own concession area where you can go on a guided tour with more privacy, but also cross the border into the KNP—just in case you happen to have spotted a rhino making its way across the road. The lodge itself has only 9 suites, which means you'll have an extremely personalized experience.
ADVERTISMENT - CONTINUE READING BELOW ↓
You might even find yourself having breakfast al fresco.
Other tips:
The currency used is the South African Rand (ZAR). If you're on safari, there won't be many ATMs nearby, so make sure you bring enough money ahead of time.
Tipping is customary, so if you feel like you got good service somewhere, make sure to leave some cash behind.
Uber works great in South Africa and is the cheapest and safest way to get around the bigger cities (base rate is P20).
There are no straight flights to South Africa, but many carriers like Qatar, Ethiopian Airlines, and Singapore Airlines will take you from Manila to either Cape Town or Johannesburg with a layover. Prices start at P37,500.
Follow Ina on Instagram.