Wake up, work hard, endure mind-numbing traffic, repeat—if this is your life as a Metro Manila dweller, chances are you've wondered what life is like beyond the landscape of stress-filled spaces and grime-filled streets that you've always known.
These seven women who grew up as Manila girls have been in your place—only they've actually gathered up the guts to make that move to a more laid-back place. Whether they packed up for less hectic cities or did a full one-eighty by settling on the beach, they prove that you, too, can find what you seek by just stepping out of your comfort zone.
Catalina Africa-Espinosa
Occupation: Visual artist and musician
Originally based in: Quezon City
Currently based in: Baler, Aurora for the past 3 years
I was a visual artist and musician before moving to Baler, still am, but I feel like my identity has expanded in so many ways. Now, to add to my list of occupations: momma, wifey, surfer, and all around ocean-lover!
I've always loved the province; the ocean has always been a special place for me. I had been spending a lot of time at our family farm in Negros, but it was only when I met my husband that I had enough courage and impetus to leave the city.
Continue reading below ↓
Recommended Videos
Life in Baler is so different. We live outside the main town. Our neighbors are far, our house is surrounded by a little stream! The beach is a five-minute walk through the mangroves. It is so beautiful.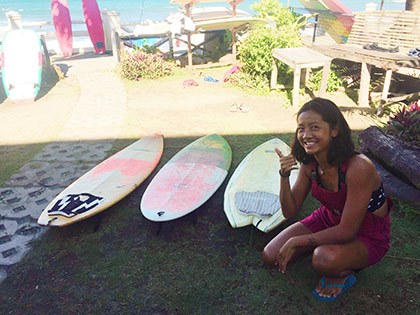 Every day when I see the mountains, or the greenness of everything, or the ocean, or just leaves blowing in the wind, I am overcome with feelings of love and gratitude. There is space and silence and room to really feel and think and appreciate the magic and mystery of being alive. I feel that being in such a peaceful environment really changes you: It changes your priorities, the way you interact with people, the way you look at life.
My advice for girls who are longing to make the same move I did? Go for it! Follow your heart, follow your bliss. Trust yourself.  Do what you love, and the world will be a better place for it.
Chimene Belen
Occupation: Yoga instructor
Originally based in: Las Piñas City
Currently based in: Cebu City for the past 10 years
About 10 years ago, I was teaching ESL in Manila when I was offered a job in Cebu City developing curriculum and training teachers. Soon after the move, I realized that I wanted to stay here for good. I'm now semi-retired and teach yoga part-time, but I still prefer to live here than anywhere else.
Being surrounded by sea and summit has a lot to do with it. In Manila, I spent weekends at the mall or in clubs. Here, I could paddle board along mangroves in the morning, hike through hills and flower farms in the afternoon, and still have time for dinner (and maybe dancing) in the city later in the evening. Doing these things require a lot less organizing and driving than they would in Manila—they also cost a lot less.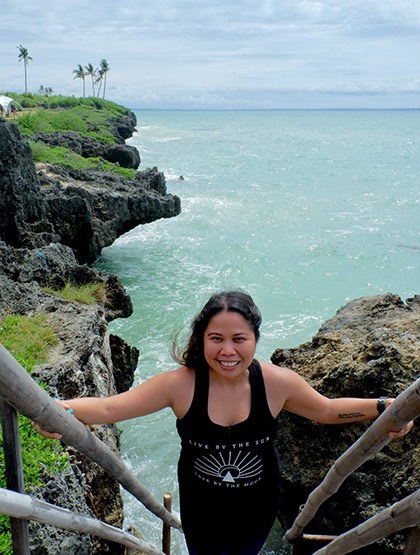 Everyone thought I would get bored here—that the pace would be too slow, the city too small. As it turned out, I was a small-city kind of girl, after all. I love that even with all the development going on, and even with the influx of people from all over the world, Cebu still feels like an everyone-knows-everyone sort of place.
Moving here has taught me the importance of keeping an open mind and an open heart when you take the opportunity to leave your comfort zone. Don't just survive where you are planted; make an effort to thrive. Reinvent yourself; explore your new surroundings. Who knows? It might turn out to be the best thing you've ever done.
Jaz Mara
Occupation: Teacher
Originally based in: Manila, Parañaque City, San Juan City
Currently based in: Boracay for the past 2 years
I was a teacher at an international school in Manila before I decided to relocate outside the city. There came a point when I felt restless because my life seemed so routinary: I would wake up, fix myself up, drive through traffic, work, tutor a student, then drive back home.
This restlessness and the desire to experience living on my own made me search for jobs outside Metro Manila. I chose to work at Boracay because there's an international school on the island, flights are cheap, and the beaches are beautiful.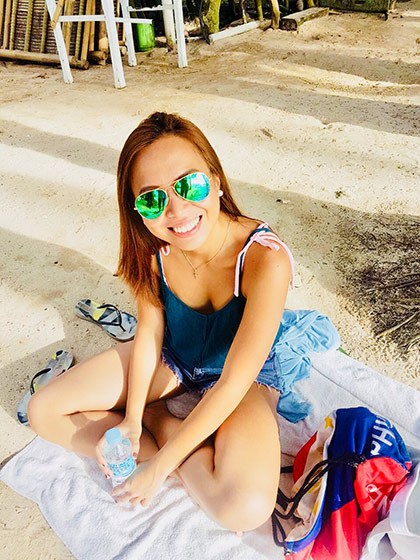 Living on an island has made me realize that I don't need much. Life is so much simpler and yet easier to appreciate. Since Boracay is a tourist destination, I'm able to meet people from different parts of the world. It opened my eyes to how big the world is, and yet, everyone here interacts, hangs out, and watches the sunset together.
Living here also made me realize how much time in a day I have if having to contend with city traffic is taken out. I definitely experienced more to life.
I didn't get everyone's support when I decided to live in Boracay. However, my gut strongly backed me up, so I just dove right into it. Now, it's so hard to leave. I don't feel the heaviness of a routinary life. The simple beach life became something I'm thankful for every day.
If you feel restless and unhappy in one place, explore. That's when you discover how you really want to live your life.
Charisse Palmos
Occupation: Entrepreneur, Promdisea and Merry Jane (Totally Baked Goodies); freelance graphic artist; social media manager
Originally based in: Makati City, Muntinlupa City, Manila
Currently based in: San Fernando City, La Union for the past 2 years
A few years ago, I was working as a senior graphic artist for a company in Ortigas and was surfing regularly in La Union. My salary and time were mainly spent at the mall to avoid rush hour. This made me consider leaving the metro.
Getting pregnant with my now two-year-old daughter, Kulay, was probably the nudge I needed. It made me decide to move to La Union for good.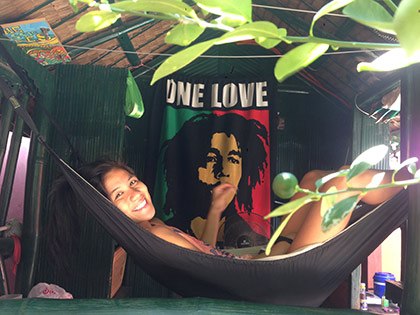 My partner and I own Promdisea, a small surfing apparel business. I'm also doing social media management and projects as a freelance graphic artist. Just very recently, I opened Merry Jane (Totally Baked Goodies), which supplies cookies and granola to one of the cafés by the beach.
It takes a huge amount of hard work to be able to juggle all these and still be a full-time mom. But I am beyond grateful to be able to have a life like this, where I am no slave to traffic jams and poor public transportation, where I am able to bike to get the freshest supplies and become more environmentally aware, where we can take Kulay to the beach whenever we wish to.
I was sad to leave Manila, but I have no regrets of putting down new roots in La Union, seeing Kulay grow up, and getting to enjoy the world-class waves in our backyard! For those who are thinking about leaving the city, it really won't be easy, but it will all be worth it. If you really want it, "the universe conspires to make it happen."
Camille Porras
Occupation: Entrepreneur, Sea Green Café + Boutique Rooms and Sunset Beachwear
Originally based in: San Juan City
Currently based in: Davao City for the past 6 years
I started working in the culinary field after college, then I moved to Boracay for work and to experience living independently. After six months, I moved back to Manila, but my love for the island kept me daydreaming of the beach and a more inspired life.
A friend who was opening a restaurant in Davao asked me to manage the kitchen for the first few months. At first I was hesitant, but I was exhausted with Manila traffic and very uninspired. So I flew to Davao, not knowing that I would end up living there.
My friend's restaurant stint didn't last long; fortunately, I met my now-business partner and we opened our restaurant, Sea Green Cafe + Boutique Rooms. We're now on our fifth year and we're opening another branch in Siargao soon.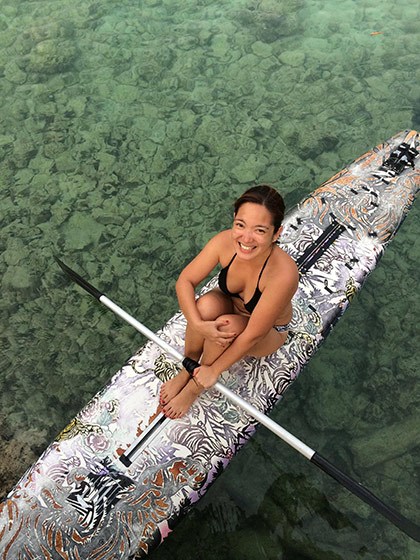 Davao has become busy and traffic has worsened since I moved here, but life here is still much simpler compared to life in Manila. I'm lucky that the beach is 15 minutes away from the city and if I want to spend the weekend up in the mountains, it's just three hours away.
Since moving to Davao and spending more time in Siargao, where days are even more simple and relaxed, I've become more focused on what I want to achieve and become. My goals and dreams are clearer because of the simpler life I've adopted.
For those longing for a change, I say go for it—now! There's no right time or right way to do it. Pray for your heart's desires. Open yourself up to endless possibilities and it will happen.
Monika Rivilla
Occupation: Freelance architect
Originally based in: Las Piñas City
Currently based in: Siargao for the past 2 years
It all started when I was studying for the architecture board exams almost three years ago. At the time, I had no idea I would live where I live now. I always wanted to live by the sea, but I never quite knew how to go about doing it.
One day while I was studying, I received an unexpected phone call from a professor at the college where I studied. He asked me if I wanted to work in Siargao for a construction management role. I knew that there was no way I was passing it up, and since the day I flew to this island, my life was changed forever.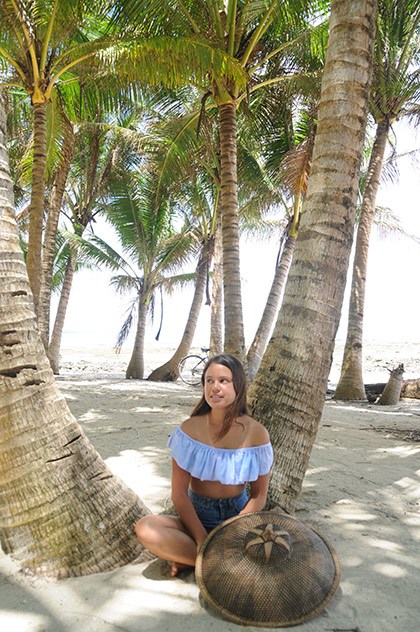 It's really difficult for me now to imagine living in the city. There are some things that I miss, like family and friends. Sometimes we get intense food cravings and zero internet, haha! But on the island, I love that the air is clean, the fish is fresh, the people can be crazy—but also very real! Surfing has always been a big factor in why I wanted to live in the beach in the first place—now, it's a motorbike ride away!
I feel very lucky, loved and grateful—everything just flowed together, the ups and the downs. This island definitely has its lows especially because living in a tourist spot that is becoming mainstream is not easy. But in the end, for me, it's all worth it.
I guess it really just depends on personal preference, like what does "enough" look like for you? From my perspective, this is it.
Isobelle Soriano
Occupation: Yoga teacher and virtual assistant for a yoga company
Originally based in: Parañaque City
Currently based in: El Nido, Palawan for the past 8 months
Before moving to El Nido, I was working two jobs as a virtual assistant for a yoga company and a yoga teacher at various studios around Alabang, Makati, and BGC. After spending nearly a month in Bali for my Yoga Teacher Training in 2015, I yearned to live a quiet, simple lifestyle by the beach or up on a mountain while sustaining myself financially by teaching yoga.
While traveling in El Nido with friends, I came across a hotel that was looking for a yoga teacher. Without hesitation, I told them I'd take the job.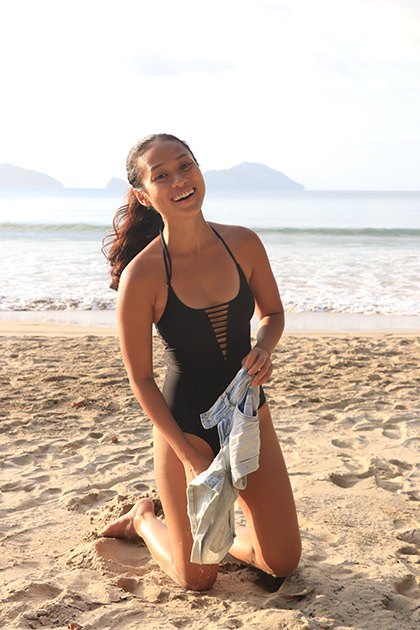 Life in El Nido is not perfect, but I definitely prefer it a lot more than life in Manila. Cost of living is quite affordable, and transportation is a breeze. Although there are parts of El Nido that can get a bit dusty, you can easily find picturesque spots here that have breathtaking views of the mountains and the ocean. The night skies, full moons, sunrises, and sunsets here are absolutely amazing!
My overall lifestyle has improved a lot since making the move to El Nido. Not only am I physically healthier, I have also had the time and space that I had always wanted to focus on my yoga practice. Since Internet connection in most parts of town are not very good, I've learned to wean off social media and other distractions online and instead do more mindful activities like reading, journaling, and meditation.
You don't always need a plan. Sometimes you just have to go with what feels right, do your best, and the rest will follow.
Follow Cheekie on Twitter and Facebook.