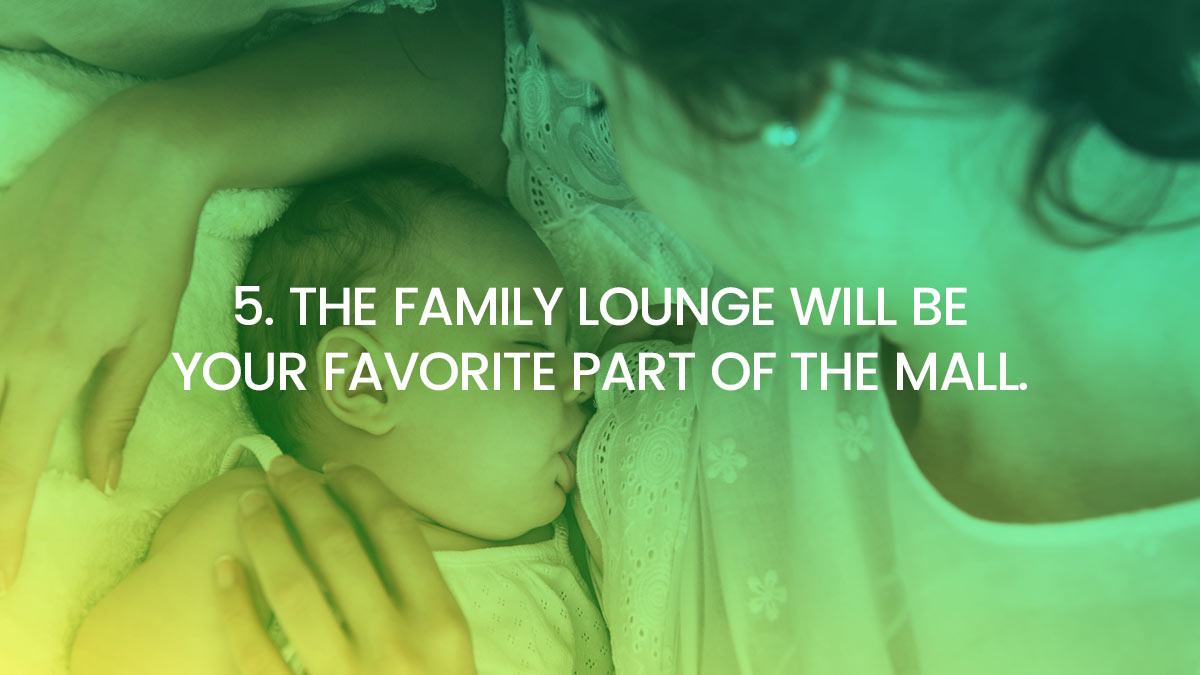 Most people think breastfeeding is a beautiful, natural thing that all mothers can do—just magically put their babies near their breast, and out comes the milk! And while it's true that breastfeeding is an intimate and rewarding experience, most people don't realize that it can also be painful, complicated, and tiring.
August is Breastfeeding Awareness Month, so if you're a mom-to-be, or you're thinking of having kids in the future, now is a good time to think about how breastfeeding is going to change your life.
1. You might need a new wardrobe.
Maybe in the past you wanted clothes that you could easily shed for a steamy one-night stand, or a raunchy date with your partner. Your closet might be full of fit dresses with delicate fabrics, or teeny tiny skirts to wear to the club.
Unfortunately, those lovely pieces might have to go into storage for a while.
When you start breastfeeding, you'll want tops that you can easily open or lift so you can feed your little one, or pump milk. You'll need dresses that have special slits, buttons, or zippers for nursing access. You might want to look for fabrics and patterns that don't stain easily, so that it won't be too obvious when your breasts start leaking. You'll need clothes made of stretchy material, so that you can pull down your shirt or your dress to feed your hungry baby.
Fortunately, there are a lot of stores—both online and in malls and bazaars—that sell fashionable nursing tops and dresses, in nice colors, patterns, and fabrics!
Oh and BTW, you'll need nursing bras, too! As well as nursing covers, if you prefer to cover up when breastfeeding in public.
2. Your diet is going to change. 
Maybe you were counting calories, or wolfing down junk food all the time. Maybe you indulged in weekly drinks with your officemates, or adventurous food trips with your gal pals.
If you're pregnant, that's all going to change! There are some foods you'll have to avoid or cut down on. And when you start breastfeeding, you're going to be hungry all the time!
Breastfeeding burns up to 700 calories a day, so you really need to eat up! Unfortunately, this isn't a free pass to eat everything and anything you want. You need to eat a healthy, balanced diet, because everything you eat translates into nutrients for your little one.
What should you eat? Definitely, you'll need a good variety of foods—like whole grains, fruits, vegetables, lean meats, and low-mercury seafood. Oh, and you'll be thirsty all the time, too, so you'll need a lot of water. But this also means no cocktails for a while, and maybe less coffee. And cut back on commercially available juices, too, because those things usually contain more sugar than actual fruit.
3. Sleep? What's that?
Don't you love waking up at noon on weekends? Sleeping in on Sunday mornings, lounging in bed, and scrolling through your Instagram feed?
Say bye-bye to sleep when you have a new baby. Newborns have erratic sleep schedules, while some babies are sensitive to lights, sounds, or changes in temperature. But on top of lulling your baby back to sleep at 2 a.m., you'll probably also have to feed the little cutie two or three times throughout the night.
If you're not feeding your baby, you might wake up because your breasts are full of milk! Speaking of which…
4. Your breasts are going to hurt.
Breastfeeding can be painful! Some babies have trouble latching on to the breast for a variety of reasons. Maybe your nipples are short, or inverted. Maybe your breasts are too big for your baby's mouth. Maybe your baby bites your nipple, or pinches one breast while he's latched on to the other.
Sometimes, it hurts when your breasts are full of milk, especially if it's been too long between feeding or pumping. Sometimes the ducts might get clogged with milk, and it can get so bad that your breasts get warm, painful, and swollen.
Breastfeeding isn't easy, so read up, or take a class if you plan to breastfeed.
5. The family lounge will be your favorite part of the mall. 
When you go out, do you make a beeline for your favorite shoe store? Maybe you stop for a Frappuccino or some milk tea first. Maybe you've even memorized the layout of your favorite malls.
When you have a baby, you're going to do your research when you go to a new mall. Where's the family lounge? Where are the diaper-changing stations? And is there a breastfeeding room?
Most malls now have diaper-changing stations in the bathrooms, not only in the ladies' rooms, but the men's rooms too! Other malls have a family lounge, and even if it's a paid lounge, nursing mothers are usually given free access.
Whether it's a mall, a hospital, a government building, or your office, Republic Act 10028 requires that "all health and non-health facilities, establishments or institutions shall establish lactation stations." The law says that these lactation stations should have the necessary equipment and facilities, like "lavatory for hand-washing; refrigeration for storing expressed breastmilk; electrical outlets for breast pumps; a small table; comfortable seats; and other items." And most importantly, "The lactation station shall not be located in the toilet." That means the mall concierge shouldn't tell you to breastfeed your child in the PWD bathroom!
Everyone says breastfeeding is best for babies, but most women don't know how it's going to affect moms. So read up, and ask your mom and friends about their experiences. Enjoy your breastfeeding journey! 
Follow Regina on Instagram.
Recommended Videos