Makati Shangri-La is the latest hotel hit hard by the COVID-19 pandemic, which has closed countless businesses due to extended lockdowns and halting economic activity. 
In a letter obtained by Summit Media, Shangri-La Group's Vice President of Operations (Philippines) John Rice stated that the almost 30-year-old hotel will be temporarily closing its doors, but could reopen at a later date.
"As part of the recognisation exercise, we will sadly be parting ways with a number of colleagues and we will be temporarily closing Makati Shangri-La, Manila from 1 February 2021 onwards," wrote Rice.
The letter, addressed to Arthur Lopez, president of the Philippine Hotel Owners Association, referred to the move as a decision to "reorganize the workforce." 
According to Rice, the property might reopen at a later date when "business conditions have improved."
"Despite our best efforts, the prolonged recovery timeline has resulted in increasing financial pressure on the company here in the Philippines," wrote Rice. 
The letter only mentioned Makati Shangri-La. The Shangri-La branches in Shaw and the Fort are still open. 
Below is the official statement from Makati Shangri-La: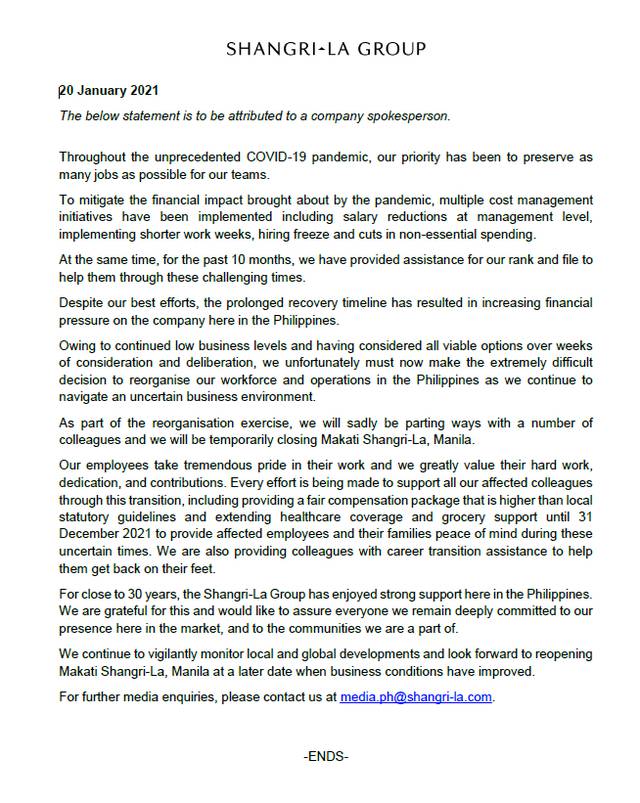 The Philippines has been under lockdown for 10 months, with many businesses still not operating at full capacity.
***
. 
Continue reading below ↓
Recommended Videos