Imagine getting away from your looming deadlines, nosy co-worker, and insistent landlord even for just two hours. Imagine lying completely relaxed on a bed, a skilled pair of hands kneading away every stubborn knot in your shoulders and back. Imagine doing it with your boyfriend, who's de-stressing right beside you.

Spa couple packages allow lovers to enjoy a soothing massage together, in the serenity of a private couples' room. Set aside a spa day with your man and let all that stress slip away.

The Spa
Ground floor, Paseo de Roxas drop-off entrance, Greenbelt 1, Makati City
Tel. No.: (02) 840-1325, (02) 840-1326, (02) 840-1321.
Open from Monday to Sunday, 12PM - 9PM
Visit www.thespa.com.ph for the complete list of branches.

The mother of all spas truly envelops each customer in an atmosphere of calmness. Step into The Spa and soak in its Oriental Thai feel.

What to try: The Spa's Massage Pour Deux lets you and your beau choose from three treatments: Aromatherapy (P2,200), Hilot (P2,000), and Volcanic Rock Massage (P2,600). Cosmo recommends the Volcanic Rock Massage, where the masseuse runs two smooth, flat basalt stones over your entire body. The heat of the stones may feel uncomfortable at first, but once your body gets used to the sensation, a feeling of immense relaxation takes over. All treatments take place inside a cozy little couples' room.

How long it will take: The Volcanic Rock Massage takes one hour and 15 minutes. Add to that a steam bath and shower prior to the massage, and the whole treatment takes two hours.

A little extra: The Spa serves ginger tea so good, it will make you ask for seconds.
Continue reading below ↓
Recommended Videos
[nextpage]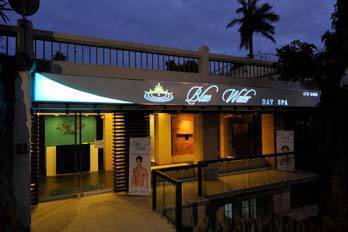 Blue Water Day Spa
Capitol Greenstreet Commercial Center, Capitol Hills Golf Annex Bldg., Capitol Hills Drive, Old Balara, Quezon City
Tel. Nos.: (02) 473-0455, (02) 952-4829, (02) 435-0114
Visit www.bluewaterdayspa.com for the complete list of branches.

Tucked away in a corner of Capitol Golf and Country Club's lush greenery and awash in cool blue light, Blue Water Day Spa is a sight to behold. Walk a few steps out the door and you can enjoy a lovely view of Metro Manila.

What to try: There are three couples' packages you can try. Treat for Two (P2,700) includes a Traditional Filipino Massages or Hilot and a T-Zone Clarity Facial for you and your man. Couples' Paradise A (P3,500) includes Hilot for two, one Men's Vitality Facial Treatment for him, and one Vitamin and Honey Facial Treatment for you. Cosmo recommends Couples' Paradise B (P2,400), which lets you and your beau enjoy a Swedish Massage, an Effective Eye Zone Treatment, a Foot Smoother Scrub for him, and a French Spa Pedicure for you. You can enjoy your massage in a private room with its own shower and sink.

How long it will take: Including shower and a trip to the sauna, Couples' Paradise will take about two and a half hours.

A little extra: Both Couples' Paradise packages come with free noodle soup, tuna sandwich, and refillable iced tea. If you're still hungry after all that, you can walk a few steps to one of the many restaurants in the Capitol Hills complex.

Photo courtesy of Blue Water Day Spa
[nextpage]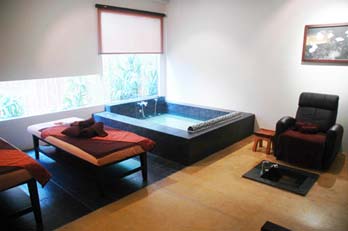 Suriya Spa
Ortigas Center (opposite Tiendesitas), Ortigas Ave. cor. E. Rodriguez Jr. Ave., Ugong, Pasig City
Tel. No.: (02) 633-9898; Fax: (02) 633-8998
Visit www.suriyaspa.com for the complete list of branches.

In the middle of the bustling Ortigas Center lies a place of serenity that is a mixture of Asian design influences and keen contemporary touches.

What to try: Suriya Spa offers two couples packages. One is Sweet Escape (P4,800), which lets you and your guy relax with an Aromatic Massage. Cosmo recommends Ever After (P5,800), which provides both of you an Ayurveda Massage, an Indian therapy that includes a hair and scalp treatment, body scrub using upton powder for detoxification, and body wrap with a thermal blanket. Both packages allow you to choose from an Anti-Acne, Firming, or Collagen Facial, and lets you take home a Suriya Spa gift set.

How long it will take: Sweet Escape takes two hours, while the more meticulous Ever After takes two and a half hours.

A little extra: Almost like a hotel room, each couples room in Suriya Spa has its own shower, toilet, foot spa, and even a nifty little Jacuzzi.

Photo courtesy of Suriya Spa
[nextpage]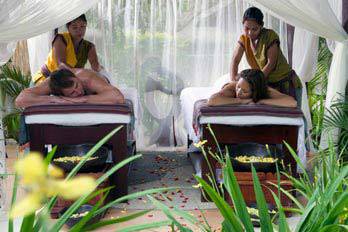 Nurture Spa Village Tagaytay
Barangay Maitim II West, Tagaytay City. They also have branches in Puerto Galera and Pampanga.
Directions: To get there, from Tagaytay Rotonda go straight ahead going to Batangas. Your landmark is a group of restaurants (Starbucks, Leslie's, Dencios, Carlos Pizza), and right across is Magallanes Square (where Figaro and Mocha Blends is). Turn right there and follow the signs leading to Nurture Spa.
Open daily from 9AM to 10PM (last treatment time is 9PM)
Tel. Nos.: (02) 840-1325, (02) 840-1326, (02) 840-1321
Visit their website, www.nurture.com.ph

Tired of going to the same places with your man and wanting a beautiful, relaxing new place to spend QT in? One look at the lush, green, and serene surroundings of Nurture Spa Village in Tagaytay is all it takes to convince you this is the place you are looking for.

What to try: Those seeking a relaxing massage for couples will definitely delight in their Magsing-irog Massage (P2800, for two people). Relish this intimate massage for two in a romantic couple's room, using a sultry, seductive blend of sandalwood, ylang ylang, and lavender essential oils, which are supposed to be forms of aphrodisiacs, used by lovers throughout history to ignite passion. It includes a soothing foot soak.

How long it will take: The Magsing-Irog Massage will take an hour. But you have the luxury of time to spend in the shower or Jacuzzi and enjoy the scenery at Nurture, so reserve half the day. If you think an hour of romantic massage and then some is not enough for you and your man, avail of their irresistible overnight or half-day packages: Romantiko (P9,200, includes overnight stay at air-con accommodations, Magsing-irog Massage, breakfast, lunch, and dinner); Ulayaw (P7,500, includes overnight accommodations in authentic Ifugao hut, Magsing-irog Massage, breakfast, lunch, and dinner); and Magkasintahan (P7,170, includes four-hour stay in Ifugao hut, Magsing-irog Massage, facial, full set meal, and snacks).

A little extra: There are romantic nooks all around Nurture, including six garden gazebos for outdoor treatments. You'll have lots of space to choose from in which to spend QT with your man without the disturbance of other couples. While you're at it, why don't you have a romantic meal together? The food is absolutely delicious yet super healthy.

With reports from Trixie Reyna (Nurture Spa)
Photo courtesy of Nurture Spa
79