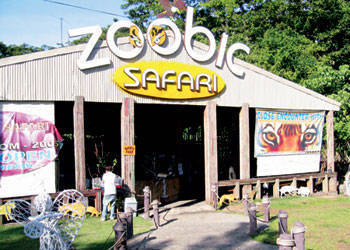 Zoobic Safari
Subic Bay Metropolitan Authority [Manila no. (02) 899-9828, (02) 899-9808]
The Zoobic Safari is a 14.2-hectare sanctuary that houses local and imported wildlife finds. It's a fantastic venue for family bonding, educational trips, and in your case, get-your-guy-excited exploits. Allot approximately two hours to go around the enclosure and be privy to an interesting collection of cute, cuddly, and creepy creatures.
Road Trip:
Gas up and head north to Subic. It takes around three hours by land to the Subic Bay Metropolitan Authority (SBMA) located in Olongapo. Once there, head toward the Ilanin Forest (on the way to Ocean Adventure). You'll see an arc that leads you toward the safari. Zoobic opens daily at 8AM and closes at 4:30PM.
Budget Bends:
Packaged entrance costs P395 (P449 on holidays) and includes all the attractions.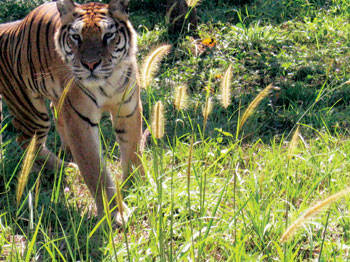 Hotspot Highs:
Most guys are wildlife fanatics, so this day trip will bring out the curious little boy in your hot hunk. Enjoy walking hand in hand through the troves of wildlife treasures and use the surprises in the safari as excuses to cuddle closer and hug slightly tighter.
Visit one of the bunkers and you'll find that they've converted it into a
Serpentarium
. They have various reptile species—from hair-raising snakes and lizards, to fancy-looking box turtles. The
Savannah
, on the other hand, is a drive-in attraction that simulates African and Australian plains. Ostriches, potbellies, wild boars, and guinea fowls wander about the savannah-like enclosure. We're sure you'll fall in love with the little black piglets.
The
Close Encounter
takes you to the dens of the majestic tigers. Finish off your Zoobic Safari visit with a
Tiger Safari ride
. Hop aboard the makeshift jeepneys and enter the tiger habitat. You'll see the cats frolicking around freely and if you choose to avail of the service, you might even see them in a feeding frenzy (a very heart-thumping sight).
Photos by Boogie Romero
[nextpage]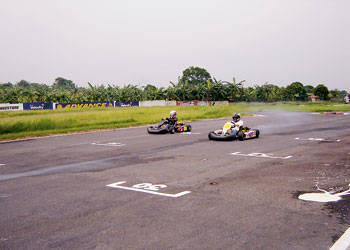 Carmona Circuit Philippines
Carmona, Cavite [Manila no. (02) 817-2241, Carmona no. (046) 430-2089]
Show him you've got the right stuff to rev up his engine. Challenge him on the track and break each other's lap time at the Carmona Circuit Philippines, known as one of the training grounds of some of the country's best karting teams like Bosch-Intelco and Cadettes. You'll feel like a pro behind the wheel as you speed through the stretches and hold your momentum during the turns in this racing circuit. This day trip will get you out of your heels and into pole position to drive your guy wild.
Road Trip:
A 15-minute drive from Alabang (on a traffic-free South Superhighway) and a couple of twists and turns in Carmona town proper will lead you to the Carmona Circuit Philippines.
Make sure to come suited for speed. A racing suit and a pair of trusty gloves make for a ravishing racer. Otherwise, don a pair of jeans or sweats, sneakers, and lug along an unhooded jacket. This'll protect you in case your kart gets too hot to handle.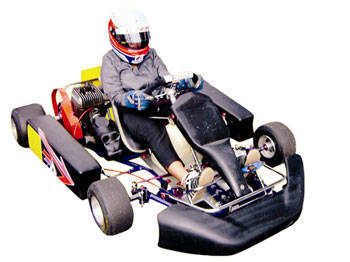 Budget Bends:
One-hour fun-kart rental rate costs P1,800 and includes the use of a helmet. Although that sounds pretty steep, trust us, an hour spent karting is definitely more than enough to get your wheels turning for some post-adventure action.
Hotspot Highs:
Imagine speeding without MMDA officials hounding you or jeepneys halting for passengers. Now think of the rush that your usual designated driver (a.k.a. your boyfriend) will get when you give him that treat. It'll be fun to try this out together especially if you're both first timers. You can split the hour-rate so you can have your own pep squad on the sidelines while you're zooming on the track. Or if you opt to rent two karts at a time, you'll be able to race together and get competitive. Guys get off on knowing that you can get down and dirty with them in a "lap" dance. Just remember to heed the mechanic's safety guidelines before pumping up for speed.
Photos by Zo Aguila
Continue reading below ↓
Recommended Videos