If you've been hit by the Hallyu fever from the shows you watch, the music you play, and the products  you slather on your double-cleansed face, chances are you've fantasized about having a lean-built, glass-skinned, masungit-but-secretly-a-sweetheart oppa to call your own.
Here, eight Pinays who are married to Korean men tell us what it's really like to end up with an oppa, from that K-drama-worthy first meeting to the stereotypes they've found to be false. One thing's for sure: Their relationships work because they make it work, not because one half of the couple hails from the land of Gong Yoo.
Dianne and Seong Jin
Married for: 1 year
Living in: Jeonju, South Korea
Dianne: Back when I was working for a magazine company in Manila, I had the unique chance to attend press conferences and do interviews with Korean stars and cover Fashion Week in Seoul. But after being so focused and busy at work, I couldn't keep up with a lot of the new K-drama/K-pop stuff that were becoming popular, so I kind of lost touch with it.
By sheer coincidence, I went on a double date with a Korean guy with whom I had common friends. He had been staying in Baguio for five years as a Korean restaurant owner. We carried on a long-distance relationship for more than two years before finally getting married.
Continue reading below ↓
Recommended Videos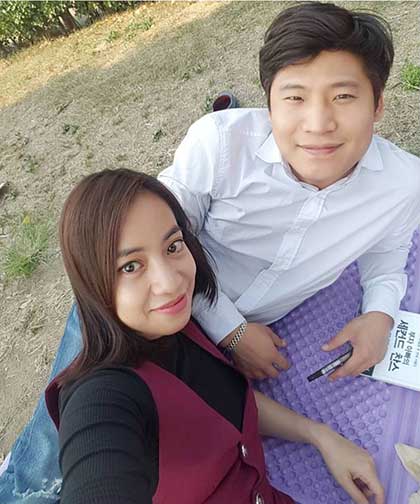 From the time we met until our relationship got deeper, K-pop was the last thing on my mind. In fact, my husband absolutely hates it! His style and personality are so unlike what we commonly watch on TV or on YouTube videos as a Korean ideal fantasy type. That being said, even though I liked K-pop, it was completely separate from my everyday personal life.
You can't marry someone based on a "Korean ideal" and put it in the same classification as characteristics you'd look for in a lifetime partner.
There are a lot of K-drama clichés about the "evil mother-in-law" and the "dashing prince character," but for me it was the complete opposite. My husband is as real as he can be, and his mom is one of the most generous people I've ever met. Relationships are all the same, whether you're from the same country or not. There are many couples who can't even communicate despite speaking the same language; in contrast, we both feel like we understand and complement each other despite our differences. I also truly appreciate how he lets me be me.
On a side note, eventually K-pop would find its way back into my life when I got hired as a writer for a Seoul-based entertainment site and online magazine about travel and lifestyle in Korea. I guess things just have a way of working themselves out when you least expect it.
Edellyn and JoungHwa
Married for: 6 years
Living in: Seoul, South Korea
Edellyn: JoungHwa and I met when I accompanied my friend on a date with a Korean boy. She and her date decided to both bring a friend along to make it a double date of sorts, and since my original date bailed, my now-husband came in his place.
While I was a fan of K-pop, K-beauty, and K-fashion at the time, I went on the date because I thought it might be fun, not necessarily because it was a date with a Korean guy. I believe in letting life surprise you—and did it ever!
I never thought it would work out with JoungHwa because we both had plans prior to meeting. I was leaving for Japan the following week and I figured by the time I returned, he would have already left for the States, where he was planning to study. But he waited for me and we got married after two years.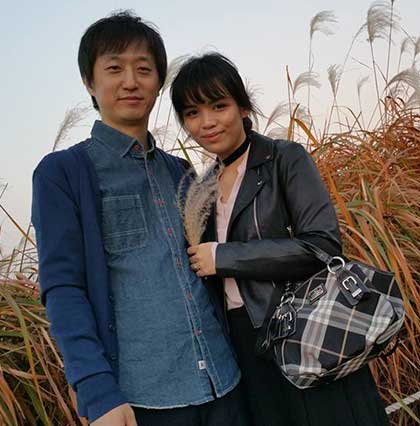 One stereotype you see in K-dramas that I have found to be true: Koreans are very family-oriented and hold responsibilities to family in high regard. Approval of parents from both sides is very important in a marriage. They also really do put emphasis on respect based on seniority in age. For example, my sister-in-law is older than me, but I can't call her "unnie" (ate) but just "agasshi" (miss) since my husband is older than her.
On the PDA front, however, Koreans are still largely conservative, so the back hugs and piggyback rides are usually reserved for drama scenes. My husband doesn't mind holding my hand when we're in the Philippines, but is still too shy to do it in when we're in Korea!
What I love about being married to JoungHwa is he always does his best and puts our family first. He makes me want to become the best version of me. Plus, he is a very willing Instagram husband!
Glenny and Hangil
Married for: 4 years
Living in: Manila, Philippines
Glenny: I met my husband when he went on vacation in Manila in 2013. He had been living in Bataan that time for work. When our paths crossed, he said it was love at first sight. I said it was destiny.
Back then, I was oblivious to the popularity of K-pop and K-dramas in the local scene, but that changed when I started dating Hangil. Curiosity took over me and I started to become interested in many things relating to Korea.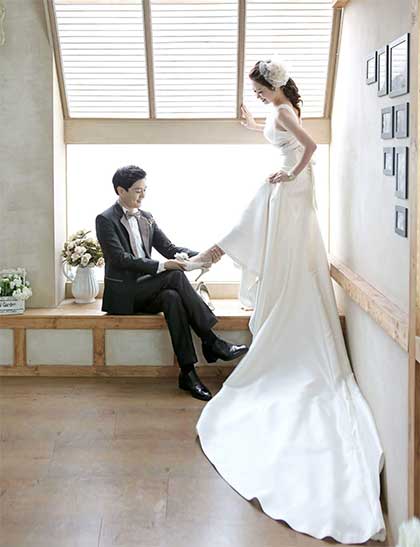 I was once told by a friend who is married to a Korean guy that "Korean men are good boyfriends, but bad husbands." I don't agree, but I have noticed that some of them won't do household chores until you ask for help, and won't help you in attending to your newborn baby in the middle of the night. But at the end of the day, they make up for it by being good providers for their family's needs.
There's a stereotype of Korean men going around that they are abusive and are cheaters. I beg to differ; I think you always get what you deserve in a relationship—no matter what your and your partner's nationalities are. Personally, having a Korean husband has made me so happy and blessed.
Kring and Jimmy
Married for: 3 years
Living in: Manila, Philippines and Seoul, South Korea
Kring: Jimmy and I met at a K-pop clubbing event called K-pop Night. I was an organizer, and he, a photographer. Our relationship was a big deal to many because he was my first (and last!) boyfriend.
Being with Jimmy seemed cliché because I've been a huge Korean entertainment and culture fan since 2003-2004. I was a pioneer in the local K-pop/Hallyu fandom and to say that I was a fan, I think, is an understatement. However, unless it was Big Bang's T.O.P., I never really thought of dating—let alone marrying—a Korean guy.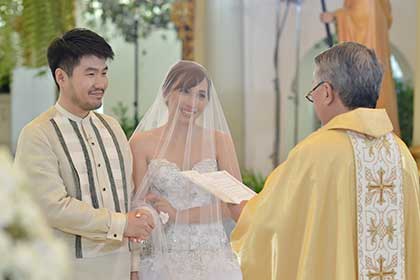 I made a blog for and about Jimmy called "My Korean Boyfriend," which, along with our YouTube videos, became a hit and even won awards. Our multi-cultural relationship was put to the test (and on the spotlight) when we joined a reality show on ABS-CBN called I Do. Thankfully, with the support of our families, friends, and fans, we won and our beautiful journey and wedding was aired on national TV.  
Despite the language barrier and cultural differences, we actually communicate very well. Jimmy is my biggest supporter and I don't think I would be as successful, fulfilled, and happy if he were not the other half of the Krimmy Couple.
Fun fact: I also host Korean stars' fan meetings, events, and shows. In the past, sometimes Jimmy would be the translator.
Lisa and Peter
Married for: 10 years
Living in: Jeonju, South Korea
Lisa: My husband and I were introduced to each other by a friend. The Korean wave wasn't a thing yet then, so I didn't know what to expect from being friends with or dating a Korean. Despite that, I still gave myself a chance to get to know him. However, we lived far away from each other so it was more of a long-distance friendship that slowly blossomed into a romantic relationship, and eventually, marriage.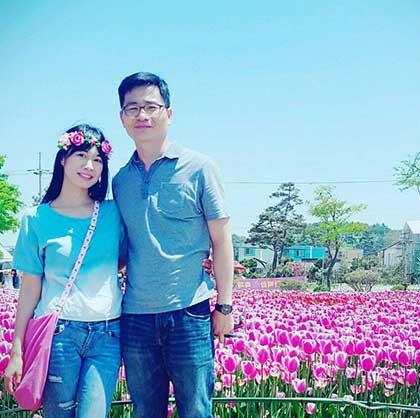 While many girls nowadays may fantasize about marrying an oppa to fulfill their Korean dreams, the reality can be far different. It's funny that whenever I talk to some of my Filipino friends, I'd get asked "So, have you ever seen Lee Min Ho in person?" or "How many Korean idols have you seen so far?" I do not see Korean celebrities walking down the street every day, but it is a funny misconception of living in Korea.
Also, just because I live in Korea doesn't mean I'm laying down on a bed of roses. Korea is known for its workaholic culture, so our lifestyle here is all about work, work, and work. I also have to fight against racism and discrimination when it comes to finding a teaching job.
People also get the impression that my spouse is my financial savior, which is so not true because first, I married him because I love him, and second, I had my own teaching career before I decided to marry him.
Being married to a Korean may be challenging, but knowing that I have him by my side gives me that priceless sense of security and tender feelings of being loved. After all, that should be what every marriage is all about—love and security—no matter where you're from or what language you speak.
Noreen and Boam Sik
Married for: 5 years
Living in: Uijeongbu, South Korea
Noreen: A peso coin brought us together in 2005 when Boam Sik was an exchange student in UP Diliman. He was having his passport photocopied when he realized he had run out of pesos. He handed the lady at the machine a US dollar, which she refused, telling him that he didn't have to pay. I was the person next in line, so I offered to pay for him instead. A similar incident happened a few days later, and again, I was the person next to him.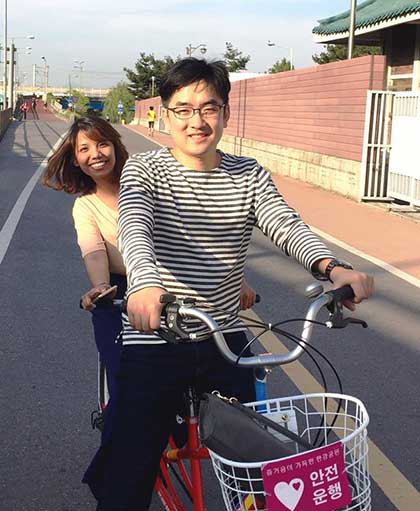 We easily clicked and hung out a lot during class breaks. We then became a couple, but after a year, he had to return home for his military service.
I wasn't into Korean dramas or K-pop before meeting him, but it was through him that my interest in Korean culture grew. Eager to know him better and learn more about his culture even while he was away, I even enrolled in a Korean language class. Continuing our relationship despite the distance was never easy; I would send him letters via snail mail every week while he was in the military service since that was the only communication allowed. Thankfully, we met again when I received a scholarship to Korea in 2008.
The stereotype that a relationship such as ours is not really serious and may not even last was a big challenge to us. Others even thought that he would just leave me after his study program—with a broken heart and a baby bump! But we proved to be different.
It has been 13 years since we first met and I am now happily married to this loving man who listens to me, respects my choices, and strives hard for our family.
Teri and Jang
Married for: 3 years
Living in: Jeonbuk, South Korea
Teri: After two years of working as a high school teacher, I got tired of the demands of a traditional classroom setup and decided to find a job in an online teaching field. Never did I know that I would find not just a job, but the love of my life.
Five years before meeting my husband, I began praying for him. A book author gave me this idea, and I thought that was the most romantic idea I'd ever heard.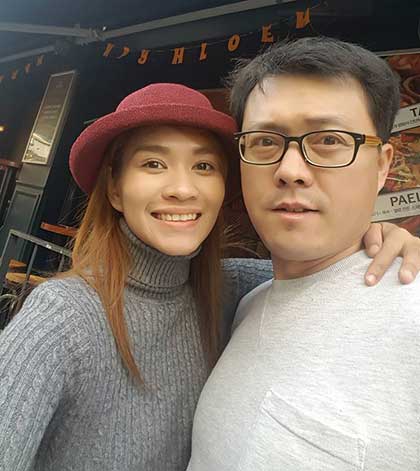 I first laid eyes on him at the new teachers' orientation of an ESL teaching company in Alabang where I used to teach. He was introduced as one of my Korean managers. I thought, "It must be him. Oh Lord, is it him?" I fervently prayed for my feelings for him.
After two months of texting and chatting through the company's messenger tool, he finally asked me to go on a date. With the thought of Koreans as heavy drinkers, I got a little scared. But after learning that I am not a drinker, he respectfully offered me orange juice instead.
People always ask me why I married a Korean. I would always reply, "I didn't marry a Korean. I married the person I love."
I didn't fall in love with him because of Korean dramas, famous K-pop stars, or delicious Korean cuisine; I fell in love with him because it's HIM. His eagerness to learn about Filipino songs (he now knows 50 Filipino songs!), his craziness over Filipino street food (isaw!!!) and his pure heart are the best parts of being married to him.
Via and ChanJae
Married for: 1.5 years
Living in: Pocheon, South Korea
Via: Oppa and I became acquainted when he wrote to me on a travel site to inquire about Mindanao. While I was traveling all over Mindanao for work at the time, I happened to be in Davao when he was over there visiting, so we decided to meet up. We eventually dated, and the rest is history.
At the time we met, I was into K-beauty. But my love for that aspect of Korean pop culture had no bearing on me deciding to date oppa, since I know where to order stuff myself and he is quite clueless when it comes beauty anyway!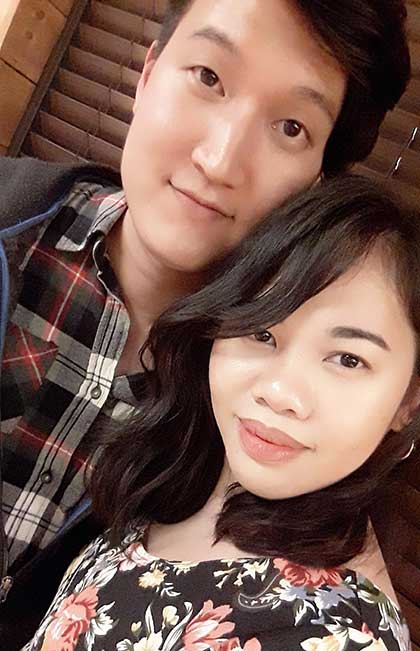 When it comes to stereotypes of Koreans, I've been told that Koreans are rather blunt and straightforward and that is indeed true—especially with Korean men. If they like you, they will let you know. Also, many would assume that all Korean men are handsome and romantic like the ones you see in K-dramas, but when it comes to oppa, the latter isn't true. oppa is handsome—no bias!—but he just isn't the type to plan romantic events and surprises. He is thoughtful though, so I don't mind at all.
What I love most about oppa is the fact that I can be myself with him. I rarely feel that we are from different cultures. And it doesn't hurt that he looks like a Korean actor!
Follow Cheekie on Twitter and Facebook.