It's common knowledge among Filipinos that Chinese families prefer Chinese relationship partners, and if you're a Pinoy who has fallen for a Chinese, then good luck to you. A term has even been coined to describe that legendary opposition put up by Chinese clans with regards to partners who don't share their heritage: "Great Wall."
While times are changing and some Chinese families have eased up on this resistance, many elders still prefer to stick to tradition, which may pose a problem to Filipino-Chinese couples. But at the end of the day, love can still beat the odds, as these four couples who overcame the Great Wall prove.
Athina and Mark
Dated for 2 years, now married for 3 years
Athina: Mark and I met at work. He was my immediate supervisor back then, and as we were both single, we were often teased by officemates. This led us to become close, become the best of friends, and later fall in love.
When it came to his family's beliefs in choosing partners, they were just like any other Chinese family's: The elders (who were more traditional) would always prefer somebody of the same ethnicity or background (Chinese or Filipino-Chinese). But even though both his parents were full-blooded Chinese, they themselves weren't all that strict when it came to choosing partners.
Continue reading below ↓
Recommended Videos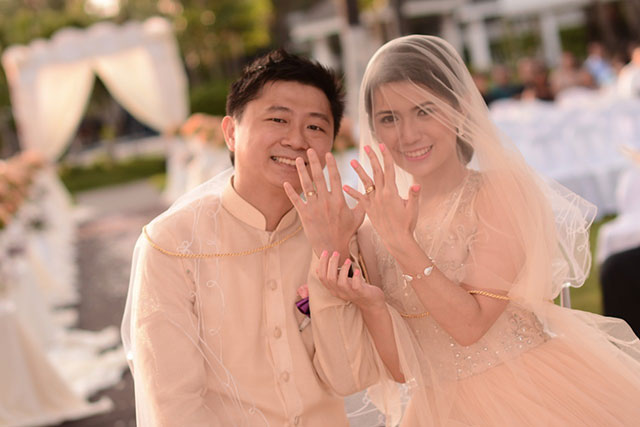 It was at my boyfriend's 30th birthday party when he decided to introduce me to his family. I was really surprised because I thought it would just be an intimate gathering with his immediate family, but lo and behold, I was surrounded not only by his mom, dad, sister, and Amah (his paternal grandmother), but the WHOLE CLAN that resided in Davao City where we're based. I was so nervous, but with him by my side, I survived that occasion.
Since that fateful day, I became closer to his family. His mom and sister, who live in Manila, constantly communicate with me through Facebook and text messaging. His father, whom I used to call "Tito," told me to call him "Papa" back when we were just dating. As for his Amah, who was the person I was afraid of the most at first and the one who was strict about my husband getting a Chinese partner, would you believe that we became the best of friends after a couple of meetings?
I've been a member of their family officially for more than three years now, and it's been one great ride! When I said "yes" to my then-boyfriend, it wasn't just him I was marrying—I was marrying the whole family. Chinese families are indeed more conservative, more reserved, and are more faithful to their beliefs and values, but at the end of the day, the love, just like in any other family's, is the same.
Janine and Val
Dated for 7 years, now married for 7 years
Janine: We met back in college in 2004. I was a transferee, so I just enrolled in the classes that were available to me. Val was in one of those classes. We started dating a few weeks into the semester.
My father's side was stricter about it. They even called for a family meeting to discuss our relationship. It was a lot of drama, to say the least. I was in the hot seat for an hour while my father's siblings told me the disadvantages of dating a "juana."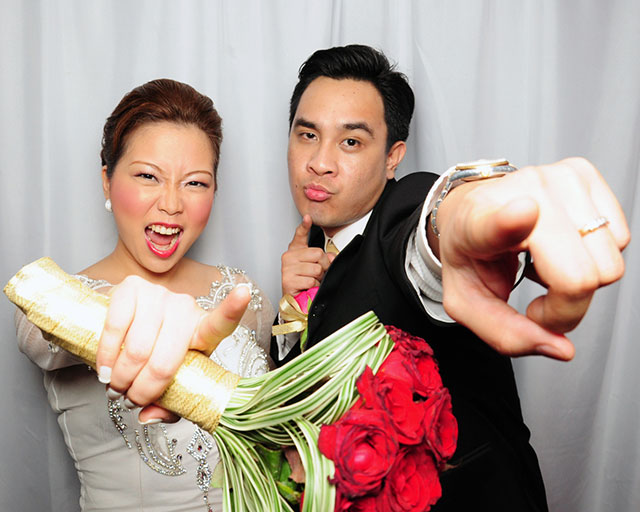 My mother's side was more accepting. They welcomed Val almost immediately, especially my Angkong. When I introduced Val, he even teased me by asking, "Is he your CRUSH-mate?" It was super surprising and super cute for my Angkong to do that.
In 2008, I got a job in Dubai as a flight attendant, and that's when the relationship became less and less of a big deal for my father's family. Out of sight, out of mind, I guess. We did the whole long-distance thing for four years until my father finally accepted Val and we got married. Val then followed me to Dubai and we stayed there for three more years before deciding to start a family.
Right now, our relationship with my father's side is very good. They have already accepted that I am married to a "juana." We get invited to family gatherings, and family members go out of their way to make Val feel more comfortable. We are happy.
Lesson learned? If he or she is worth the effort, then just keep at it. Masasanay lang din sila.
Ellyn and Ira
Dated for 7 years, now married for 5 years
Ira: Ellyn and I met in college where we were blockmates. We started out as friends; eventually, mutual interests and activities brought us closer. We were together for a couple of years, but after graduating, we broke up for a while (totally unrelated to her being Chinese), then later got back together.
In the early stages of our relationship, we had to be discreet because she was afraid that her family wouldn't accept me. None of her relatives had ever introduced a non-Chinese significant other to the family. Her parents even told her early on not to date non-Chinese people. Eventually, she mustered up the courage to introduce me to her family and make our relationship known.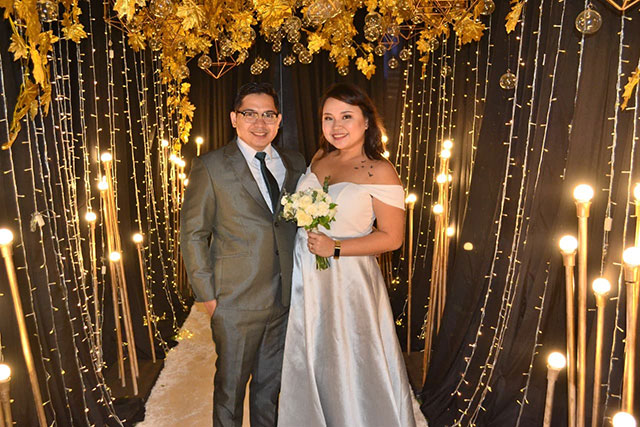 She first told her mom, who helped her in telling her dad. Initially, he was hesitant and had a lot of questions, but when they met me, I was able to charm their socks off. I also tried learning to speak Chinese and failed miserably, but I get away with being pa-cute about it. Even her aunts who were super strict (the kind who were adamant about not letting their children marry non-Chinese people) softened up to me and some of them even opened up to the idea of letting their kids date or marry whomever they wanted.
A couple of years after I was introduced, I proposed. We've now been married for a while and her entire family accepts us. I like to think that they're not just tolerating us, but celebrating our love as well.
There's nothing to be afraid of as long as you're up-front and honest. It's all about open communication.
Belle and Bobby
Dated for 7 years, now married for 2 months
Belle: I met my husband back in college, and now we're both architects. We were friends turned lovers.
At first, I didn't know he was half-Chinese—not until I got to know him. When we officially became a couple, I had to learn many Chinese terminologies that his family often uses. His father is full Chinese and his mother is full Filipina, so they were not strict with regards to whom their children date.
The only challenge for me was winning the good graces of Amah (Bobby's lola). Amah is full-blooded Chinese and she wanted her apo to have a Chinese girlfriend. She promised that if her apo would marry a Chinese girl, she would shoulder all the wedding expenses. But Bobby didn't need Amah's money to marry me, for he loves me and had chosen me.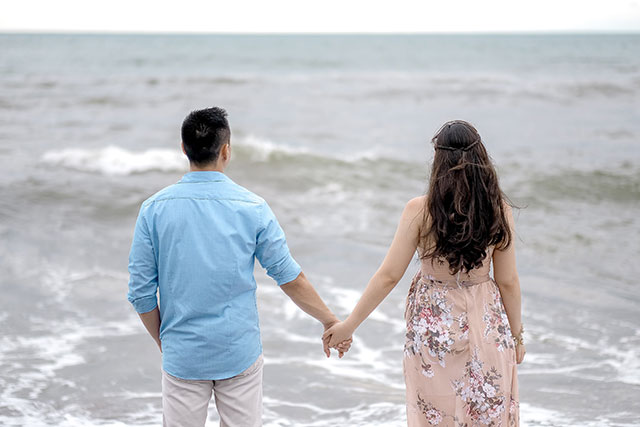 The first time I met Amah, she asked me if I had any Chinese blood. Though I have very little on my mother's side, I'm full-blooded Filipino. But through the years of Bobby and me dating, Amah saw my family background and lifestyle, and so she accepted me. The one who struggled to win Amah's acceptance more was my now-mother-in-law, who was a probinsyana back when she married my father-in-law. But now, all is good and Amah accepts all of us.
Being married to a half-Chinese family, I learned to respect their culture and beliefs. It's always good to learn to adjust on these things and show them you value and love their family.