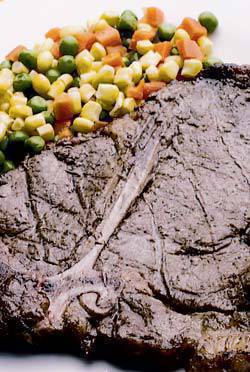 Hot Rocks Club
650 Compound, Libis (beside Shopwise) QC, 636-6091
The Vibe:
Your guy will love you for letting him go out to dinner with you in his beat-up tee and flip-flops. The food is so good, you can forego ambiance!
Best To Go Here With:
Your guy and his crew. There's an open-air deck upstairs that's great for a couple of rounds of beer and a serious foodfest.
The Eats:
Steak, steak, and more steak!
Priced from P100 to P330, Hot Rocks specialty steaks
are from tender Batangas beef, with a juicy, flavorful bite to them. Cosmo suggests you go for the large steaks, even if you have the option for a regular size cut. Hot Rocks also boasts of their grilled
isaw
, fish fillets, burgers, and crispy pizzas, which will gratify any appetite.
Special Treats:
Service is quick and friendly, and it gets even sweeter with desserts that are the perfect finish to a steak dinner. Hot rocks offers
Blueberry Cheesecake
,
Chocolate Cake
,
Tres Leches
,
Apple Pie a la Mode
, and the curiously named banana split
Jar of Monkey
.
Photo courtesy of Hot Rocks
[nextpage]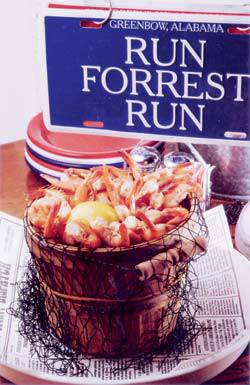 Bubba Gump
2/F Greenbelt 3, Ayala Center, Makati City, 757-5154
The Vibe:
Absolutely "Gump-y" as the laid-back, friendly crew at Bubba Gump like to call it, just like in the film after which the restaurant was created, Forrest Gump. You and your guy will need a couple of minutes taking in the cool, kitschy scenes from the movie, knick knacks, bric-a-bracs, and costumes hung about the restaurant.
Best to Go Here With:
Your man for casual but quality dining. The servings are huge so there's lots to nosh on for double-date dining.
The Eats:
At Bubba Gump, shrimp is what they do best. Cosmo suggests
Forrest's Shrimp Net Catch
, with shrimp steamed in beer and spices, and starving sweethearts shouldn't miss
Bubba's After the Storm Bucket of Boat Trash
, a happy mix of fried shrimp, slipper lobster, mahi-mahi, and fries.
Special Treats:
The
Steak New Orleans
which is available upon request was cooked Cajun style and
Penne Pasta with Shrimp and Scallops
in a vodka-tomato cream sauce was a unique take on pasta. Bubba Gump's dessert list is irresistible, with concoctions like the
Alabama Mud Pie
, a towering slice of ice cream with Snickers pieces in a pool of chocolate.
For more information, visit
www.bubbagump.com.ph
.
Photo courtesy of Bubba Gump
[nextpage]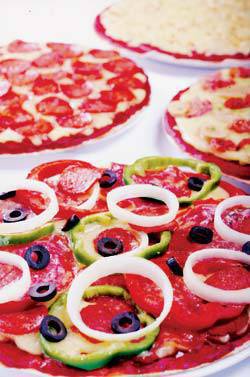 Red Box
3/F Greenbelt 3 Ayala Center, 757-6188
The Vibe:
Trendy, cool, and fun! Don't be daunted by the maze-like layout—the rooms and hallways are cleverly color-coded. Choose any KTV room and you're bound to find it extremely cozy and tastefully decorated. There's no better place to dilute your worries after a stressful day at work. This Hong Kong franchise is the best of its kind here in Manila.
Best to Go Here With:
Your guy for a surprise lunch. Take turns singing a few tunes and reward yourselves with a fave dish or drink.
The Eats:
Karaoke cuisine. From pica-pica specialties like the
Buffalo Chicken Wings
that are easy enough to munch while waiting for your turn at the mike, to full-blown dishes that you can eat at leisure. They also serve
Pizza Margherita
and
Pepperoni
pizzas.
Bestsellers:
Start with the
Red Box Combination Platter
or the
Chicken Fingers
. All-time faves include the
Crispy Pata
that'll have you both in good spirits.
Special Treats:
They have a range of different-sized rooms, so you can have a party of two or 12. For only P99 per person, you can enjoy a full buffet dinner from 7PM to 12AM from Sunday to Thursday with salads, grilled specialties, pasta, and dessert. Avail of their daily lunch buffet for P299 and use a KTV room for three hours—for free! Enjoy over 30,000 songs in English, Chinese, Japanese, and Korean and our very own Pinoy tunes.
For more information, visit
www.redbox.com.ph
.
Photo courtesy of Red Box
Continue reading below ↓
Recommended Videos