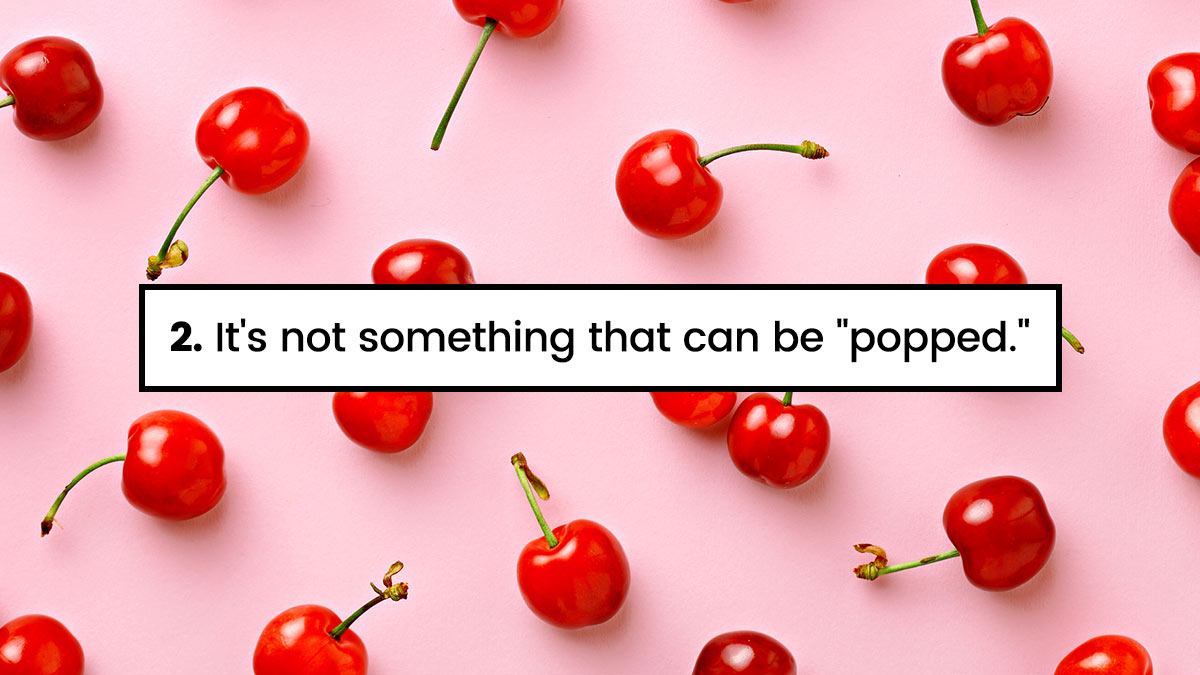 They come in all shapes and sizes.


Like the literal rest of your body, your hymen can be any shape or size. Alyssa Dweck, MD, a gynecologist in New York and author of The Complete A to Z for Your V, said the hymen is just a thin piece of tissue with a hole in it located one or two centimeters inside the opening of the vagina. But, fun fact: It seems to serve no purpose! 

It's not something that can be "popped."


As that awful, needs-to-be-retired metaphor goes, there is no "cherry" to "pop" hiding inside your vagina. That (disgusting, sexist) comparison of your reproductive parts to a piece of fruit being impaled comes from the way some women bleed following the first time they have sex. That bleeding comes from the hymen, but is actually the result of the tissue (which is what a hymen is) being stretched. 

It's slightly

 

pink

 

in color.


How trendy.

It doesn't magically disappear after you have sex.


Dr. Jessica Shepherd, an OB/GYN, said the hymen stretches a bit during sex, and that's what can cause bleeding. But it doesn't just go away.

And it doesn't always cause bleeding when it stretches.


Dweck said some people have very thin hymens that stretch and never bleed at all—whether during sex or a casual childhood activity like gymnastics or riding a bike. Less than half of women actually experience bleeding after first-time penetrative sex. So there.


It's sometimes externally visible.


Dr. Rebecca Brightman, an ob-gyn in New York City, said sometimes remnants of the hymen can be seen between the folds of your labia because it's located just a couple of centimeters inside the body. This typically looks like tiny, flesh-colored bumps that aren't bad or dangerous, and don't need to be removed. 

Not everyone is born with one!


And if you don't have one, it doesn't matter. It has no impact on your sex life at all. 

And some people are born with a very thick hymen.


Some people have a hymen that is not easily penetrated or stretched, which can cause penetration of any kind to be painful. Dweck said this is rare, but sometimes a physician may need to stretch a particularly thick hymen that's causing pain. 

It might hurt a little when it's first stretched.


But not always! Dweck said it may feel like "a ripping or a tearing" if it feels like anything at all. 

Because it doesn't always bleed, "virginity tests" are bullshit.


There's something called virginity testing in which a woman is said to be a virgin if she bleeds during first-time penetrative sex, but the issue here, as you now know, is that not everyone has a hymen, not everyone's hymen bleeds, and some people's hymens stretch during non-sexual activities. The more you know. Also, the whole concept of "virginity" is sexist and bad. Just in GENERAL.
***
This article originally appeared on Cosmopolitan.com. Minor edits have been made by the Cosmo.ph editors.
Recommended Videos