There's nothing quite as romance-reviving as time out to reconnect. But sometimes, a trip can still be stressful to your twosome especially with all the details to fix, itineraries to follow, and activities to pack into your schedule to make it more sulit. Here, Cosmo gives you some tips to help iron out the details of your vacay and make your getaway the most romantic ever.
1. Anticipate your trip-together.
Make your holiday escape a joint effort. While planning your trip, make sure you coordinate, communicate, and help each other out to avoid unpleasant surprises during your holiday or end up dashing to the airport just to make the flight.
First, decide on a place you're both eager to see. Read up about it, so you'll both know what to expect. If you only have enough time for a weekend escape, we suggest you visit
Cebu
—it has the beach to satisfy your fantasies of tropical lounging, the hills for late afternoons or nights of snuggling and star-gazing, and the city if you want to make like a pair of partyphiles.
2. Zoom away.
Arrange your transportation details. Set your budget straight and catch a flight at a time that's ideal for both of you. Avoid early morning flights if neither of you are morning people and save yourself from the stress and turmoil of cancelled or delayed flights.
Cebu Pacific
has about ten flights daily to Mactan island in Cebu. Log on to
www.cebupacificair.com
or call their customer service hotline at [(02) 702-0888].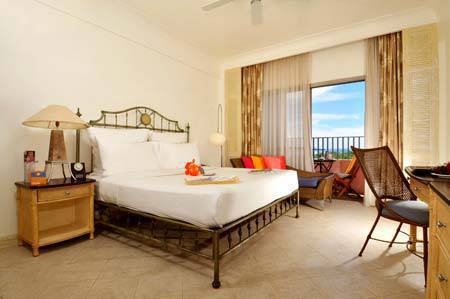 3. Make room.
Make your holiday home base as conducive to lovin' as possible. While others don't pay much attention to their accommodation details, Cosmo's tip for making it more tempting to sleep-in during mornings, stay in at night, and relax together: Stay in a comfortable boudoir in a fantastic resort! So unless you're the adventurous roughing-it type of couple, we suggest you opt for established and reputable lodgings where you're sure to get pampered service.
The deluxe rooms and suites at the
Hilton Cebu Resort and Spa
in Punta Engano, Mactan Island [(032) 492-7777] will do the trick. Not only are their beds oh-so-inviting—the feel upon entering your love nest will make you not want to leave the room at all. (A common criteria for a successful romantic getaway.)
Remember, you want a hotel that's either well-situated (The Hilton is located right by Mactan's coastline and has its own private beachfront) or well-outfitted (with cozy robes, comfy lounge chairs, fantastic staff service, and a spa)—and Hilton Cebu Resort and Spa is both.
Cosmo suggestion: Turn your hotel room into an oasis of love by bringing along some love-amping goodies. Get yourself a new negligee to transform yourself into a seductive siren. Line the edge of your tub with tea lights during one of your stay-in nights. Bring your iPod to set the mood.
[nextpage]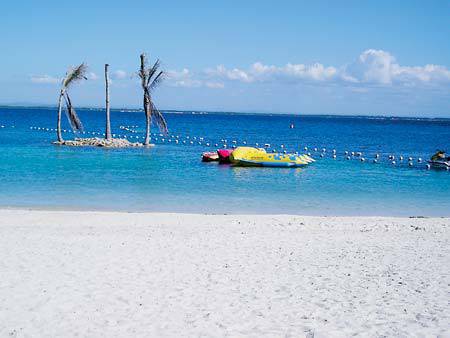 4. Use your palates to awaken your passion.
Excellent food is a must when on a weekend date or honeymoon. There's nothing like a delicious dish shared together to propel you both into doing other things so much more romantic. With your tummies filled and cravings satisfied, you'll be able to focus more on spending time with each other.
The
Vanilla Beach Cafe
at the Hilton offers scrumptious buffets and mouthwatering a la carte selections. The ambiance is fresh and airy—and since the resort is built in such a way that allows a refreshing breeze to flow through even during high noon, you can dine al fresco and enjoy the cool air. At night, a group of musicians serenades you. Make sure to request your theme song.
For a more formal and traditionally romantic set-up (i.e., for popping important questions, or professing your undying love), check out
Seas
and try their array of delectable seafood dishes and more elaborate creations. Let Hilton's executive chef Peter Wicki work his magic and offer you dishes far beyond your tummy's expectations. Remember, dining together with your beloved is a sensual activity that can draw the two of you closer together, so don't settle for a feast that is less than superb.
5. Do romantic things throughout the day.
A dreamy destination and a great place to stay are crucial for a romantic experience, but it's also the little experiences you have together that make your holiday an amorous adventure. Here are some experiences your twosome can try:
If you want to unwind from the daily grind together, schedule a joint pampering session in the Hilton's
The Spa
. Try the
Mactan Massage
, the resort's signature massage—a treatment that combines relaxation and well-being with a gentle therapeutic massage.
For adventure-seeking folk, hop aboard a
jet ski
with your arms wrapped tightly around your beau or hold hands underwater during a
scuba dive
.
Go on a sipping spree and sample the fine wines at
Manny O's Wine and Tapas Bar
. Make like a wine connoisseur as you swirl, smell, and taste wines from their extensive collection. Or, get some tips from their well-trained staff about wine appreciation, and come out an aficionado.
Make down time a must. It's always tempting to pack too much activity into your trip. Budget quiet resort time for just the two of you. Share a pastry or two while lounging in the piazza set-up of Hilton's
Pink Lobby
. Sit by the
Wedding Gazebo
and order some fresh shakes from the
Sapphire Pool Bar
while taking in the view, or go ahead and take a dip in the infinity pool and just talk until the sun sets.
Continue reading below ↓
Recommended Videos