I'm a big fan of massages. Massages are the perfect physical and mental escape for people who can't always afford the time to go on vacation, and they're also an affordable option to unwind.
I go for massages on the reg, so when I saw the Cystal Past Life Session with Hawaiian Lomi Lomi Massage offered by Transcend Spa & Nails and Third Eye Wellness, my interest was piqued. I was honestly a non-believer, but I'm always down to try things before I completely write them off. 
According to Sanaiyah Gurnemal, the owner and founder, readings and massages both use the concept of Theta Healing, which involves going into the mind of a person to get rid of all the stress, negativity, issues, and obstacles caused by the environment of the individual.
"Theta Healing is a blend of psychotherapy and spiritual healing," Gurnemal shares. "It's a technique that helps you resolve the bigger problems in your life by tapping into your mind, body, and energy."
ADVERTISMENT - CONTINUE READING BELOW ↓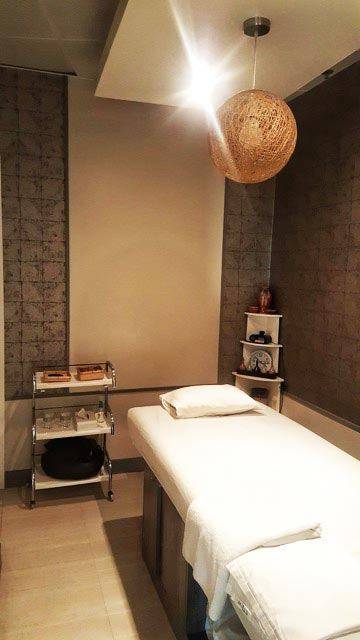 The session starts with the Crystal Regression which takes you back to your past life with the use of hypnotherapy. I was asked to relax in one of the spa's luxury rooms for a one-on-one session with the specialist; I was also asked if I wanted to focus on a particular issue in my past life or keep things open. I chose the latter. 
Special crystals were "mapped" on certain parts of my body, mainly focusing on the main chakra points—the areas where a person's psychic energy is concentrated.
"Normally, with hypnotherapy, you have to train the person's brain to get them into that very relaxed state. A crystal can do the exact same thing," Gurnemal explains. "It's kind of like a shortcut that makes it easier for people to bypass their logical mind."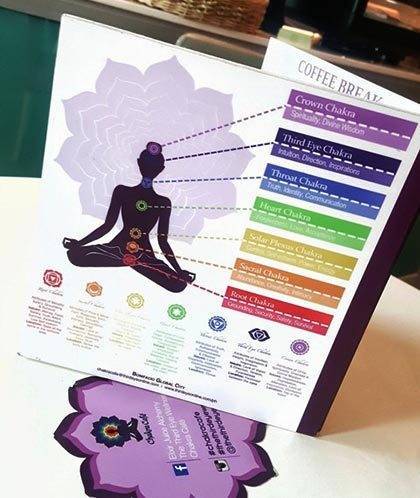 ADVERTISMENT - CONTINUE READING BELOW ↓
The number and kind of crystals depends on the person trying it. For example, lighter stones like rose and crystal quartz can be used on people who have relationship problems. Other crystals can be added during the session depending on the specialist's intuition. The stones will be laid out on your body (in my case, on my forehead, chest, and palms), around the bed, and on the floor to create an invisible map of energy to help with the regression.
At this point, I was unsure of what to expect. Before the session, Gurnemal explained that I will go into a semi-conscious, relaxed state, while still being aware of everything that is happening around me. I felt the biggest difference after a stone was placed on my forehead—also known as the third eye chakra. I saw waves behind my closed lids, too, which I suppose is some kind of ~*energy*~.
ADVERTISMENT - CONTINUE READING BELOW ↓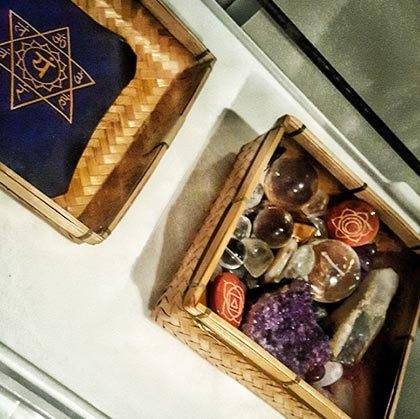 The past life regression took about one hour tops. Before starting, I expected it to be like watching a movie inside your head. It was exactly that, but not at the same time. There will be visions, but the images will happen deep inside your consciousness that it's just your mind's eye seeing it.
ADVERTISMENT - CONTINUE READING BELOW ↓
During the session, the specialist guided me to imagine scenes to relax the mind. Gurnemal moved from situation to situation by asking questions—like what I see in the mirror and who I was with during a particular time. I provided her with the visions and descriptions, which she helped elaborate by asking more questions.
My session covered different stages of my past life. Gurnemal wrapped up each stage by snapping her fingers. During moments when I can't properly make out visions, she would help by giving me a different set of visuals that can help the process move along.
The experience, according to Gurnemal, is meant to help people reach a better awareness about their lives. "The beauty about this technique is that just going through the experience will kind of awaken your mind to certain things. There is a kind of an awareness that comes in."
But will knowing your past existence affect your future decisions? It depends on the person. But it most likely will not. "If you see a fire, you do not need to touch it now to understand that you shouldn't do it since it is going to hurt. All you need is awareness. The minute the mind understands it, it knows what to do. [In a way], it automatically works itself into your life."
ADVERTISMENT - CONTINUE READING BELOW ↓
Personally, the experience has given me a better understanding of some of the irrational fears I've had and didn't understand before. 
The massage is a whole new different experience of its own. The Lomi Lomi Massage is inspired by the movements of the infamous hula dancers in Hawaii: "It's a very sacred massage. The strokes are very light and fluid. The Lomi Lomi is known for being a mind, body, and energy massage. It's not just physical, it will also relax you mentally."
The fluid strokes are meant to trigger what Gurnemal calls "cellular memories". These are memories that no longer serve you and need to be released from the body. The Lomi Lomi massage comes after the past life regression because of its relaxing approach, which is exactly what some individuals need after having a trip to their past.
Final Thoughts:
As someone who experienced it firsthand, I can say that it can be an effective way to de-stress and recharge. The psychotherapy element mixed with the massage gives you a different level of relaxation, not only physically, but psychologically and emotionally too. And besides, don't you just want to know what type of person you were in another lifetime?
ADVERTISMENT - CONTINUE READING BELOW ↓
Sanaiyah Gurnemal is the first certified practitioner and instructor of Theta Healing in the country. She also has a doctorate in Clinical Hypnotherapy and is currently the representative of ThetaHealing for the Philippines on behalf of the ThetaHealing Institute of Knowledge. Drop by Transcend Nails and Spa at the 6th floor of the 20th Drive Corporate Center, McKinley Business Park, For Bonifacio. Follow them on Facebook and Instagram.
Follow Karen on Instagram.