LOLO DAD'S
899 Quirino Avenue cor. Leon Guinto, Malate, Manila; 524-2295
Open Mondays 6-10PM; Tuesdays to Saturdays, 11AM to 2PM, 6 to 10PM
Amorous Ambiance:
Tired of the usual commercial scene? This quaint, intimate, out-of-the-way family-run foodie haunt set in a cozy, restored pre-war house of the owners'
lola
provides the perfect mood-enhancing setting for your seduction.
Aphrodisiac Picks:
Owner Ding Ayuyao swears by the Baked Oysters with Foie Gras, "All From the Above" appetizer sampler, Steamed Chilean Sea Bass, and Herb de Provence Crusted Rack of Lamb.
Swoon-Worthy Scene:
Every Valentine's Day (on which Lolo Dad's anniversary falls), they give away tokens such as roses or
abaniko
. One guy had the staff tie an engagement ring on top of the cake meant for his girlfriend. When she found the ring, she started to cry—then he started to cry as well.
What They'll Do For Love:
Special requests are most welcome, even if it involves asking the chef to cook something that's not on the menu.
Timing Is Everything:
Come before 8PM and on a weekday, when the place is less packed.
Location, Location, Location:
The best spot is at the Chef's Table, where your food is prepared in front of you (unless you'd rather engage in intense eye-lock, oblivious to the world around you.)
Love Damage:
Around P1,500 per person. You can bring your own bottle of wine, they'll drop the corkage fee.
LE SOUFFLE AT THE TOP OF THE CITI
34th Floor, Citibank Tower, 8741 Paseo de Roxas, Makati City; 750-5810/750-5811
Open Monday to Friday, 7-10PM


Amorous Ambiance:
Top of the Citi is known for having an incredible view of the Makati skyline, definitely conducive for some mild PDA.
Aphrodisiac Picks:
Recommended dishes are the Pan-Fried Gooseliver Salad or, for the meat lover, Rack of Lamb with Rosemary Jus. For dessert, Old-fashioned Chocolate Cake or Amaretto Souffle—all washed down with wines from their cellar.
What They'll Do For Love:
Set up a table just for the two of you on the right wing terrace surrounded by mega candle lights and balloons.
Timing Is Everything:
If you want to watch the sunset, come from 5:40 to 6PM.
Location, Location, Location:
A table at the right wing terrace. The romantic atmosphere, combined with a taste of their Chocolate Decadence cake, is potent enough for anyone to fall in love.
Love Damage:
A three-course meal starts at P1,200.
Photo by David Hanson for Yummy Magazine
[nextpage]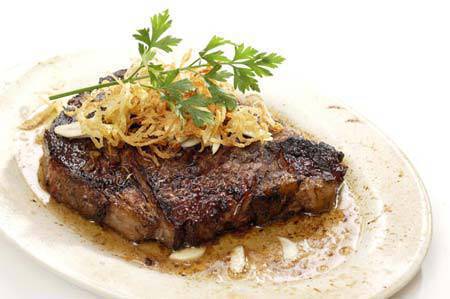 ANTONIO'S
Baranggay Neogan, Tagaytay. Best to make reservations at 0917-8992866.
Open Tuesday to Sunday, 7AM-4PM for breakfast, 11:30AM-1:30PM for lunch, and 5:30PM-11:30PM for dinner.


Amorous Ambiance:
Cool, fresh air, lush greenery, soft, classical music. "We like guests to feel at home so we take pains to create a relaxed, cozy, homey ambience—a nice retreat from the usual urban landscape," says chef and owner Tonyboy Escalante. "In the evening, the lights in the garden are turned on, and nothing can be more romantic than dining underneath the stars. You feel embraced by nature."
Aphrodisiac Picks:
Tonyboy recommends the oysters, whether served fresh or baked, and the foie gras, as well as Grilled Certified Angus Beef Rib-eye Steaks, Grilled Spring Lamb Cutlets Glazed with Apricot and Roquefort Sauce, plus decadent desserts like Double Chocolate Souffles.
Swoon-Worthy Scene:
Rings have been hidden in the desserts, waiters have been asked to bring over a bouquet of flowers and the box with the diamond ring in it to their table. Some guys have sneaked in flowers early in the afternoon so their girlfriends don't see them until they're brought out in the evening.
What They'll Do For Love:
"I just do what they want me to do," says Tonyboy. Some requests they have carried out include hiding rings, presents, or flowers in the most romantic areas like the garden, by the koi pond, or in the balcony.
Timing Is Everything:
Go on weekdays and evenings when it isn't so crowded. Try to catch the sunset at 5:30PM—get seats on the balcony and the spectacular view will really heighten the romantic mood.
Location, Location, Location:
Ask to be seated by the koi pond or the balcony, where many proposals have taken place. The ambiance alone is enough to sweep you off your feet. "After you're wined and dined and whispered sweet nothings to,
mapapasagot ka talaga
!"
Love Damage:
Regular meals without wine usually cost at least P2,000 per couple. With appetizers, it's usually P3,000, and with a glass of wine, it can go up to P4,000 to P4,500.
RED
Makati Shangri-la Hotel, 813-8888 local 7428. Open Monday to Friday at 7:30 a.m.- 10:30 a.m. for breakfast, 11:30 a.m. – 2:30 p.m. for lunch, and 7 p.m. – 10:30 p.m. for dinner. Open Saturday and Sunday at 7 p.m. – 10:30 p.m.
Amorous Ambiance:
Red, the color of passion, resonates in every aspect of the restaurant. Elegant and hip yet casual interiors plus chill-out music, mild blues, and jazz tunes help achieve a relaxing environment.
Aphrodisiac Picks:
The red theme extends to the cuisine, with ingredients like red meat, red vegetables, red fruits, red seafood, red cocktails and red wine. Recommended treats are appetizer Beef Carpaccio, Wagyu Two Ways for the main course, and for dessert, Surprisingly Red.
Swoon-Worthy Scene:
A male diner connived with Red's service associates—he asked them to inform him and his girlfriend upon their arrival that they had no reservation. She was infuriated, but was nonetheless ushered to the private dining room, which was brimming with flowers and candles. Suddenly, a short film on the girl's life from infancy to adulthood was projected onto the wall. At the end of the film, the sentence "Will you marry me?" was flashed.
What They'll Do For Love:
For the food, the chef always applies his own special touch. Other requests such as flowers, wine, a cake, a string ensemble and other reinforcements (a WILL YOU MARRY ME? banner, etc.) are willingly accommodated by the staff.
Timing Is Everything:
Dinnertime from Friday to Monday is highly recommended.
Location, Location, Location:
Ask to be seated at one of the tables with long-back Philippe Starck-inspired red chairs by the large glass window to get a view of the lush tropical garden with a pond and cascading waterfall, which is a focal point of Red.
Love Damage:
PhP 2,000 and up per person.
Photo courtesy of SPOT.ph
Continue reading below ↓
Recommended Videos