If you're getting married anytime soon—or even if you're just a single girl fantasizing about the perfect wedding, because why not?—you know how loaded with stress and expectations the wedding day can get. But before you get swallowed up by the sky-high expenses, supplier setbacks, family feuds, and all those old traditions you could really do without, know that you don't always have to follow what every other Pinoy married couple has done before.
Here, we got 10 couples to share how they ditched tiresome traditions and injected quirky additions to achieve a wedding that was truly them. Be inspired, take down notes—or better yet, throw those notes out the window and write down what YOU want.
Cel and Randy: An intimate (read: just the two of them) ceremony in Paris
Cel: Amidst planning for our wedding, Randy blurted out, "If it were up to me, I would marry you tomorrow!" We both asked ourselves why we had to make complicated decisions over the simple task of tying the knot, when getting married was the point of it all and we should stick to that.
ADVERTISMENT - CONTINUE READING BELOW ↓
This is how we decided to get married in Paris: I no longer recall who said which, but one of us said "Let's elope to Paris!" and the other replied "I like that! Let's do that!"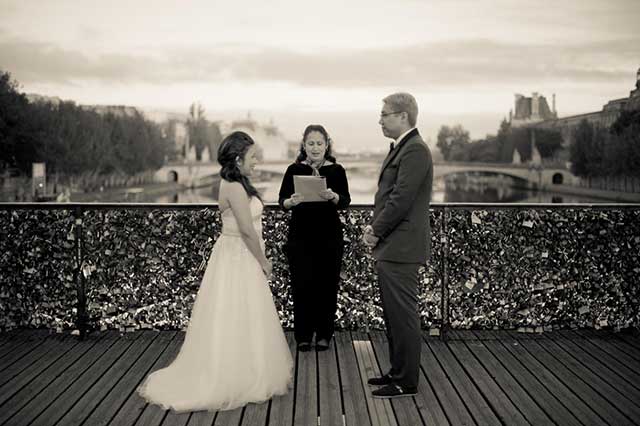 As Filipinos, we had to go through the Schengen visa application. We also learned that to have a legally binding wedding in France, we must have resided there for at least 30 days! We decided to have an initial "contract signing" (what we called it) at the Makati RTC. Our parents were there, with our bestest friends as our witnesses.
ADVERTISMENT - CONTINUE READING BELOW ↓
Recommended Videos
A few days later, we were in Paris, standing on Pont des Arts, professing our undying love for each other. It was just us two, our photographer, and our officiant. Our ceremony was short and sweet.
We spent the rest of the morning walking, laughing, and posing for photos around La Seine, Musée du Louvre, and Jardin des Tuileries. The rest of the day, we traced the steps of Jesse and Celine in Before Sunset.
That day in Paris paved the way for how we now approach our married life. It instilled in me what our marriage is all about: Strip away everything, because underneath it all, it's me and Randy.
Chris and Joey: A colorful feminist fête free from tired old traditions
Chris: I thought of my wedding as a "feminist thesis project": I wanted to prove that gendered standards and expectations are merely social constructions, and me defying many of those traditions did not at all take away from the true essence of a wedding and a sincere celebration of love.
ADVERTISMENT - CONTINUE READING BELOW ↓
Usually, the father of the bride walks her down the aisle and hands her over to the groom. However, I see marriage as a union of two families, not a patriarchal exchange between the father and the fiancé. My parents and I came from the left side, my husband and his mom came from the right, and we all met at the entrance of the chapel. My mom and dad then took my mother-in-law's hand, and the three of them walked ahead of us, hand-in-hand. My husband and I marched down the aisle towards the altar together.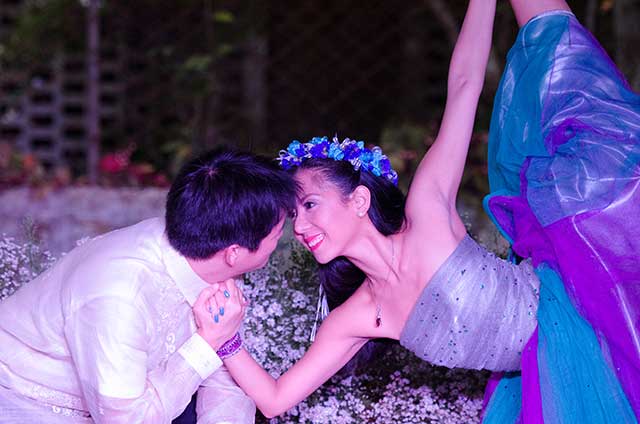 ADVERTISMENT - CONTINUE READING BELOW ↓
I also did not want to follow any of the dress codes imposed on the bride. My wedding dress was a ballerina-inspired purple and aqua tulle gown, my shoes were peacock-printed, my ring was a spiral with a star on one end and a moon on the other end, my nails were blue. I had a colorful wedding crown instead of a veil for the ceremony, and a fedora and roses in my hair for the reception.
We also made sure there was nothing sexist in any of the readings in mass, and we chose a priest whom we knew would not express any double standards in his homily.
My husband, being a feminist himself, was okay with all of this!
Jali and Peter: A bike-themed celebration that's fun and free-wheeling (pun intended!)
Jali: We wanted a wedding that was "truly us." That meant celebrating in a way that was meaningful and enjoyable to us and not for the sake of tradition.
ADVERTISMENT - CONTINUE READING BELOW ↓
Having bicycles as a theme was a no-brainer. We are both avid cyclists, and Peter has worked and volunteered in various bicycle-related jobs.
We also love crafting and creating. We forged each other's wedding rings, skipped the church, and had a ring-warming ceremony so that our loved ones could be a part of our marriage in a special way. We even designed our own souvenirs.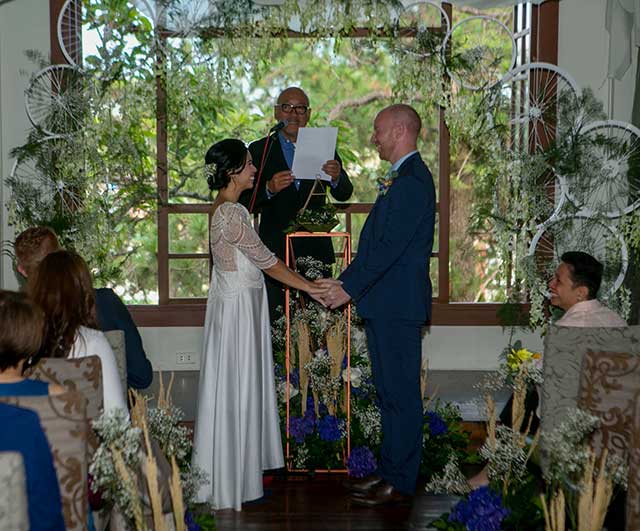 ADVERTISMENT - CONTINUE READING BELOW ↓
The bicycle theme shone through in our save-the-date cards, invitations, menu, décor, seating, and souvenirs. Our officiant was even one of Jali's bike buddies. We didn't care for an entourage or godparents, but made it a point to have excellent food and drinks and lots of dancing. Many guests said it was one of the most fun weddings they had attended.
We had a blast! We learned that the best recipe for a fantastic wedding is to follow what makes you happy.
Jet and James: Social entrepreneurs throw an ukay-and-DIY seaside soirée
Jet: Having lived near the sea for most of my childhood, I have always visualized a wedding by the sea. This became a reality when I got married to a fisherman who lives in an island paradise, Bantayan Island. My husband and I co-founded a social enterprise named Balangay's Best which helps fishers on the island.
ADVERTISMENT - CONTINUE READING BELOW ↓
Simple, stress-free, almost zero-waste, something that speaks to who we really are—that's the wedding we planned. Hence, an ukay-and-DIY beach wedding.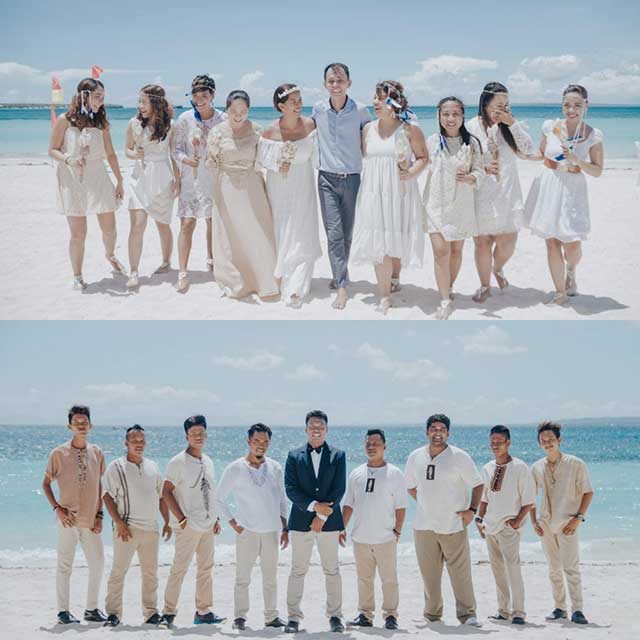 I got my wedding dresses for only P850 at an ukay-ukay shop, while James's tuxedo, polo, and pants cost P300. I got the bridesmaid dresses from ukay shops as well; they cost P50 each. James' groomsmen tops were by Obra ni Juan, but I found them at an online ukay shop.
ADVERTISMENT - CONTINUE READING BELOW ↓
Our bouquets were made out of shells and barbecue sticks by my crafty husband, while our sandals were crocheted by my mom. I made my shell crown, and a co-worker made our bohemian headdresses. Our giveaways included Balangay's Best products made by our nanays in the fishing community and soaps and candles made by a bridesmaid.
Our full moon wedding was far from perfect. Our pretty DIY fan-cum-program arrived the day after our wedding, but who cared? No one. What made it extra meaningful was the "allowing and receiving" stance that James and I embraced: No matter what happened, we believed it was going to be God's best expression of His love for us and our love for Him in return, as well as for our families and friends who shared that moment with us.
Liz and Mark: No to fancy heels, no to "bridesmaids" and "groomsmen," yes to drag queens
Liz: We wanted our wedding to reflect what we loved and stood for as individuals and as a couple.  We managed to sneak in some of the things we personally advocate for, like avoiding unnecessary waste and going for things we can totally reuse. This meant no balloons, no confetti, minimal and fresh flowers, shampoo bars as giveaways, and similar stuff.
ADVERTISMENT - CONTINUE READING BELOW ↓
I also chose to walk down the aisle with black ankle boots—something I could totally use again compared to a fancy pair of heels! Because of that, every time I go out with these boots or use stuff from the wedding, I am always reminded of our special day.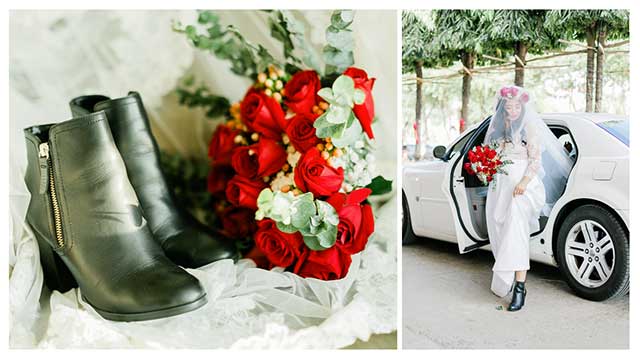 ADVERTISMENT - CONTINUE READING BELOW ↓
Our invites also never labeled our entourage as bridesmaids and groomsmen.  We placed them under just one name: "The Wedding Party."
To accommodate our spectrum of guests, we had two sets of parties: one at lunch which was intimate and formal, and another at night at a bar—hosted by drag queens! We also replaced the garter and bouquet toss with a flower offering and tribute to our parents, and did an all-couples sweet dance where the longest-staying couple blessed us with their tips.
That day became more memorable because we made sure that everything was personal and meaningful.
Melissa and Ulysses: A watercolor-and-origami wonder—even the bride rocked dreamy hair
Melissa: As an artist, I wanted my wedding to be colorful, unique, and made with love.
I love watercolor and origami. I chose shades of teal, salmon, and soft yellow, and to match my color scheme, I dyed my hair teal. I had to bleach my hair every two weeks before finally dying it to blue days before the wedding. It was a big effort for me because I'm allergic to bleach. But I really wanted mermaid-like hair, and it was a good thing the church allowed it. The work paid off since my hair looked nice with my origami butterfly headdress.
ADVERTISMENT - CONTINUE READING BELOW ↓
Instead of real flowers for the bouquets, boutonnieres, headdresses, and decorations, I opted to use paper flowers and origami butterflies. I wanted to DIY it all myself, but I was still working full-time then. I was lucky I found a decorator who was willing to help make my vision real, and I taught her how to do the paper crafts. That time, it was still a new idea to use paper flowers for a wedding; in fact, my wedding later made it to alternative wedding site RockNRollBride.com.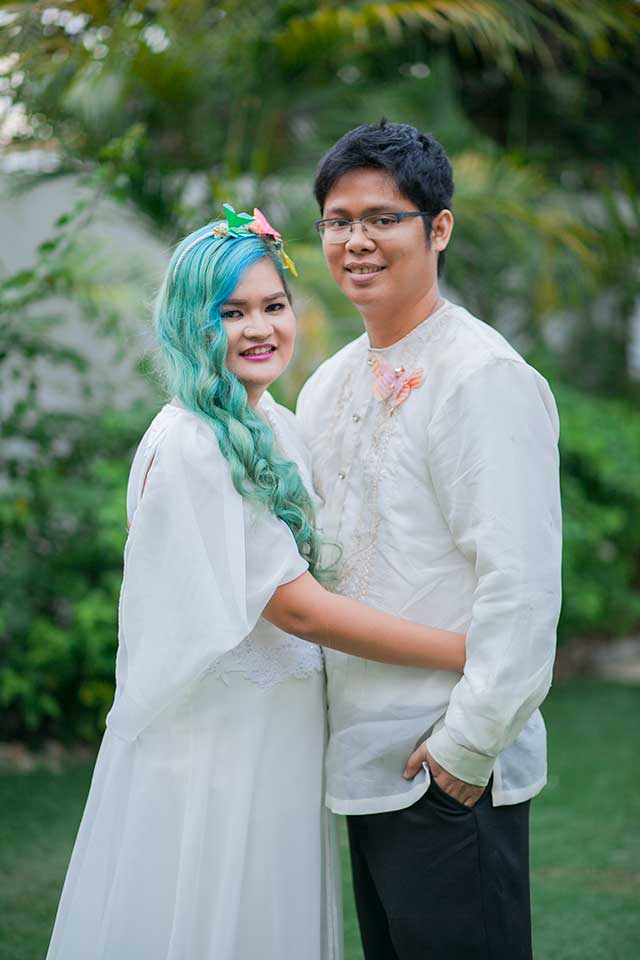 ADVERTISMENT - CONTINUE READING BELOW ↓
I wanted my wedding to be unique and creative, but that didn't mean it needed to be expensive.
Osan and Cholo: A creative couple's chill microwedding—just 18 guests!
Osan: We just wanted to be married instead of to get married. Thus, a microwedding.
Being an OFW couple, big wedding pressure was looming over our heads coming from big bucolic families. But we decided to be practical yet still rooted in our personal flow as a couple, my husband being a visual artist and I, a writer.
We exchanged vows at a design studio in a heritage building in Escolta. No flowers, just houseplants. We both wore off-the-rack pieces, while surrounding us dressed in our favorite colors were eighteen of our loved ones.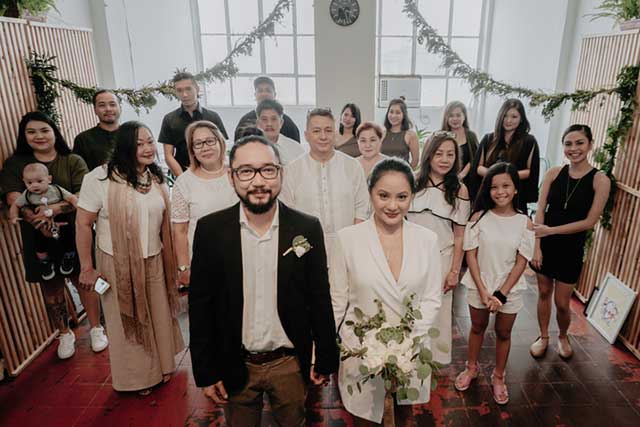 ADVERTISMENT - CONTINUE READING BELOW ↓
In cozy Blocleaf Café, we feasted on our everyday favorites like lumpia, tuyo pasta, and an ube cake topped with paper doll versions of us drawn by my husband. Design duo Public School Manila were our "wedding coordinators;" our stop motion film was made by architecture students. A nearby basketball court gave us music while we drank convenience store beer and danced the night away at a parking space.
A year after, we still gets emails on our wedding website from people asking for advice on how to have a microwedding. I feel that as long as a couple remains comfortable with themselves, any style works—grand or tiny. But most importantly, I believe that you should "spend" on your marriage—instead of just your wedding.
Pabsy and David: A bookstore ceremony, a donut tower, and a dog in a crucial role
Pabsy: We chose to have an intimate wedding that reflected our quirky personalities.
ADVERTISMENT - CONTINUE READING BELOW ↓
We love reading and found a book house for our civil union. I wanted a one-of-a-kind dress (with pockets) and purchased it online. My bouquet was a mix of fresh flowers and paper ones made from music sheets of our favorite songs.
After the ceremony, we took photos at iconic monuments in Washington, D.C. For the reception, we wanted it to feel like a big family dinner at a local café. Our friends were involved in coming up with the personal touches: the décor, keepsakes, and a beautiful donut tower (since I don't eat cake). Because we lived overseas, our family from the Philippines watched us say our vows on Skype.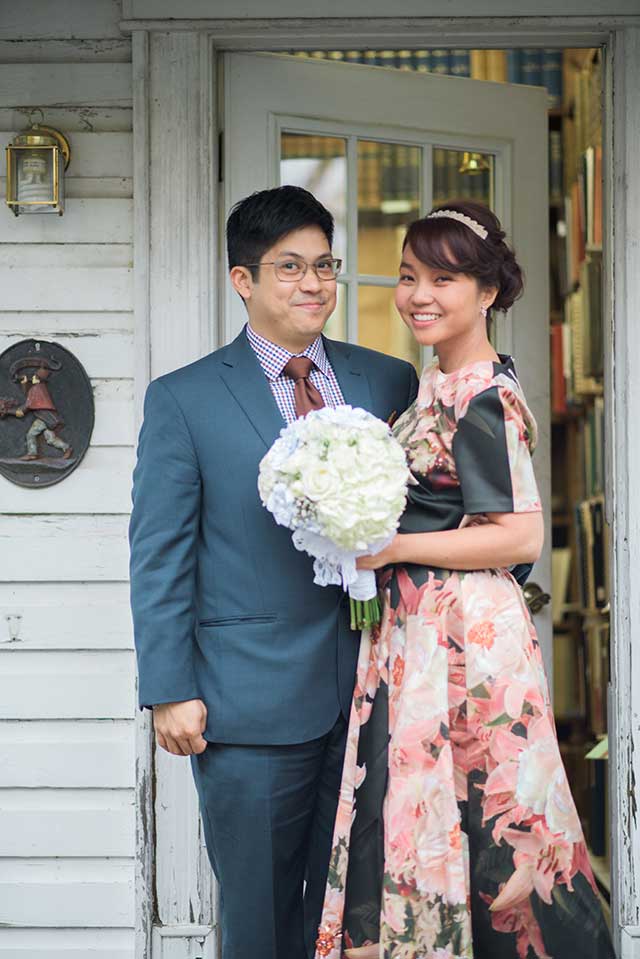 ADVERTISMENT - CONTINUE READING BELOW ↓
Overall, there was no pressure for everything to be perfect. We were able to appreciate and enjoy our special day with our loved ones, including Panda, our pup of honor.
Riela and Conrad: A minimalist, all-white (even the guests wore white!) brunch affair
Riela: My husband is a video editor and I was an event coordinator when we got married, and everybody somehow expected that we would have a full-on, production-level wedding. When we actually talked about it though, we both agreed that what we really wanted was a very chill and convenient wedding for us and our guests. We just decided together on the non-negotiables that would honor our faith and our families, and allowed ourselves to be chill about the rest of it.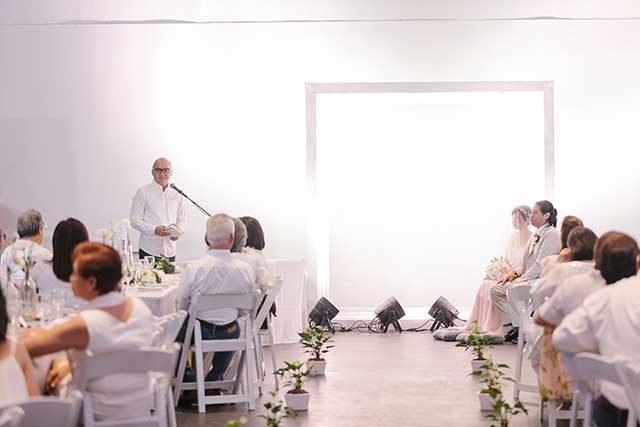 ADVERTISMENT - CONTINUE READING BELOW ↓
We didn't have bridesmaids and groomsmen, and we stripped down the setup to a bare minimum—no screens, no live band, no glamorous event styling. We just collected used glass bottles from our friends and families for our centerpieces, and had a big white frame made for our backdrop. We asked all our guests to wear white, while my dress had a hint of coral that matched my husband's tie. It was a brunch wedding and our breakfast buffet was a hit—everyone enjoyed the bacon!
Since we wanted it to be simple but still fun and memorable, we just ran with our other crazy ideas like using comfort room icons as our logo, having our entourage march to Bag Raiders' "Shooting Stars," and making three grown men carry the Bible, coins, and rings.
Yss and Mike: Nature-lovers' mountaintop nuptials marked by a MassKara dance
Yss: We both enjoy the outdoors, so from our prenup to our wedding day, nature was in every part of it. We decided to have our prenup shoot inside a studio to reduce carbon footprint and for practicality, but through graphic design and props, we were able to "bring the outdoors indoors." We pretended to be diving, hiking, and releasing turtles and birds with a white backdrop!
ADVERTISMENT - CONTINUE READING BELOW ↓
We got married on top of a mountain in Negros. We had dried leaves on the aisle instead of flowers; we had wooden benches made from fallen trees instead of the usual classy chairs. The girls carried arrangements made out of dried flowers and grass that are still pretty up to now, while the men wore wooden bows made from wood scraps from a furniture shop. We chose functional giveaways such as umbrellas and soaps in upcycled pouches since it was a destination wedding.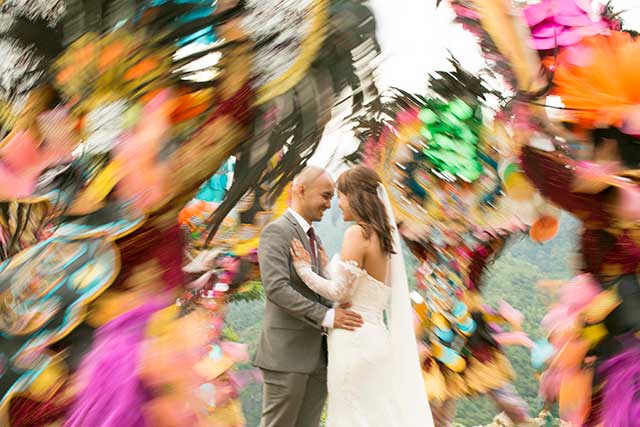 ADVERTISMENT - CONTINUE READING BELOW ↓
Aside from minimizing our trash, we made sure that our guests would enjoy our wedding. Since most of them traveled all the way to Negros, our food was made up of local favorites: chicken inasal, cheese tarts, Calea cakes, and piaya.
And of course, who wouldn't want to witness the MassKara dancers when in Bacolod?
EXPLORE COSMO