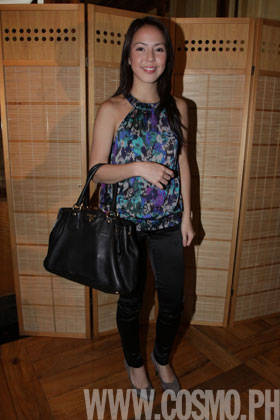 Instead of buying things that are usually identified with the places she visits, Andi Manzano shops for a bag as her souvenir, if she has enough budget.

The Party Pilipinas jock says she's not really a bag person but, she said, "Siyempre, once in a while you want to get one (designer bag) for yourself."

And normally, she does so whenever she travels abroad. She tells Cosmo.ph, "It's just that when I travel, that's when I buy. I don't buy here. It's like, 'Oh, this is my remembrance!' So, it's only when I travel that I buy bags."

However, she clarifies, "I don't spend much for bags because, you know, I'm a little kuripot. Kasi, I'm like, 'Hey, you know, I can travel with this amount of money.' You know, it's the rare times na when I'm out of the country kasi [and I] think, 'Ito ang pasalubong ko para sa akin.'"

What does Andi usually look for when buying a bag?

"It has to have pockets inside," she replies. "You know, pockets where you can put your phone or where you wanna put your money when you don't want to bring your wallet. Maraming compartments. It doesn't matter what size. Basta, siyempre, every girl needs a small one she can travel with [and] a medium one just like mine, kahit dalawa lang."

Does it have to be a designer bag?

Andi answers, "No, it doesn't matter. I have bags that are worth around P1,000. I'm not into brands talaga, I can bring anything. It doesn't matter what kind of bag I bring or buy. [As long as] I like it."

Andi says she's happy with the number of bags she has now. But if she has money to spare, the radio and TV personality would want to have another designer bag. "I don't have [one in] brown (laughs)! So, I'm thinking pa," she hinted.

Launch the gallery by clicking the button below to see what we found inside Andi's Prada bag that she bought during one of her travels.
Continue reading below ↓
Recommended Videos
738