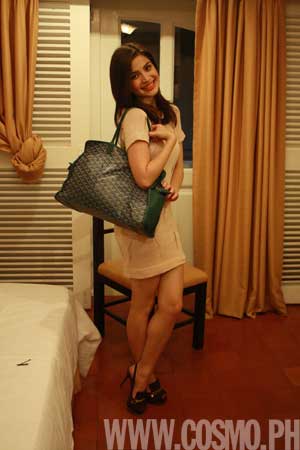 Around the same time last year, we gave you your first peek inside the bag of actress Anne Curtis. That time, she had a red Goyard handbag with her. We know how much you enjoyed that exclusive, so we totally grabbed the chance to show you again the contents of our January 2011 cover girl's yet another Goyard bag, a green tote this time, which was full to bursting with her daily essentials.

She arrived in Intramuros, the location of our cover shoot, straight from her Showtime taping, in a simple knit dress, to-die-for plum heels, and her green tote. We asked Anne if we could look inside her bag once again, since we wanted to know what new things she brings with her to tapings and photo shoots, exactly a year after we last raided her bag. She gladly agreed, and we were so thrilled to find all sorts of stuff--gadgets, tubes of lipstick (her only makeup!), a few skin care products, designer wallets, and more.

One of the things that really caught our attention was her candy stash. We asked her about it since we were totally amused, and she confessed with a laugh that she has a sweet tooth--hence the bag of gummy worms, candy spray, and other sour candy (you can probably guess what kind of candy she loves).

Click on the button below to check out the contents of Anne's bag. In case you want to check if she still keeps any of the things she brought with her last year, click here!
Continue reading below ↓
Recommended Videos
900