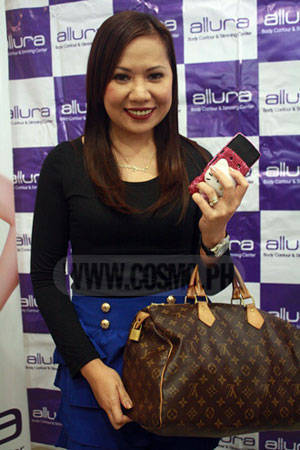 We regularly feature the bags of famous models, style icons, and your favorite TV and movie stars in Cosmo.ph's most popular section, but we've never featured the bag of an FM radio jock before. So, when we met the popular, funny DJ Nicole Hyala of Love Radio 90.7 (we're sure commuters are especially familiar with her--and her signature laugh!) at the launch of Allura Body Contour & Slimming Center, which she endorses, we grabbed the chance to take a peek inside her bag.

One look was all it took for us to know this fact about DJ Nicole: She's utterly obsessed with Hello Kitty. It seems almost everything she owns has that cute cat emblazoned on it--from her BlackBerry case that she had made in Kota Kinabalu right down to her car (if you see a hot pink Suzuki SUV with Hello Kitty all over it, chances are, it's DJ Nicole's)!

The plain black sweater, flirty blue skirt, and heels she was wearing and the Louis Vuitton handbag she was toting when we met her had no Hello Kitty branding, however. But, the contents of her luxe bag are a different story altogether. Launch the gallery to see all the adorable Hello Kitty-branded items DJ Nicole carries with her everyday!
Continue reading below ↓
Recommended Videos
1812