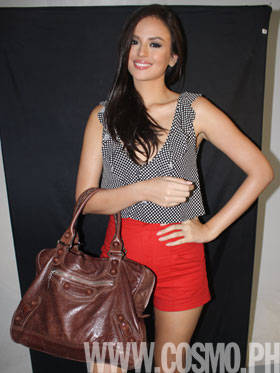 Gorgeous "it" girl Georgina Wilson arrived at the studio for Cosmo's December 2010 cover shoot in a flowy tank top, striking red shorts, and white Toms shoes. She also happened to be toting a Balenciaga bag in gorgeous brown. Even if we have featured the contents of her Louis Vuitton bag in January, we jumped at the chance to go through her bag again, by a different designer this time, to see what new things she uses to stay pretty--or if she still keeps the same essentials as last time.

As we peeked inside her Balenciaga tote, we instantly noticed her well-stocked kikay kit--something that we didn't see in her Louis Vuitton purse last time. When we asked about it, Georgina gushed about her love for makeup. And looking at the contents of her makeup kit, you'll know: We spotted six tubes of lipstick and loads of other beauty items!

See how the items our December cover girl brings with her everyday have changed within the year by clicking on the 'View Gallery' button below!
854
Continue reading below ↓
Recommended Videos